The arrival in Toronto of a hefty cluster of prestige titles with US distribution already in place presaged a sluggish buying scene and so it proved to be over the first five days.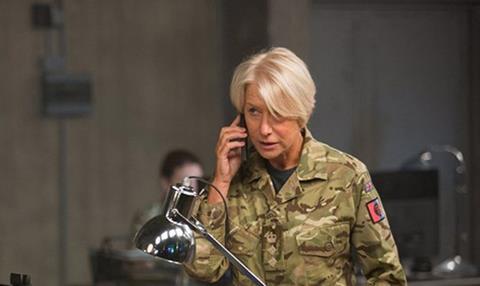 The loud silence was punctuated by several mostly modest on-site deals as acquisitions teams continued to pack out screenings and trained their sights on promos and packages.
Bleecker Street paid $2-3m for US rights to drone thriller Eye In The Sky (pictured), while Momentum Pictures (eOne's revived stand-alone label) pounced on Lance Armstrong drama The Program and Western thriller Forsaken while IFC Midnight picked up US rights to Turkish horror Baskin.
Meanwhile, Lionsgate has made an offer for North American rights to Where To Invade Next, Michael Moore's latest documentary that is understood to have also drawn a bid from Netflix.
In an industry where big deals no longer require the impetus of a festival or market, buyers are generally unwilling to commit to MGs for what could be paltry box office returns many months down the line.
The emphasis has shifted away from the usual frenzy and over-paying that surrounds festival selections. Paramount swooped on Stephen Frears' Florence Foster Jenkins starring Meryl Streep after a private buyer screening in Toronto.
Meanwhile, EuropaCorp and FilmNation said they would partner on the political thriller Miss Sloane to star Jessica Chastain.
Oculus director Mike Flanagan's micro-budget horror Hush screened for buyers and has also won fans but no deal as yet.
Netflix is one of several parties circling the troublesome Aretha Franklin documentary Amazing Grace following a secret buyer screening that reportedly provided another opportunity for the soul diva to express anger.
CAA has been touting several packages including the spy thriller Unlocked and Rebel In The Rye, which Bloom sells internationally.
A US deal on the latter may follow when a key piece of casting emerges in the coming weeks, but the value of Toronto is not lost on Bloom co-founder Alex Walton.
"We came specifically to nurture our new material," said Walton, adding: "We have the time to do that here as opposed to AFM."
More deals will trickle in over the coming days and weeks but all eyes inevitably turn to Santa Monica.