Damien Chazelle's musical romance starring Emma Stone and Ryan Gosling was the people's favourite as the Toronto International Film Festival wrapped on Sunday.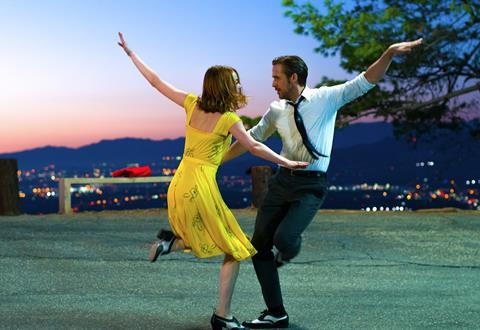 The Grolsch People's Choice Award is a timely boost heading into awards season: Last year, Room took the prize and went on to garner the best lead actress Oscar for Brie Larson.
La La Land is shaping up to be a strong awards prospect. Stone won the Coppa Volpi for best actress in Venice, where the film received its world premiere, and observers have noted its strong all-round profile.
The festival has set a free screening of La La Land on Sunday evening at 6pm at Roy Thomson Hall. Lionsgate will release the film in the US on December 16.
Lion was named runner-up and Queen Of Katwe second runner-up.
Grolsch People's Choice Midnight Madness Award went to Ben Wheatley's Free Fire, while Raoul Peck's I Am Not Your Negro won the documentary prize.
The Canada Goose Award for best Canadian festure film went to Mathieu Denis and Simon Lavoie for Those Who Make Revolution Halfway Only Dig Their Own Graves (Ceux Qui Font Les Révolutions A Moitié N'Ont Fait Que Se Creuser Un Tombeau).
In other awards presented on Sunday:
City Of Toronto Award For Best Canadian First Feature Film:
Johnny Ma, Old Stone (Lao Shi)
Short Cuts Award For Best Canadian Short Film:
Alexandre Dostie, Mutants
Short Cuts Award For Best Short Film:
Raymund Ribay Gutierrez, Imago
FIPRESCI Prize for the Discovery programme:
Mbithi Masya, Kati Kati
FIPRESCI Prize for Special Presentations:
Feng Xiaogang, I Am Not Madame Bovary
Netpac Award
(for the Promotion of Asian Pacific Cinema:
Maysaloun Hamoud, In Between (Bar Bahar)
Toronto Platform Prize:
Pablo Larrain, Jackie

Dropbox Discovery Programme Filmmakers Award:
Yanillys Perez, Jeffrey.