Toronto International Film Festival (TIFF) programmers have served up the first picks from what will be a typically daunting menu in September.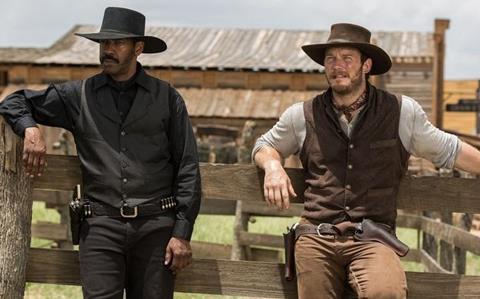 Scroll down for full list of Galas, Special Presentations
The world premiere of Antoine Fuqua's The Magnificent Seven will open the 41st TIFF on September 8. The western remake stars Denzel Washington, Chris Pratt, Ethan Hawke, Vincent D'Onofrio, Byung-Hun Lee, Manuel Garcia-Rulfo, Martin Sensmeier, Haley Bennett, and Peter Sarsgaard.
It marks a third visit to the festival for Fuqua, who previously screened Training Day and The Equalizer at TIFF.
The festival will close on September 17 with The Edge Of Seventeen, starring Hailee Steinfeld, Woody Harrelson and Kyra Sedgwick.
The coming-of-age comedy-drama marks the feature debut of writer-director Kelly Fremon Craig and is produced by Oscar-winner James L. Brooks (Jerry Maguire, As Good As It Gets).
Gala world premieres
Unveiling its first wave of titles, TIFF announced that world premieres in its Gala strand would include Garth Davis' potential awards heavyweight Lion, J. A. Bayona's A Monster Calls, Peter Berg's eco-disaster story Deepwater Horizon and Jonathan Demme's Justin Timberlake concert film JT + The Tennessee Kids.
Oliver Stone's Snowden, which screened privately to select press at Comic-Con last week, and Amma Asante's romance A United Kingdom will also debut at Toronto.
The roster includes dramas The Secret Scripture from Jim Sheridan and Queen Of Katwe from Mira Nair.
McGregor, Kormakur, Coppola
World premieres in Special Presentations include Ewan McGregor's feature directorial debut and Philip Roth adaptation American Pastoral, Baltazar Kormakur's thriller The Oath, Aisling Walsh's Maudie, and rom-com Paris Can Wait, the feature directorial debut from Francis Ford Coppola's wife Eleanor Coppola that stars Diane Lane and Alec Baldwin.
Hot on the heels of secretive Telluride, it is Toronto that marks the official launch of the North American awards season and a number of selections will come under scrutiny for their worthiness in the long months ahead.
Amy Adams stars in two eagerly anticipated features: Gala selection Arrival, Denis Villeneuve's sci-fi formerly known as Story Of Your Life; and Special Presentations entry Nocturnal Animals from Tom Ford.
Both are reportedly headed for Venice first, while the categorisation of Arrival as a Canadian premiere would suggest it is also Telluride-bound. As previously announced, Damien Chazelle's Special Presentations pick and Whiplash follow-up La La Land will open proceedings on the Lido. Venice runs from August 31-September 10 and unveils its line-up on Thursday (July 28)
First wave
TIFF's initial roster includes a number of films that impressed at Cannes in May, among them Maren Ade's Toni Erdmann, Paul Verhoeven's Elle, Pablo Larrain's Neruda, Andrea Arnold's American Honey, Asghar Farhadi's The Salesman, Park Chan-wook's The Handmaiden, Jim Jarmusch's Paterson and Jeff Nichols' Loving.
Kenneth Lonergan's Manchester By The Sea and Nate Parker's The Birth of A Nation both dazzled audiences at Sundance for different reasons and will also play in Toronto.
There was no mention at time of writing of The Founder, The Weinstein Company's second big awards contender besides Lion as Harvey Weinstein goes in search of his first best picture Oscar in five years.
Weinstein recently pushed back the US release of The Founder - the biopic of McDonald's magnate Ray Croc - from August 5 to December 16. The timing should not preclude an autumn festival launch given that by December the Michael Keaton starrer will have opened in several European markets including the UK, France and Germany.
Both Keaton's last two films – Spotlight and Birdman – premiered in Venice. The actor is an awards season talisman these days: both films also won the best picture Oscar.
TIFF staff said the following information was not final or complete and is subject to change.
Toronto 2016
GALAS
WP = World Premiere, IP = International Premiere, NAP = North American Premiere, CP = Canadian Premiere
The Magnificent Seven (US) Antoine Fuqua WP opening film
The Edge Of Seventeen (US) Kelly Fremon Craig WP closing film


Arrival (US), Denis Villeneuve CP
Deepwater Horizon (US) Peter Berg WP
The Headhunter's Calling (Can) Mark Williams WP
The Journey Is The Destination (UK-S Afr) Bronwen Hughes WP
JT + The Tennessee Kids (US) Jonathan Demme WP
LBJ (US) Rob Reiner WP
Lion (Australia) Garth Davis WP
Loving (US) Jeff Nichols NAP
A Monster Calls (US-Spa) J.A. Bayona WP
Planetarium (Fra-Bel) Rebecca Zlotowski NAP
Queen Of Katwe (S Afr-Uga) Mira Nair WP
The Rolling Stones Olé Olé Olé!: A Trip Across Latin America (UK) Paul Dugdale WP
The Secret Scripture (Ire) Jim Sheridan WP
Snowden (Ger-US) Oliver Stone WP
Strange Weather (US) Katherine Dieckmann WP
Their Finest (UK) Lone Scherfig WP
A United Kingdom (UK) Amma Asante WP
SPECIAL PRESENTATIONS
The Age Of Shadows (S Kor) Kim Jee woon WP
All I See Is You (Thai) Marc Forster WP
American Honey (US) Andrea Arnold NAP
American Pastoral (US) Ewan McGregor WP
Asura: The City Of Madness (S Kor) Kim Sung-soo WP
Barakah Meets Barakah (S Ara) Mahmoud Sabbagh NAP
Barry (US) Vikram Gandhi WP
Birth Of The Dragon (US-Chi-Can) George Nolfi WP
The Birth Of A Nation (US) Nate Parker IP
Bleed For This (US) Ben Younger CP
Blue Jay (US) Alex Lehmann WP
Brimstone (Neth-Ger-Fra-Bel-Swe-UK) Martin Koolhoven NAP
Brotherhood (UK) Noel Clarke IP
Carrie Pilby (US) Susan Johnson WP
Catfight (US) Onur Tukel WP
City Of Tiny Lights (UK) Pete Travis WP
The Commune (Den-Swe-Neth) Thomas Vinterberg NAP
Daguerrotype (Fra-Jap-Bel) Kiyoshi Kurosawa WP
A Death In The Gunj (Ind) Konkona Sensharma WP
Denial (US-UK) Mick Jackson WP
Elle (France) Paul Verhoeven NAP
Foreign Body (Tun-Fra) Raja Amari WP
Frantz (Fra-Ger) François Ozon CP
The Handmaiden (S Kor) Park Chan-wook NAP
Harmonium (Jap-Fra) Kôji Fukada NAP
I Am Not Madame Bovary (Chi) Feng Xiaogang WP
The Journey (UK) Nick Hamm NAP
King Of The Dancehall (US-Jam) Nick Cannon WP
La La Land (US) Damien Chazelle CP
The Limehouse Golem (UK) Juan Carlos Medina WP
Manchester By The Sea (US) Kenneth Lonergan CP
Mascots (US) Christopher Guest WP
Maudie (Can-Ire) Aisling Walsh WP
Neruda (Chi-Arg-Spa-Fra) Pablo Larraín CP
Nocturnal Animals (US-UK) Tom Ford NAP
The Oath (Ice) Baltasar Kormákur WP
Orphan (Fra) Arnaud des Pallières WP
Paris Can Wait (US) Eleanor Coppola WP
Paterson (US) Jim Jarmusch NAP
The Salesman (Iran-Fra) Asghar Farhadi NAP
Salt And Fire (Ger-US-Fra-Mex) Werner Herzog NAP
Sing (US-Fra) Garth Jennings WP
Souvenir (Bel-Lux-Fra) Bavo Defurne NAP
Things To Come (Fra-Ger) Mia Hansen-Løve CP
Toni Erdmann (Ger) Maren Ade CP
Trespass Against Us (UK) Adam Smith WP
Una (UK) Benedict Andrews CP
Unless (Can-Ire) Alan Gilsenan WP
The Wasted Times (Chi) Cheng Er WP