The Toronto International Film Festival (TIFF) has fired its awards season opening salvo, announcing a slew of world premieres for the September edition, which will close with Alan Rickman's A Little Chaos.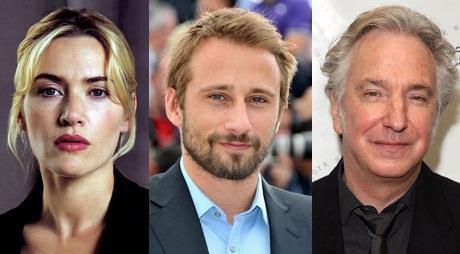 Scroll down for full list
Not to be outdone by the New York Film Festival, which has staked a claim to the world premieres of Gone Girl and Inherent Vice, and Venice, which will open with Birdman, artistic director Cameron Bailey and his team announced on Tuesday (22) close to 50 galas and special presentations.
Two factors are certain to ratchet up the sense of anticipation heading into September. Most of these titles are without US distribution and that said, it remains to be seen which films will qualify for a coveted first-weekend slot.
TIFF top brass made it clear earlier this year that any title that sneaks into Telluride will be forced to screen after the first four days of the festival. TIFF runs from September 4-14.
A Little Chaos
Alan Rickman's A Little Chaos has been announced as the closing film of the festival. Screening on September 13, the film stars Kate Winslet, Matthias Schoenaerts, Alan Rickman and Stanley Tucci.
In the historical drama, Sabine De Barra (Winslet) — a landscaper with a taste for the unconventional — is invited to design one of the fountains at The Palace of Versailles. As she battles with the weather, the perilous rivalries at the court of Louis XIV and her own private demons, she finds herself drawn closer to the formality and enigma of the architect who hired her.
TIFF has yet to announce its opening film.
Gala world premieres
There are gala world premieres for the aforementioned Ozon's French drama The New Girlfriend (Une Nouvelle Amie), Ed Zwick's Bobby Fischer chess drama Pawn Sacrifice, Marsh's Stephen Hawking biopic Theory Of Everything starring Eddie Redmayne, Lone Scherfig's Oxford University-set thriller The Riot Club and Mike Binder's first feature in seven years, the drama Black And White starring Kevin Costner.
Special presentations
Special Presentations includes Alcon Entertainment's Reese Witherspoon 'Lost Boys Of Sudan' drama The Good Lie, which Warner Bros will release later this year (Witherspoon also stars in Galas selection Wild by Jean-Marc Vallee), plus Bier's drama A Second Chance (En Chance Til), Isabel Coixet's romance Learning To Drive starring Ben Kingsley and Grace Gummer, and Bill Pohlad's Brian Wilson biopic Love & Mercy.
One year after Labor Day screened in Toronto, Reitman returns with the Paramount comedy Men, Women & Children with rising star Ansel Elgort from summer breakout The Fault In Our Stars alongside Jennifer Garner and Emma Thompson.
The selection also includes Michael Roskam's crime thriller The Drop with Tom Hardy and Noomi Rapace, and Noah Baumbach's all-star comedic drama While We're Young produced by Scott Rudin featuring Amanda Seyfried, Naomi Watts, Ben Stiller and Charles Grodin.
World premieres
Among the world premieres are Jake Gyllenhaal as a vigilante crime journalist in Nightcrawler, which Open Road snapped up in Cannes, Liv Ullman's erotic drama Miss Julie pairing Jessica Chastain with Colin Farrell, the Richard Gere passion project Time Out Of Mind from Oren Moverman, the Jennifer Aniston dark comedy Cake from Daniel Barnz, and Ethan Hawke and January Jones in Andrew Niccol's drone pilot thriller Good Kill.
The selection also features Denzel Washington back with his Training Day director Antoine Fuqua in crime thriller The Equalizer, the animation Kahlil Gilbran's The Prophet, Richard LaGravenese's musical comedy The Last 5 Years with Anna Kendrick and Toa Fraser's The Dead Lands (Hautoa) from XYZ Films that will introduce Western viewers to Maori hand-to-hand combat.
North American premieres
An intriguing list of North American premieres suggests possible world premiere berths for Venice, which announces later this week.
They include two Al Pacino films – Barry Levinson's Philip Roth adaptation The Humbling and Lido favourite David Gordon Green's Manglehorn – as well as Abel Ferrara's biopic Pasolini, Laurent Cantet's Return To Ithaca, David Oelhoffen's Far From Men and Niccol's aforementioned Good Kill.
David Cronenberg's Maps To The Stars, Zhang Yimou's Coming Home and Ruben Ostlund's Force Majeure all screen in Toronto and premiered in Cannes, while Damien Chazelle's Whiplash premiered at Sundance.
The TIFF 2014 selections so far:
WP = World premiere / NAP = North American premiere / IP = International premiere / CP = Canadian premiere
GALAS
Black And White (US), Mike Binder WP
The Equalizer (US), Antoine Fuqua WP
Foxcatcher (US), Bennett Miller CP
Haemoo (S Korea), Shim Sung-bo IP
The Judge (US), David Dobkin WP
A Little Chaos (UK), Alan Rickman WP [Closing film]
Maps To The Stars (Canada-Germany), David Cronenberg NAP
The New Girlfriend (Une Nouvelle Amie) (France), François Ozon WP
Pawn Sacrifice (US), Ed Zwick WP
The Riot Club (UK), Lone Scherfig WP
Samba (France), Olivier Nakache and Eric Toledano WP
This is Where I Leave You (US), Shawn Levy WP
Wild (US), Jean-Marc Vallee IP
SPECIAL PRESENTATIONS
99 Homes (US), Ramin Bahrani CP
American Heist (US), Sarik Andreasyan WP
Before We Go (US), Chris Evans WP
Breakup Buddies, Ning Hao WP
Cake (US), Daniel Barnz WP
Coming Home (China), Zhang Yimou NAP
The Dead Lands (Hautoa) (NZ-UK), Toa Fraser WP
Dearest (China-HK), Peter Ho-Sun Chan NAP
The Drop (US), Michael R Roskam WP
Eden (France), Mia Hansen-Løve WP
Far From Men (Loin Des Hommes) (France), David Oelhoffen NAP
Force Majeure (Turist) (Swe-Nor-Den-Fra), Ruben Östlund NAP
The Gate (France), Regis Wargnier WP
Good Kill (US), Andrew Niccol NAP
The Good Lie (US), Philippe Falardeau WP
Hector And The Search For Happiness (Canada-UK), Peter Chelsom NAP
The Humbling (US), Barry Levinson NAP
Hungry Hearts (Italy), Saverio Costanzo IP
Kahlil Gibran's The Prophet (Canada-France-Lebanon-Qatar-US), Roger Allers, Gaëtan Brizzi, Paul Brizzi, Joan Gratz, Mohammed Saeed Harib, Tomm Moore, Nina Paley, Bill Plympton, Joann Sfar and Michal Socha WP
The Keeping Room (US), Daniel Barber WP
The Last Five Years (US), Richard LaGravenese WP
Learning to Drive (US), Isabel Coixet WP
Love & Mercy (US), Bill Pohlad WP
Manglehorn (US), David Gordon Green NAP
Mary Korn (India), Omung Kumar WP
Men, Women & Children (US), Jason Reitman WP
Miss Julie (Norway-UK-Ireland), Liv Ullman WP
Mr Turner (UK), Mike Leigh CP
My Old Lady (US), Israel Horovitz WP
Ned Rifle (US), Hal Hartley WP
Nightcrawler (US), Dan Gilroy WP
Pasolini (France-Italy-Belgium), Abel Ferrara NAP
Phoenix (Germany), Christian Petzold WP
The Reach (US), Jean-Baptiste Leonetti WP
Red Amnesia (Chuangru Zhe) (China), Wang Xiaoshuai NAP
Return To Ithaca (France), Laurent Cantet NAP
Rosewater (US), Jon Stewart
A Second Chance (En Chance Til) (Denmark), Susanne Bier WP
Still Alice (US), Richard Glatzer and Wash Westmoreland WP
Theory Of Everything (UK-US), James Marsh WP
Time Out Of Mind (US), Oren Moverman WP
Top Five (US), Chris Rock WP
While We're Young (US), Noah Baumbach WP
Whiplash (US), Damien Chazelle CP
Wild Tales (Argentina-Spain), Damian Szifron CP