The full line-up of world premieres in Toronto's Vanguard programme, with details on each title including sales contacts.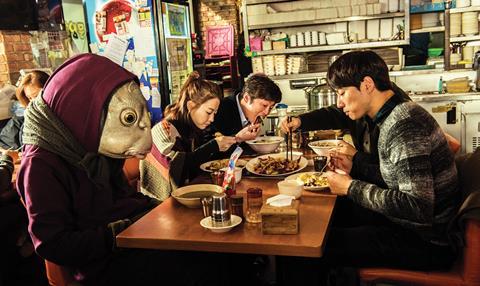 Collective Invention (S Kor)
Dir Kwon Oh-kwang
South Korean writer-director Kwon Oh-kwang follows his 2013 debut short Suffocation with this biting satire, which sees a mutant fish-man become a national celebrity. Collective Invention stars popular South Korean entertainer Lee Kwang-soo, and boasts award-winning director Lee Chang-dong (Poetry, Secret Sunshine) and producer Jeong Tae-sung (The Host, Snowpiercer) as executive producers.
Contact: CJ Entertainment eunjikim1121@cj.net
Demon (Pol-Isr)
Dir Marcin Wrona
A groom is possessed by a violent spirit at his own wedding in Polish writer-director Wrona's updating of the Jewish legend of the malicious dybbuk. After winning the best student short prize at Tribeca in 2001 for Magnet Man, Wrona won the Golden Aphrodite at Cyprus for 2009's My Flesh, My Blood and has been nominated, along with cinematographer Pawel Flis (who lenses Demon), for two Golden Frogs at Camerimage, for My Flesh, My Blood in 2009 and The Christening in 2010.
Contact: Magnet Man, office@magnetmanfilm.com
Endorphine (Can)
Dir Andre Turpin
This French and German-language feature tells stories of three women: a 12-year-old recovering from post-traumatic shock; a solitary 25-year-old suffering from panic attacks; and a 60-year-old doctor who gives a conference on the nature of time. Producers are Luc Déry and Kim McCraw of Montreal's micro_scope, whose credits include Incendies and Monsieur Lazhar. Director Turpin is also an accomplished cinematographer - he shot Incendies. Les Films Christal has Canadian rights.
Contact: Seville International, info@filmsseville.com
Evolution (Fr)
Dir Lucile Hadzihalilovic
This surreal horror film from Hadzihalilovic (Innocence), her first feature in more than a decade, follows a young boy living in a mysterious, isolated seaside clinic who uncovers the sinister purposes of his keepers. Max Brebant, Roxane Duran and Julie-Marie Parmentier star. Alchemy recently boarded US rights.
Contact: Wild Bunch, obarbier@wildbunch.eu
February (US-Can)
Dir Osgood Perkins
After penning the screenplays for 2010 horror film Removal, 2013 thriller Cold Comes The Night and The Girl In The Photographs (which is playing TIFF's Midnight Madness strand), US actor-film-maker Perkins makes his directorial debut with February. He has also written this tale of two young women (Emma Roberts and Mad Men's Kiernan Shipka) who come up against an evil spirit at their prep school.
International contact: Highland Film Group, sales@highlandfilmgroup.com
US contact: CAA info@caa.com
Lace Crater (US)
Dir Harrison Atkins
This unconventional love story stars Lindsay Burdge as a shy twentysomething who has a romantic fling with a ghost (Peter Vack), soon after contracting a mysterious disease. Lace Crater is the feature debut of writer-director Atkins, whose 2014 short Chocolate Heart played at SXSW, and co-stars micro-budget auteur Joe Swanberg, also on board as a producer.
Contact: Forager Film Company, lacecrater@gmail.com
The Missing Girl (US)
Dir AD Calvo
The genre film-maker from Argentina makes his TIFF debut with a story about the owner of a comic-book shop who reopens old wounds after his disruptive employee goes missing.
Contact: Greyshack Films, greyshack@earthlink.net
My Big Night (Sp)
Dir Alex de la Iglesia
Having tickled 2013 audiences in Midnight Madness with Witching And Bitching, de la Iglesia returns with the world premiere of his latest slice of comic mayhem. The ensemble comedy follows the frenzied shooting of a lavish New Year's Eve TV special, which is actually taped during a sweltering August in Madrid.
Contact: Film Factory Entertainment, info@filmfactory.es