The full line-up of world premiere Toronto galas, with details on each title including sales contacts.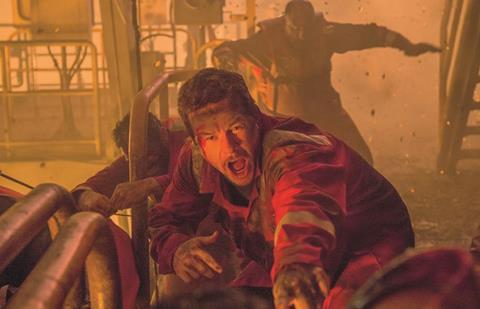 Deepwater Horizon (US)
Dir Peter Berg
Mark Wahlberg stars in this disaster-thriller based on the worst oil spill in US history when, in 2010, an explosion on the titular offshore drilling rig caused it to sink, killing 11 crewmen and leaving oil gushing into the Gulf of Mexico. The star-studded cast also includes Kurt Russell, Kate Hudson and John Malkovich. Lorenzo di Bonaventura produces for his outfit Di Bonaventura Pictures alongside Mark Vahradian and David Womark. Director Berg's debut feature, dark comedy Very Bad Things starring Jon Favreau and Cameron Diaz, premiered at Toronto in 1998.
Contact: Lionsgate Films, lionsgate@lionsgate.com
The Headhunter's Calling (Can)
Dir Mark Williams
Voltage Pictures launched international sales on this drama in Toronto a year ago and now the financier returns with the finished product. First-timer Williams — who produced Ben Affleck thriller The Accountant — directs the story of a recruitment executive (Gerard Butler) who reappraises his career when his son falls ill. Willem Dafoe, Alfred Molina, Alison Brie and Gretchen Mol round out the key cast. Voltage produced the Gala presentation alongside Zero Gravity Management and G-Base Productions, while CAA represents the US rights.
Contact: Voltage Pictures, john.fremes@voltagepictures.com
The Journey Is The Destination (UK-SA)
Dir Bronwen Hughes
Based on the true story of photojournalist Dan Eldon, this biographical drama recounts how he travelled to Somalia to cover the country's famine in the early 1990s. On the trip, Eldon and a group of colleagues encountered an angry mob and were stoned to death. Ben Schnetzer, who also appears in Toronto premiere Snowden, stars alongside Kelly Macdonald. Hughes directs after a 13-year absence from features; her last film, 2003's Stander, also premiered at Toronto. She co-wrote the Journey screenplay with Jan Sardi, whose feature Mao's Last Dancer played in Toronto in 2009.
Contact: Voltage Pictures, john.fremes@voltagepictures.com
JT + The Tennessee Kids (US)
Dir Jonathan Demme
The Oscar-winning director of The Silence Of The Lambs has distinguished himself with a wildly eclectic body of work, and here turns his attention to one of the 21st century's pop superstars. This Justin Timberlake concert film captures the Las Vegas closing night show of the performer's world tour and promises plenty of razzle-dazzle. Gary Goetzman produces the Gala presentation and executive producers are Rick Yorn, Johnny Wright, Rocco Caruso, HH Cooper, Ted Sarandos and Pauline Fischer.
Contact: Playtone, nchia@playtone.com
LBJ (US)
Dir Rob Reiner
A year after debuting Being Charlie at TIFF, Reiner returns with this ambitious biopic, which follows the political upheaval that US vice-president Lyndon Baines Johnson faced when thrust into the presidency after the assassination of John F Kennedy. Woody Harrelson stars as LBJ, who dealt with a distraught nation while pushing through JFK's historic Civil Rights Act. Reiner's The Princess Bride won the People's Choice award at Toronto when the now-beloved fantasy adventure received its world premiere in 1987.
Contact: Voltage Pictures, john.fremes@voltagepictures.com
A Monster Calls (US-Sp)
Dir JA Bayona
Sigourney Weaver, Felicity Jones, Lewis MacDougall and Liam Neeson line up in one of the most anticipated premieres of the festival. Bayona earned global recognition with The Orphanage and The Impossible, and the Spanish film-maker returns with the third in his trilogy of films exploring the bonds between mother and child. Patrick Ness adapts his own novel about a boy who receives help from a monster as he struggles to deal with his mother's declining health. Participant Media and River Road financed the film and produced with Spain's Apaches Entertainment and Telecinco Cinema. Focus Features holds North American rights.
Contact: Lionsgate, internationalsales@lionsgate.com
The Promise (US-Sp)
Dir Terry George
Film-maker George — an Oscar-nominated screenwriter for Hotel Rwanda and In The Name Of The Father — returns with a period drama set in the last days of the Ottoman Empire. Christian Bale, Oscar Isaac and Charlotte Le Bon star as the three points of a passionate love triangle in a screenplay written by George with Robin Swicord (Memoirs Of A Geisha). The Promise will launch Survival Pictures, the production outfit from the late Kirk Kerkorian's Tracida Corp.
Contact: Survival Pictures, info@survivalpictures.org
Queen Of Katwe (SA-Uganda)
Dir Mira Nair
David Oyelowo (Selma) and Oscar winner Lupita Nyong'o (12 Years A Slave) star in the true story of a young girl raised in rural Uganda — played by newcomer Madina Nalwanga — who develops a passion for chess and sets out to pursue her dream of becoming an international champion. Indian film-maker Nair was last at TIFF in 2012 with terrorism drama The Reluctant Fundamentalist, and has won festival prizes ranging from Cannes' Camera d'Or for her 1988 feature debut Salaam Bombay! to Venice's Golden Lion for Monsoon Wedding in 2001.
Contact: Walt Disney Studios Motion Pictures, www.waltdisneystudios.com
The Rolling Stones Olé Olé Olé!: A Trip Across Latin America (UK)
Dir Paul Dugdale
This latest Rolling Stones documentary gets a Gala slot at TIFF. It follows the band's recent Latin American tour, including a groundbreaking gig in Havana. London-based, multiple Grammy nominee Dugdale, who previously directed 2013's The Rolling Stones: Sweet Summer Sun — Hyde Park Live, has intimate access to the band, including Keith Richards and Mick Jagger offering an unplugged version of 'Honky Tonk Woman'. Dugdale directed One Direction: Where We Are and has worked with Adele, Ed Sheeran and Coldplay. Richards was at TIFF last year with Morgan Neville's Keith Richards: Under The Influence.
Contact: Eagle Rock Entertainment, peterw@eagle-rock.com
The Secret Scripture (Ire)
Dir Jim Sheridan
Irish film-maker Sheridan premieres at Toronto for the third time (following 1990's The Field and 2002's In America) with an adaptation of Sebastian Barry's 2008 novel of the same name about a woman (played at different ages by Rooney Mara and Vanessa Redgrave) reflecting on her life spent in a mental hospital. Johnny Ferguson (Gangster No. 1) shares screenplay credit with Sheridan, who came on board after Ferguson's death in 2013. Ferndale Films producer Noel Pearson reteams with Sheridan for the first time since The Field.
Contact: Voltage Pictures, john.fremes@voltagepictures.com
Snowden (Ger-US)
Dir Oliver Stone
Joseph Gordon-Levitt stars as NSA whistleblower Edward Snowden in Stone's chronicle. The three-time Oscar-winning film-maker co-wrote the screenplay with Kieran Fitzgerald, basing it on Luke Harding's book The Snowden Files and Anatoly Kucherena's Time Of The Octopus. Starring alongside Gordon-Levitt are Shailene Woodley, Zachary Quinto and Rhys Ifans. Appearing at San Diego's Comic-Con in July, the director claimed that every major US studio had turned down the project, criticising what he referred to as "self-censorship".
Contact: Wild Bunch, obarbier@wildbunch.eu
Strange Weather (US)
Dir Katherine Dieckmann
The female parent continues to intrigue Dieckmann, whose last film Motherhood premiered at Sundance in 2009. Strange Weather stars Holly Hunter, Carrie Coon and Kim Coates in the tale of a grieving mother out to settle a score in the Deep South. ICM Partners represents worldwide rights on the Gala presentation, financed by Great Point Media.
Contact: ICM Partners, jlacy@icmpartners.com
Their Finest (UK)
Dir Lone Scherfig
Their Finest, previously known as Their Finest Hour And A Half or We Happy Few, sees Danish director Scherfig directing a hotlist of UK acting talent — Gemma Arterton, Bill Nighy and Sam Claflin — in a period comedy-drama about a group of film-makers trying to make a movie to boost morale during the Second World War. Stephen Woolley and Elizabeth Karlsen's Number 9 Films and Amanda Posey and Finola Dwyer's Wildgaze Films produce with support from BBC Films. Scherfig was at TIFF with The Riot Club in 2014, An Education in 2009, Just Like Home in 2007, Wilbur Wants To Kill Himself in 2002 and Italian For Beginners in 2000.
Contact: HanWay Films, info@hanwayfilms.com (US co-repped with CAA filmsales@caa.com)
A United Kingdom (UK)
Dir Amma Asante
UK director Asante follows her acclaimed 2013 feature Belle with another real-life, multicultural story. David Oyelowo (also here with Queen Of Katwe) plays Bostwanan Prince Seretse Khama, whose relationship with white British woman Ruth Williams (Rosamund Pike) caused an international stir in the 1940s. The film is produced by Pathé, which has partnered with the Czech Republic's Film United and US outfits Harbinger Pictures, Perfect Weekend and Yoruba Saxon Pictures. The film will open this year's BFI London Film Festival in October.
Contact: Pathé International, sales@patheinternational.com