The full line-up of world premieres in the TIFF Docs programme, with details on each title including sales contacts.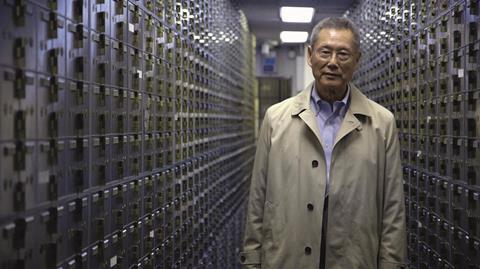 Abacus: Small Enough To Jail (US)
Dir Steve James
James' latest documentary highlights the only US bank to be charged in the aftermath of the 2008 economic collapse. Ironically, it was not a large institution but a family-operated bank in Manhattan that catered to immigrants. James is best known for directing Hoop Dreams (which received an Oscar nomination for best editing), The Interrupters and Life Itself, all of which debuted at Sundance. Toronto will also host a keynote conversation between the film-maker and TIFF Docs programmer Thom Powers.
Contacts: Mitten Media, mark@mittengroup.com / Kartemquin Films, info@kartemquin.com / Motto Pictures, info@mottopictures.com
All Governments Lie (Can)
Dir Fred Peabody
Emmy-winning television journalist Peabody's documentary salutes the enduring influence of IF Stone on a modern generation of investigative journalists working outside the mainstream media to expose corporate crimes and government corruption. Backed by Canadian production company White Pine Pictures, it was partly funded through grants and participation in the IFP Fiscal Sponsorship Program.
Contact: Films Transit, office@filmstransit.com
Amanda Knox (US-Den)
Dirs Brian McGinn, Rod Blackhurst
One of the most hotly anticipated TIFF Docs titles is this feature, in the works since 2011. It promises exclusive access to Amanda Knox, the US student acquitted of the murder of fellow student Meredith Kercher, Knox's Italian ex-boyfriend Raffaele Sollecito and Italian prosecutor Giuliano Mignini. Producer Mette Heide says the film "explores the personal impact on all the people involved". Co-director McGinn makes his feature debut after shorts and Netflix series Chef's Table. Netflix will launch the documentary worldwide on September 30.
Contact: Netflix, www.netflix.com
Black Code (Can)
Dir Nicholas de Pencier
For better or worse, the internet has had a huge global impact on activism as well as notions of privacy and free speech. Renowned Canadian documentarian de Pencier looks at how communities and governments are harnessing the power of social media to simultaneously empower and monitor us. Mongrel Media is releasing in Canada.
Contact: Mercury Films, nick@mercuryfilms.ca
Citizen Jane: Battle For The City (US)
Dir Matt Tyrnauer
This documentary looks at the theme of urbanisation through the case study of a battle of wills and ideologies from the middle of the last century. In 1961, author and activist Jane Jacobs' attacks on the accepted town-planning orthodoxies of the era brought her into conflict with Robert Moses, the leading proponent of a massive scheme of urban renewal in Manhattan. Tyrnauer's previous film, Valentino: The Last Emperor, was one of the highest grossing documentaries of 2008.
Contact: Submarine, josh@submarine.com
Gaza Surf Club (Ger)
Dirs Philip Gnadt, Mickey Yamine
Previously titled Three Mile Riders, this documentary profiles young Gazans who seek respite from a life of occupation and war through surfing. Gaza Surf Club is shepherded by Little Bridge Pictures, the Berlin-based production company that is also producing the Andreas Schaap-directed western noir Print The Legend.
Contact: XYZ Films, Nate Bolotin, nate@xyzfilms.com
Giants Of Africa (Can)
Dir Hubert Davis
Oscar-nominated in the best documentary short category for 2005's Hardwood, director Davis subsequently won the best Canadian feature documentary prize at Hot Docs for Invisible City (2009). Giants Of Africa follows the programme established by Masai Ujiri, general manager of Toronto Raptors, which uses basketball as a way to inspire and enrich the lives of young people in countries across Africa, including Nigeria, Kenya, Rwanda and Ghana.
Contact: Maple Leaf Sports & Entertainment, info@giantsofafrica.org
Girl Unbound (Pak-Can-HK-S Kor)
Dir Erin Heidenreich
As a child in a Taliban-controlled area of Pakistan, where women are forbidden to play sports — and rarely even leave their homes — Maria Toorpakai dressed herself as a boy and gave herself the pseudonym Genghis Khan so that she could play freely. As she started to gain a reputation as an international squash player, in her own name, the fundamentalists came calling. Heidenreich makes her bow as a director with this intimate portrait of a courageous and inspiring woman.
Contact: United Talent Agency, www.unitedtalent.com
I Am Not Your Negro (US-Fr-Bel-Swit)
Dir Raoul Peck
For his latest documentary, Haitian film-maker and activist Peck builds on unprecedented access to James Baldwin's unfinished final novel, Remember This House, to offer "a radical narration about race in America", through the lives and assassinations of Baldwin's friends Martin Luther King Jr, Malcolm X and Medgar Evers. The director's previous film, drama Murder In Pacot, premiered at TIFF in 2014. The new title is produced by Peck's Velvet Film and was supported by Cinereach.
Contact: ICM Partners, ptrinh@icmtalent.com
In Exile (Ger-Myanmar)
Dir Tin Win Naing
Myanmar film-maker Tin documents the plight of migrants who have fled his country's troubles for refuge in Thailand, only to find themselves working as farm labourers in conditions tantamount to slave labour. In a piquant twist, the director himself is a refugee, having had to flee Myanmar after filming numerous politically sensitive subjects, including the Saffron Revolution. In Exile was supported by the IDFA Bertha Fund.
Contact: Perennial Lens, yasmin.rams@perenniallens.com
An Insignificant Man (India)
Dirs Khushboo Ranka,Vinay Shukla
Filmed over the course of two years, this crowd-funded documentary gives an insight into one of the most controversial figures in current Indian politics. As head of the Aam Aadmi Party (which translates as 'Common Man's Party'), Arvind Kejriwal is a polarising presence on the political stage, branded as reckless and dangerous but also revolutionary in the way he has tackled the country's political elite. Co-director Ranka was one of the writers of the acclaimed Ship Of Theseus, the director of which, Anand Gandhi, serves as a producer on the film.
Contact: Memesys Culture Lab, vinay@memesyslab.com
Karl Marx City (US-Ger)
Dirs Petra Epperlein, Michael Tucker
The husband-and-wife team of Epperlein and Tucker are best known for their portraits of the US in the era of the Iraq War. They earned an Independent Spirit Award nomination for 2006's The Prisoner Or: How I Planned To Kill Tony Blair. Karl Marx City is a more personal project, as Epperlein returns to her home city in the former East Germany to discover the truth about her father's suicide and the rumours that he was a Stasi agent.
Contact: Cinetic Media, jason@cineticmedia.com
Mostly Sunny (Can)
Dir Dilip Mehta
Seven years after he debuted comedy Cooking With Stella at TIFF, Mehta returns with a documentary about porn actress-turned-Bollywood star Sunny Leone. Mostly Sunny was produced by Ballinran Entertainment and Hamilton-Mehta Productions, the latter founded by Mehta's film-maker sister Deepa Mehta (Beeba Boys) and David Hamilton.
Contact: Mongrel International, international@mongrelmedia.com
The River Of My Dreams (Can)
Dir Brigitte Berman
Christopher Plummer, Norman Jewison and Mary Walsh are among the figures who feature in this portrait of Canadian film and TV icon Gordon Pinsent. Berman has made her name with films about famous figures, and is perhaps best known for 2009's well-received Hugh Hefner: Playboy, Activist And Rebel, which she made to rebalance public opinion of her friend, the Playboy mogul. She previously won the Oscar for best feature documentary in 1987 for Artie Shaw: Time Is All You've Got.
Contact: Victor Solnicki Production, ( +1 416 487 8468 )
The Sixth Beatle (US-UK-Ger)
Dirs Tony Guma, John Rose
TIFF Docs programmer Thom Powers has identified this music-themed film as a potential hot non-fiction acquisition title. The story documents Sam Leach, who was The Beatles' manager during their early hardscrabble years in Liverpool before Brian Epstein entered their lives. Leach offers a rollicking account of his role in raising the band's early profile; interviewees include Liverpool musicians such as original Beatles drummer Pete Best, session drummer Andy White and Beatles biographer Mark Lewisohn. Co-director Guma is also an actor whose credits include Star Trek Into Darkness.
Contact: Submarine, josh@submarine.com
The Skyjacker's Tale (Can)
Dir Jamie Kastner
Director Kastner's feature tells the story of Ishmael Muslim Ali (formerly Ishmael X. La Beet), one of the men convicted of the Fountain Valley massacre on the US Virgin Islands in 1972 in which eight people died. In 1984, he hijacked a plane and fled to Cuba. The current thaw in relations between the US and Cuba has allowed Kastner to gain access to a man still highly placed on the FBI's Most Wanted list.
Contact: Skyjacker, sales@skyjackerstale.com
The Stairs (Canada)
Dir Hugh Gibson
A documentary depicting the lives of drug users in Toronto's Regent Park, The Stairs marks the feature debut of director-producer Gibson, whose previous short doc Hogtown Blues played at Toronto in 2004. The film's executive producer is Alan Zweig, who won the best Canadian feature film prize at TIFF in 2013 with documentary When Jews Were Funny, which he directed and produced. His doc, Hurt, also took TIFF's inaugural Platform Prize last year.
Contact: Midnight Lamp Films, hugh.gibson@sympatico.ca
Before The Flood (US, formerly The Turning Point)
Dir Fisher Stevens
Stevens' documentary follows Leonardo DiCaprio's role as a climate change campaigner and UN ambassador for peace, showing his attempts to raise global awareness by meeting world leaders and visiting endangered communities. Produced by Cinetic Media, Appian Way, Insurgent Docs and RatPac Documentary Films, the feature is a call to arms from prolific actor-director-producer Stevens, who won the documentary Oscar in 2010 for Louie Psihoyos' The Cove, which he produced.
Contact: Cinetic Media, jason@cineticmedia.com