A Lance Armstrong biopic, Ridley Scott's new sci-fi and Julianne Moore's latest are amongst the galas in Toronto this year.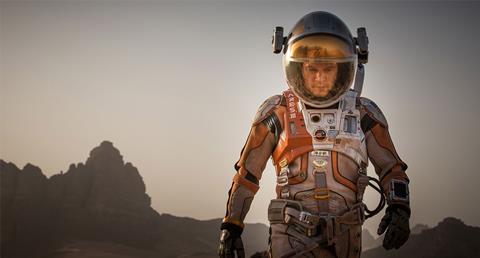 After the Toronto International Film Festival (Sept 10-20) revealed its line-up today, Screen picks out five of the films being presented in Gala screenings that have already released trailers.
The Program
World premiere
Dir. Stephen Frears
Cast: Ben Foster, Chris O' Dowd, Lee Pace, Dustin Hoffman, Elaine Cassidy
This biopic of cyclist Lance Armstrong follows journalist David Walsh's pursuit of evidence of performance-enhancing drug use and corruption in the sport.
The Martian
World premiere
Dir. Ridley Scott
Cast: Matt Damon, Jessica Chastain, Krsiten Wiig, Kate Mara
An adaption of Andy Weir's novel of the same name, this Ridley Scott-directed Sci Fi tells the story of an astronaut stranded on Mars, presumed dead by his crew, and his attempts to stay alive.
Freeheld
World premiere
Dir. Peter Sollett
Cast: Julianne Moore, Ellen Page, Michael Shannon, Steve Carell
After a New Jersey policy leuitenant is diagnosed with terminal cancer, she must instigate a legal battle to secure pension rights for her domestic partner after she is initially denied them for not being in a traditional marriage.
Legend
Dir. Brian Helgeland
Cast: Tom Hardy, Emily Browning, Christopher Eccleston, David Thewlis
Tom Hardy plays identical twin brothers Ronnie and Reggie Kray, who ruled London's organised crime scene in the 1960s.
Beeba Boys
Dir. Deepa Mehta
Cast: Randeep Hooda, Gulshan Grover, Ali Momen, Sarah Allen
Deepa Mehta returns with this Vancouver-set gangster tale of a group of young Sikh men who try to take over the city's drug and arms scenes.
Remember
Dir. Atom Egoyan
Cast: Christopher Plummer, Martin Landau, Dean Norris
An eldery Holocaust survivor sets out to track down the former Nazis who were responsible for the death of his family in concentration camps during WW2.
The Dressmaker
Dir. Jocelyn Moorhouse
Cast: Kate Winslet, Liam Hemsworth, Judy Davis
A successful dressmaker and fashionista returns home to her childhood town to put past events to rest, in the process she revolutionises the fashion of the women in the town.
Hyena Road
Dir. Paul Gross
Cast: Paul Gross, Rossif Sutherland, Christine Horne
Paul Gross directs, writes and stars in this Afghanistan-set story about the Canadian military attempting to build a roadway in a warzone.