Toronto International Film Festival (Sept 10-20) has completed its line-up with the Discovery, New Wave TIFF Kids and In Conversation With… strands and has confirmed the return of Festival Street.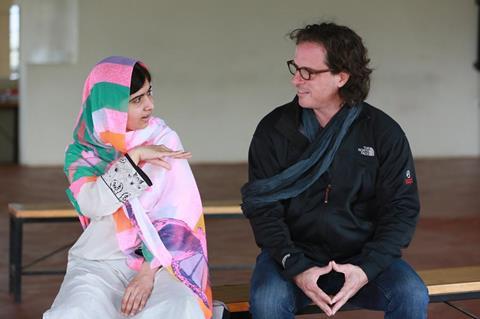 Oscar-winner Julianne Moore, Salma Hayek, Sarah Silverman and Matthew Weiner will take place in separate on-stage conversations as part of the In Conversation With… series, which replaces the Mavericks programme.
For the second year, the Festival Street initiative will see the closure of King Street West between Peter and University Streets, from Sept 10-13.
Events will include Questival, a walking interactive quiz designed by Frontier Design & Innovation; the NewCanadianMusic.ca music stage featuring the world premiere of Titicut Follies – The Ballet inspired by Frederick Wiseman's 1967 documentary; cinema-inspired installations; magicians; the Slaight Family Zone; and food trucks.
In total, the festival will screen 399 films, of which 289 are features and 110 shorts. Last year's festival screened 392 in total comprising 284 features and 108 shorts.
Programmers sifted through 6,118 submissions, of which 1,225 are Canadian and the 4,893 balance international.
There are 132 world premieres, 97 North American premieres and 27 international premieres.
The longest film is The Memory Of Justice at 278 minutes and the shortest are each one minute long – The Remainder and Untitled.
DISCOVERY PROGRAMME
Showcasing 30 features including 16 world premieres, by first and second-time directors from Canada and across the globe.
"Discovery is the place where Festival audiences will find the future of filmmaking," said TIFF artistic director Cameron Bailey. "You can expect to uncover thrilling new voices, inspiring storytellers and hidden gems among this fantastic showcase of work from some of the most exciting new directors from around the world."
Key: WP = world premiere, NAP = North American premiere, IP = international premiere, CP = Canadian premiere, TP = Toronto premiere.
A Patch Of Fog (UK) Michael Lennox WP
The Ardennes (Bel) Robin Pront WP
Beast (Aus-Phil) Tom McKeith, Sam McKeith WP
Black (Bel) Adil El Arbi, Bilall Fallah WP
Born To Dance (NZ) Tammy Davis WP
Dégradé (Pal-Fra-Qat) Arab Nasser, Tarzan Nasser NAP
Desde Allá (Ven) Lorenzo Vigas NAP
Downriver (Aus) Grant Scicluna IP
Five Nights In Maine (US) Maris Curran WP
The Here After (Efterskalv) (Pol-Swe-Fra) Magnus von Horn NAP
Ixcanul (Guat-Fra) Jayro Bustamante CP
James White (US) Josh Mond CP
Keeper (Bel-Swi-Fra) Guillaume Senez NAP
Les Cowboys (Fra-Bel) Thomas Bidegain NAP
Meghmallar (Bang) Zahidur Rahim Anjan WP
Mountain (Isr-Den) Yaelle Kayam NAP
My Name Is Emily (Ire) Simon Fitzmaurice NAP
The Paradise Suite (Neth-Swe-Bul) Joost van Ginkel WP
Semana Santa (Mex) Alejandra Márquez Abella WP
Spear (Aus) Stephen Page WP
Very Big Shot (Film Kteer Kbeer) (Leb-Qat) Mir-Jean Bou Chaaya WP
The Wait (L'Attesa) (Ita) Piero Messina NAP
We Monsters (Wir Monster) (Ger) Sebastian Ko NAP
Wedding Doll (Chatona Meniyar) (Isr) Nitzan Gilady IP
Previously announced Canadian titles in the Discovery Programme include Stephen Dunn's Closet Monster, Adam Garnet Jones' Fire Song, Jamie M Dagg's River, Kire Paputts' The Rainbow Kid and Andrew Cividino's Sleeping Giant.
CINEMATHEQUE PROGRAMME
Heat (US), Michael Mann
VANGUARD PROGRAMME
Zoom (Canada), Pedro Morelli WP
NEXT WAVE
The Next Wave committee comprising 12 film enthusiasts, aged 15-18, from schools across the Greater Toronto Area has hand-picked 10 TIFF films "that will resonate with their peers".
As I Open My Eyes (A Peine J'Ouvre Les Yeux) (Tunisia-France-Belgium)
Leyla Bouzid (Contemporary World Cinema) NAP


Born To Dance (New Zealand)
Tammy Davis (Discovery) WP


The Final Girls (US)
Todd Strauss-Schulson (Midnight Madness) IP


Girls Lost (Sweden)
Alexandra-Therese Keining (Contemporary World Cinema) WP


He Named Me Malala (US)
Davis Guggenheim, (TIFF Docs) IP


The Idol (Ya Tayr El Tayer) (UK-Pal-Qat-UAE)
Hany Abu-Assad, (Special Presentations) WP


Ixcanul (Guatemala-France)
Jayro Bustamante, (Discovery) CP


Keeper (Belgium-Switzerland-France)
Guillaume Senez (Discovery) NAP


My Name is Emily (Ireland)
Simon Fitzmaurice, (Discovery) NAP


Sleeping Giant (Canada)
Andrew Cividino, (Discovery) NAP
TIFF KIDS
The programme includes the world premiere of the remastered and expanded Brad Bird classic The Iron Giant with performances by Jennifer Aniston and Harry Connick Jr.
The Boy And The Beast (Bakemono No Ko) (Jap)
Mamoru Hosoda IP


My Skinny Sister (Min Lilla Syster) (Swe-Ger)
Sanna Lenken CP


Phantom Boy (Fra-Bel)
Alain Gagnol and Jean-Loup Felicioli NAP


The Iron Giant: Signature Edition (US)
Brad Bird WP