Dir: Danny Boyle. UK. 2013. 110mins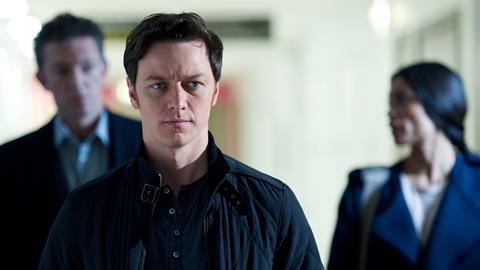 Just what do you do for an encore to the opening night ceremony of the London Olympics? Well, director Danny Boyle - who put James Bond and Mr Bean into the acclaimed opening event entertainment - has opted for a freewheeling London-set psychological heist thriller that twists and turns as it seeks to engage, entertain, confuse and confound its audience with its sheer abundance of style and passion for standing the genre on its head and then twisting it about again for good measure.
Best of all, though, is Rosario Dawson. So often her roles in mainstream Hollywood fare are rather simplistic, relying her looks than her acting ability. Here she gets to make good use of both – her character is smart, complex and fascinating.
And it is a policy that works to a certain extent, with Danny Boyle drawing out game and smart performances from his three leads, James McAvoy, Vincent Cassel and (especially) Rosario Dawson, and aided by stunning cinematography from Anthony Dod Mantle and a suitably trippy soundtrack. Though in the end the story heads into a maze of confusion and a rather 'so what?' final response. Strong culty reviews should help release, though the film is unlikely to stand alongside his more recent films, such as 127 Hours and Slumdog Millionaire.
There is no denying the intelligent high-concept aspirations of Trance, which opens brilliantly, gets tantalising and finally drifts off into an over-the-top conclusion. It also manages to layer in sex (it is a tribute to Rosario Dawson's physique for a while) and violence (in fact, un-necessarily violent in one early scene) into its mélange of concepts as its visual slickness and elegance gives way to a series of cinematic twists that will have audiences debating just what has gone before…though perhaps not always in a good way.
While Trance is certainly no The Thomas Crown Affair-style heist film, it opens in classic crime movie style with a nimbly staged robbery at a London auction house. Auctioneer Simon (McAvoy) has been having some gambling problems, and to pay off his debt becomes the inside man for a gang led by Franck (Cassel) who plans to steal a valuable Goya.
But during the raid the painting vanishes and Simon is hit on the head. When he recovers from a coma he has no recollection of what happened to the painting, and when torture doesn't work (a rather repellent finger-nail pulling scene) Franck takes him to Harley Street hypnotherapist Elizabeth Lamb (Dawson) to put him in a trance and try and unearth from his subconscious what exactly happened during the raid.
As she digs deeper and deeper into his subconscious things get dangerously complex, with the gang concerned about what she might find out, and as she dawdles around in his mind the boundaries between hypnotic suggestions and subconscious desires start to blur and mingle. Plus there are more than a few twists and turns lurking as the stakes are upped and further violence becomes part of the agenda.
It would be unfair – and frankly astonishingly confusing - to dwell on the details of the subsequent plot, with the distribution company's notes even requesting "all writers and broadcasters to be especially mindful of plot spoilers", apparently on behalf of the "filmmakers and future audiences".
James McAvoy is in good form here (better than his recent one-dimensional Welcome To The Punch role) with a character who is intriguingly complex and follows no natural character arcs, while Vincent Cassel it at his charmingly smooth best as a highbrow Euro-villain who isn't afraid to get his hands dirty.
Best of all, though, is Rosario Dawson. So often her roles in mainstream Hollywood fare are rather simplistic, relying her looks than her acting ability. Here she gets to make good use of both – her character is smart, complex and fascinating, and while she only makes her first appearance some 20 minutes into the film, in the end hers is the dominant personality and the real plot driver. Dawson has charisma and style to spare, and while the film's minor sub-plot about her 'bald eagle' moment emphasises her abundant sex appeal, in truth she is memorable due to the sheer force of her performance rather than her nude scene.
The film is based on Joe Ahearne's impressive – but rarely seen – 2001 British film of the same name, which starred Neil Pearson and Susannah Harker, though adapted and made even more complex than the original by Doyle's regular collaborator John Hodge. There is an overriding feeling that Boyle and Hodge have worked almost too hard to make the story as overly complex as possible, though much credit should go to cinematographer Anthony Dod Mantle for keeping the visuals in line with the odder elements of the storyline, especially as it heads into more imaginative territory as the trance moments are explored.
While it would be easy to drop the "all style no substance" tag onto Trance, in truth it is a very well thought out, delightfully detailed film. In the end though, with the audience going through the wringer in the final half as they try and keep up with the changes of direction, it is hard to find any of the characters easy to sympathise with…let alone care why they wanted the painting in the first place or how they were going to fence it. The usual issues that dominate heist films get abandoned pretty speedily in bid to boost the psychological tension.
Production companies: Cloud Eight, Decibel Films, Film4, Fox Searchlight Pictures, Pathe
International sales: Fox Searchlight
Producer: Christian Colson
Executive producers: Bernard Bellew, Francois Ivernel, Cameron McCracken, Tessa Ross, Steven Rales, Mark Roybal
Screenplay: Joe Ahearne, John Hodge
Cinematography: Anthony Dod Mantle
Editor: Jon Harris
Production designer: Mark Tildesley
Music: Rick Smith
Main cast: James McAvoy, Vincent Cassel, Rosario Dawson, Tuppence Middleton, Danny Sapani, Matt Cross, Wahab Sheikh