Trey Edward Shults talks about making his debut feature made with his mother and aunt.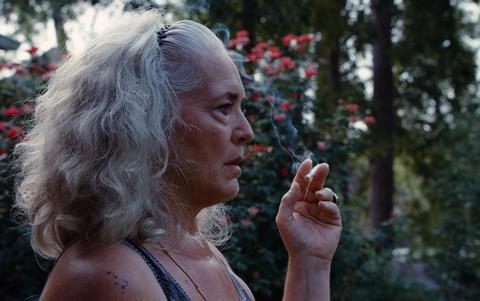 Krisha director Trey Edward Shults thought he reached the jackpot when he won both the Grand Jury Award and Audience Award for Narrative Feature at SXSW in March.
But his luck has continued, thanks to a spot in Cannes' Critics Week and subsequent deals with A24 (multi-territory including US) and StudioCanal (UK).
"It's crazy – it's all happening so fast. As soon as I won at 'South By', we applied for Cannes after submissions had already been closed, and miraculously, got accepted," said Shults.
The novice learned the tricks of the trade by reading books and experimenting with cameras from a young age, along with a short jaunt interning for Terrence Malick on The Tree of Life as we all Malick's upcoming features The Voyage of Time and Weightless.
But his fortune hasn't come without hardship.
The director, and lead cast members Krisha Fairchild and Robyn Fairchild [who are Shults' real-life aunt and mom, respectively] recall a member of the family that was an addict who, similar to the story's narrative, lost her grip on sobriety at a family gathering.
Shults took his grief out on paper, and quickly penned a first draft of the feature, followed by a scaled-down version for a short.
"I had read that film school is about getting the bad films out of the way. So that is what I did with my own home-schooling. But I nearly had a nervous breakdown making the short. I took on too much responsibility.
"I was really frustrated - it wasn't the film I set out to make. So I gave myself two years to re-edit."
The short debuted at SXSW in 2014, receiving the Special Jury Recognition for Cinematography, propelling Shults to complete the feature.
"My family and I [to whom he still lives with outside Houston, Texas] set up a Kickstarter fund, providing an initial $14,000. Through family members, and friends of friends, an additional $40k-$50k was pulled together."
"Let's just say – a lot of people spend more on a car," joked [Krisha] Fairchild.
The micro-budget meant the schedule was paired down to just nine days in [Robyn] Fairchild's homewith a cast made up entirely of family and friends.
"It's kind of funny, we had nice cameras - Red Scarlet and Red Epic - and I even managed to get a dolly. But I had to edit in Adobe Premiere on my laptop," added Shults.
Skywalker Sound and Lord of the Rings sound designer Michael Semanick, took on the much-needed job of helping Shults re-vamp the sound two weeks prior to Cannes.
"One thing led to another – once I won at 'South By', I got a call from a friend saying [Skywalker Sound] would help me pro bono. It felt like luck was on my side – I want to pay it forward when I can," said Shults.
Krisha Fairchild is also still dumb-founded by the film's success: "I am worried any day now I'll get run over by a truck," she laughed.
The actress has lived a varied life - starting with training at Chicago's Goodman Theatre, followed by working stints in LA, Seattle, Hawaii and now Mexico.
"When I moved to LA, no one knew what to do with me. They said I was too ugly for leads and not ugly enough for character roles. So I said okay, and have made a great life for myself doing primarily voice-over work instead."
While her acting training has given her techniques to mentally pull into and out of dramatic situations, her sister [Robyn] had a more difficult time.
"Even though I am not a trained actor, working with my family felt very natural. The thing that was hard was when we had the fighting scenes. We made sure we had quiet time after. And our mom [also featured in the film] has dementia, so we had to continuously remind her everything was okay."
Next for Shults is horror film It Comes At Night. Currently in script stage, A24 are set to executive produce, with Visit Films again handling sales.