Dir: Danis Tanovic. Ireland/Spain/France. 2009. 98 mins.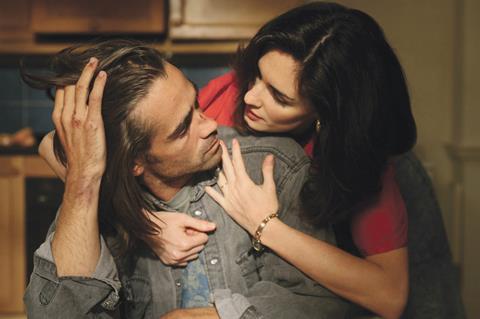 Where his 2001 Oscar-winning No Man's Land tackled the horrors of war with dark humour, writer-director Danis Tanovic returns to the frontline with a much soberer outlook in Triage, a glum drama that smoulders with angst but never quite catches fire. Using a photojournalist's harrowing encounter in a combat zone as the focal point for a larger examination of psychic trauma experienced on the battlefield, Triage lacks the insights to add much to our shared cinematic knowledge of war's corrosive effects.
Even Tanovic seems muted by all the furrowed-brow high-mindedness
Triage will benefit from star Colin Farrell's commercial viability and from upscale moviegoers' familiarity with Tanovic's No Man's Land, which won the Best Foreign Language Oscar. But the film's subject matter presents a major marketing challenge – it's a mournful anti-war movie set partly in the Middle East – which may prove a tough sell for audiences adverse to such difficult subject matter.
In 1988, war photographer Mark (Farrell) returns to Ireland after barely surviving a close call in Kurdistan. Though happy to see his beautiful wife Elena (Paz Vega), Mark is profoundly physically and emotionally battered from the experience, despite having experienced similar situations on earlier assignments.
Adding to his unease, his best friend and fellow photojournalist David (Jamie Sives) has yet to come home, even though he left Kurdistan a day earlier.
Tanovic based Triage on the 1998 novel by war journalist Scott Anderson, crafting the narrative as a portrait of one man's spiritual recovery after barely escaping death. Until the introduction of Elena's tough-love therapist grandfather (played by Christopher Lee) during the movie's second half, Triage almost completely avoids the jocular energy of No Man's Land, a technique that made that film's bleak attitude toward war all the more incisive.
By comparison, Triage is so mournful that it turns dull, confusing abundant sombreness for meaningful artistic expression.
Triage's plot runs aground once it becomes obvious early on that Mark's dark mood stems from something more than just nearly losing his life. Tanovic includes brief poetic interludes of rushing rivers and slow-motion debris that, added to the fact that Mark never completely explains how he received his extensive wounds in Kurdistan, suggests Triage is pointing toward a major plot revelation that gets easier to predict as the story creeps toward its conclusion.
After two underrated recent performances as well-intentioned screw-ups in Cassandra's Dream and In Bruges, Farrell drifts back into the amorphous brooding that has hampered previous roles. In part, the problem lies on a screenwriting level since Mark's passion for war photography remains frustratingly opaque.
Does he do it for the glory? The danger? The need to expose the brutality of war? Since we can never pinpoint what drives him, these unanswered questions significantly undercut audience sympathy for his mysterious rudderless melancholy.
Although the rest of the cast delivers equally sad-eyed performances, Lee's late arrival as a psychiatrist with a dark past provides Triage with its strongest signs of life. Unfortunately, Tanovic seems so determined to prove that war is no laughing matter that even he seems muted by all the furrowed-brow high-mindedness.
To sign up for Screen's weekly Reviews Newsletter with all the week's new releases, internationalopenings and full festival reviews delivered free to your mailbox every Friday, please click HERE
Production companies
ASAP Films
Parallel Films
International Sales
HanWay Films
+ 44 207 290 0750
Producers
Alan Moloney
Cedomir Kolar
Marc Baschet
Screenplay
Danis Tanovic, based on the novel by Scott Anderson
Cinematography
Seamus Deasy
Production designer
Derek Wallace
Editors
Francesca Calvelli
Gareth Young
Music
Lucio Godoy
Main cast:
Colin Farrell
Paz Vega
Christopher Lee
Branko Djuric
Kelly Reilly
Jamie Sives
Juliet Stevenson