Dirs: Robert Lepage, Pedro Pires. Canada. 2013. 90mins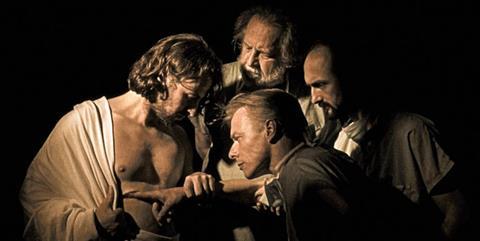 Robert Lepage's film distillation of his own epic theatre work explores speech, language, memory, and performance. While visually inventive at times, it won't take your breath away.
Sampling a smorgasbord of image textures Lepage and Pires, even with films under their belts, seem dazzled with tricks that aren't part of Lepage's day job in the theatre.
Lepage, a much-honored practitioner of the grand theatrical mise en scene – from Cirque to Soleil to Wagner's The Ring - has his fans in the subsidised experimental theatre capitals of North America, Europe and beyond. Those admirers will watch anything he does. Triptych, directed in collaboration with Pedro Pires, will struggle to get past the festival and museum circuit, yet its 90 minute length could give still it a home on arts television and cable.
The academic world may also welcome a film discourse on language by Lepage, whose Canadian home is the province of Quebec, which legislated the primacy of the French language, with penalties for those who don't abide.
Triptych, the adaptation of Lipsynch, a nine-hour marathon play with a larger cast, follows three characters into the mysteries of expression. Michelle (Lise Castonguay), a diagnosed schizophrenic who operates a bookstore in Quebec City, is struggling to leave the hospital where she's been committed; Thomas, a German neurologist, has a strained marriage with an opera singer and a hand tremor that's sending him into retirement and Marie (Frederike Bedard), a jazz singer - and Thomas's patient - whose performances soar above conventional language, loses the memory of her father's voice after an operation.
Interlocking the three lives, Lepage and Pires trade the grand gesture of the stage for intimate reflections. Long close-ups in unforgiving HD (of the sort that Lepage might project onstage on huge video monitors) track each character's vulnerabilities and misfortunes. To ensure that a mood of pain is established, music like Gregorio Allegri's Miserere sets a mournful tone – echoing Lars von Trier's Antichrist, minus the tongue in cheek.
The solemnity of it all makes 90 minutes seem ponderously long, yet not for want of visual variety. The filmmakers take HD precision to some uncomfortable depths, especially in Thomas's operation on Marie's brain, where sections of that organ governing speech are exposed in the skull that Thomas cuts open.
Sampling a smorgasbord of image textures – soft-focus flashbacks, collage-like sifting of old photographs, grainy dramatic scenes in drizzly exteriors – Lepage and Pires, even with films under their belts, seem dazzled with tricks that aren't part of Lepage's day job in the theatre.
The actors, working with a lean script, shift between being performers and props in a Lepage staging. As Michelle, whose bookstore holds candle-lit readings, Lise Castonguay has a face that defines sadness. Hans Piesbergen, as the German surgeon, suppresses emotions before they can turn into speech. Frederike Bedard, playing the jazz singer Marie, emits sounds in one song that seem humanly impossible, but still go right to the heart.
Sometimes that acting gets far too cute, as Lepage and Pires skirt melodrama and head into silliness. Marie returns to her professional life, post-operation, doing voice-overs for talking cartoon frogs – a reminder why parents don't want their kids repeating what they hear on children's television. And when a young customers from Michelle's bookstore auditions a rap-in-progress after tracking her down in a Catholic asylum, brain surgery suddenly seems watchable.
Production company: Les Productions du 8e Art inc.
International Sales: National Film Board of Canada, www.nfb.ca
Producers: Lynda Beaulieu, Maxence Bradley
Executive Producer: Lynda Beaulieu
Screenplay: Robert Lepage
Cinematography: Pedro Pires
Editors: Pedro Pires, Aube Foglia
Production designers: Jean Babin, Christian Legare, David Pelletier
Main cast: Frederike Bedard, Hans Piesbergen, Lise Castonguay