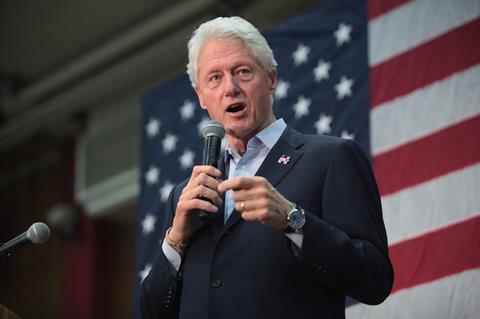 History has ordered the six-episode scripted drama series The Breach: Inside The Impeachment Of Bill Clinton.
The political thriller will tell how one of the biggest scandals in recent US history unfolded – from the revelation that President Clinton was having an affair with Monica Lewinsky, through the political warfare that saw Hillary Clinton, Newt Gingrich, prosecutor Ken Starr, Congressman Bob Livingston and many others dominate the national headlines.
The series from FremantleMedia North America in association with A+E Studios is based on Peter Baker's New York Times bestseller, The Breach: Inside The Impeachment And Trial Of William Jefferson Clinton. R.J. Cutler will direct and serve as executive producer, and wrote the pilot with David K Israel.
Barry Jossen serves as executive producer for A+E Studios. FremantleMedia International will serve as the global distributor for The Breach. Casting is currently underway.
"Featuring an array of well-known modern political figures, The Breach will bring audiences behind the scenes of an event that changed Washington forever, the first impeachment of an elected president in American history," Eli Lehrer, History's executive vice-president of programming who made the announcement, said. "This drama builds upon our core scripted programming slate of compelling, contemporary storytelling that embraces our recent history and we are confident R.J. will bring a unique vision to President Clinton's gripping story."
Cutler said: "Set at the dawn of the cable news wars and the social media revolution, The Breach is a remarkable political story. It's the origin tale of how our government was broken and has never really healed. It's also a thrilling tale of personal and professional ambition, of enormous hubris in the name of acquiring power, and of personal foibles, all of which nearly brought down a presidency."
Dante Di Loreto, FremantleMedia North America's president of scripted entertainment said: "This is a moment in American history that altered the direction of this country. It's a deeply emotional and personal story that caused one of the biggest political storms in our history. FremantleMedia is home to some of the finest creative talent around the world. We're thrilled to now be partnering with R.J. and History on The Breach.