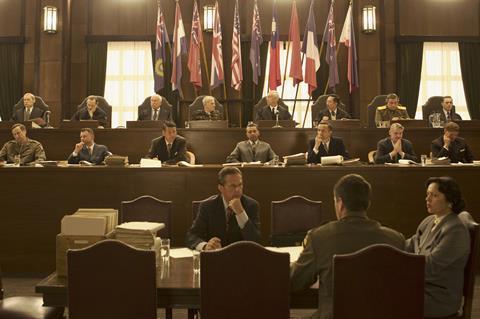 Global independent studio Entertainment One (eOne) secured the worldwide distribution rights to the mini-series Tokyo Trial, depicting the post-Second World War trial of pacific war criminals by the international military tribunal for the far east.
Tokyo Trial is available as a four part mini-series and as a 105 minute feature film. The feature began its festival tour with a red-carpet premiere at the Netherlands Film Festival. Japan Broadcasting Corporation (NHK of Japan), FATT (Netherlands) and Don Carmody Television (DCTV) (Canada) in association with Netflix produced the series.
Tokyo Trial is a four-part historical drama recreating the trial that began in 1946, combining authentic trial footage with dramatic enactments based on true events. Immediately following the Second World War, 11 judges from allied nations were called to Tokyo to engage in a landmark trial that would determine the outcome for 28 Pacific military and political leaders who were charged as war criminals.
This story follows the two-and-a-half-year struggle between the judges as they take on the unprecedented task of finding verdicts for each of the accused, while balancing political, professional and personal conflicts with their cultural differences and fair justice.
Tim Ahern, Paul Freeman, Serge Hazanavicius, Marcel Hensema, William Hope, Jonathan Hyde, Michael Ironside, Bert Matias, Stephen McHattie, Hadewych Minis, David Tse, Julian Wadham, and Irrfan Khan star.
Based on the original idea by NHK, the limited series was co-directed by Pieter Verhoeff and Rob W King. Kees Van Beijnum, King, Max Mannix and Toru Takagi wrote the script.
Shinsuke Naito and Takashi Enjo of NHK, Hans De Weers of FATT, and Don Carmody and David Cormican of DCTV serve as executive producers for the International Emmy Award-nominated programme. Originally commissioned by NHK in Japan and Netflix globally, the miniseries launched last year.