PROMO FEATURE: UK Trade & Investment (UKTI) is gearing up for a raft of activities at the Berlinale's European Film Market aimed at helping UK film-makers develop the relationships to succeed on an international level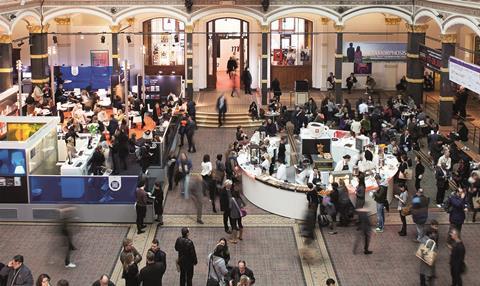 As showcased by box-office behemoths Spectre and Star Wars: The Force Awakens, which were both based at UK facilities during 2014 and 2015, the UK film industry, and particularly inward investment from overseas, has become of central importance to the country's overall economic health.
Not only is the sector growing faster than any other (5.9% between June and September 2015, compared to just 0.5% overall growth during the same three-month period), a report published by the Department for Culture, Media & Sport in late January revealed the UK's creative industries to be worth a combined $120.4bn (£84.1bn) to the UK economy.
Recognising that increased exports are crucial to the sector's ongoing health, UK Trade & Investment (UKTI), which is a non-ministerial government department, is committed to supporting the film industry on the global stage.
A major cornerstone of its strategy is Berlin's European Film Market (EFM), from February 11-19, which UKTI will attend as part of the We Are UK Film umbrella, also comprising the British Film Institute (BFI), the British Film Commission (BFC), Film Export UK and various regional agencies.
"We are involved in a lot of events [at EFM], and everything is designed to help UK film-makers find international co-production partners and sell their films to the international market," says Berlin-based Miriam Ducke, UKTI Germany's senior trade adviser for the creative industries.
"Primarily we support the We Are UK Film stand and the official buyers' reception," Ducke explains. "We talk with companies and try to invite the people who will be of the most benefit to UK sales agents — primarily, international buyers. We also support the We Are UK Film reception, which is run by the BFI and British Council and is for the producers, film funders and festivals they work with, and are also involved in the Screen International networking reception.
"Additionally, and together with the British Council, we are supporting [the festival's networking platform for new film-makers] Berlinale Talents, and will host a small event here at the embassy at which future film-makers will get a briefing about how best to work within the industry.
"What matters to UKTI is international sales, not just local market sales, and it's only worthwhile for us if there is a global benefit for UK companies," adds Ducke. "There's not a lot of benefit in British companies meeting British companies."
It is essential for UK film-makers attending EFM to keep that international focus in mind when planning their time at the market.
"With film, as with other sectors, we often find there are cultural differences between the global markets," she says. "Film-makers and companies should start preparations as soon as possible. That's our mantra. Make appointments, get information, try to get into the right events to meet the right people, and plan to be there at the right time, depending on who you are.
"If you're a film producer, for example, and you're looking for certain pre-deals, you shouldn't necessarily go on the first or second day because that's when sales agents are talking to distribution companies. There are particular days in the calendar when it's more likely you'll make the best connections, so use your networks and start looking for partners early.
"Also, learn how to pitch properly; make sure you've prepared the right message for the people sitting opposite you. Do your research and be professional. We're there to help by sending information and making introductions, but preparation is absolutely key."
For more information, please visit www.gov.uk/ukti
Northern Powerhouse at EFM
As part of a dedicated focus on the Northern Powerhouse, a region spanning the north of England which exports $85.7bn (£60bn) of goods annually across the globe, UKTI will bring a delegation of film-makers from the region to this year's EFM.
"As part of the mission, which is primarily bilateral between Germany and the UK, we will be doing a two-hour Berlinale briefing session to which we invite expert speakers," explains UKTI's Miriam Ducke. "Speakers, including myself, will talk about issues such as co-production and international financing, funding opportunities in Germany at both national and regional level and opportunities available at the Berlinale co-production market.
"As well as Northern Powerhouse delegates, UKTI will also extend the invitation to all British companies that may be interested in such information."
For more information, please visit www.events.ukti.gov.uk/portal/event-campaign/northern-powerhouse-2