Dir/scr: Brigitte Kramer. Germany 2012. 86mins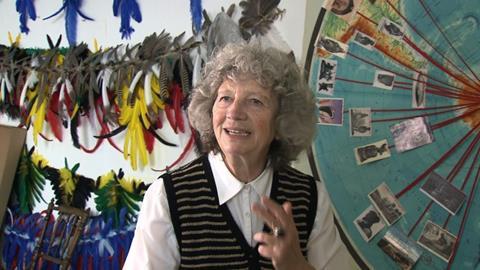 A film-maker, artist and icon of German lesbian counterculture is the subject of something that's less profile than fan letter verging on hagiography, in Brigitte Kramer's Ulrike Ottinger – Nomad From the Lake (Ulrike Ottinger – Die Nomadin vom See) . The documentary is very much an inside job by an admirer who's not only worked herself with Ottinger, but admits from the off that discovering the film-maker changed her life.
Kramer's film, functional in execution, is more tease than revelation.
Liberally illustrated with clips from Ottinger's outré and elaborate work, the film will either prove a tantalising introduction or a turn-off for non-initiates, but Kramer largely fails to illuminate Ottinger's importance either historically, artistically or culturally. The film feels like a lost opportunity to contextualise a complex and flamboyantly talented artist who, it's clear, has generated her own imaginative world; outside lesbian and gay festivals, the film is unlikely to resonate as a more detached portrait might have done.
Ottinger herself, seen today lazing and sometimes sailing on her native Lake Constance, is an affable if not always very expressive figure, reminiscing about her youth, her introduction to Berlin's art underground in the early 70s, and her shift from painting to film-making. In recent years, in fact, she has been more active on the art front, and the film's latter sections show her preparing a major Berlin installation that showcases her magpie characteristics: a committed traveller, Ottinger has made films in China, Korea and Mongolia, while recent work borrows from the imagery of Japan and Mexico.
There's an intriguing clip from Ottinger's first film of the early 70s, the experimental black-and-white Laocoon and Sons, along with much from the highly-coloured, wildly imaginative work that began later in the decade. Scoring a huge hit in Germany with the controversial Madame X – An Absolute Ruler (1978), Ottinger made her name with films that occupy a parallel artistic universe to, say, Fellini, Ken Russell, Derek Jarman and early Almodóvar – mixing 'happening'-like performance, flamboyant design, camp humour and the spirit of 70s-80s German punk, along with potent streaks of lesbian chic and in-your-face queer culture.
Works such as 1981's Freak Orlando and Dorian Gray in the Mirror of the Yellow Press (1984) led up to Johanna d'Arc of Mongolia (1988), a mammoth undertaking that Ottinger actually shot in Mongolia: actress Irm Hermann offers the documentary's most enlightening talking-head material, cheerfully recalling hair-raising adventures on that shoot.
Kramer's very personal documentary, with its first-person voice-over testimony, rather comes across as one for Berlinale diehards, with interviewees including former Forum director Ulrich Gregor – offering key insights into Ottinger's theatricality – and Panorama head and all-round Berlinale face Wieland Speck reminiscing about acting naked for the director. Other contributors include some academic admirers, cogitating earnestly, and gallerist-collector Ingwild Goetz, who hits the nail on the head when she talks of Ottinger as an influence on today's leading art-world weirdmeister Matthew Barney.
But the film offers a very partial picture – more on Ottinger's role in the early 1970s Berlin art world would have been illuminating, and there's frustratingly little information about actress Tabea Blumenschein, Ottinger's one-time muse. Initiates, especially Ottinger's faithful Berlin public, will lap it all up, but otherwise Kramer's film, functional in execution, is more tease than revelation.
Production company: Nachtactiv-Film
International sales:Filmsyndikat Filmproduktion, office@filmsyndikat.net
Producer: Brigitte Kramer
Cinematography: Jörg Jeshel
Editor: Stephan Talnau