Dir: Pete Docter, US, 2009. 104mins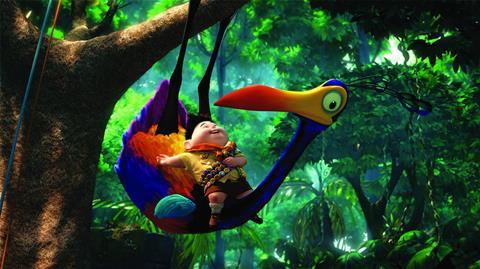 The tenth feature film from Pixar Animation Studios – and the first in which flesh-and-blood (non-superhero) humans are the key protagonists – Pete Docter's Up is a marvel of a movie which will enchant cinemagoers around the world and remain a family favourite for decades to come. A highpoint of ingenuity and storytelling in the Pixar canon and indeed the animated form, this is a fitting opening to this year's Cannes Film Festival; indeed it will be hard for any other film there to match the storytelling genius and gorgeous 3D imagery which Docter and his team have achieved.

Box office greatness is assured for all Pixar films these days, thanks to the strength of the brand combined with that of its partners at Disney. But, although all have been blockbusters, there's a wide Pixar range: last year's Wall-E, widely, for example, took $222.8m in the domestic market and $311m in international, but even that $535m total was $330m less than Finding Nemo in 2003. Quite where Up will fall in the range is anybody's guess, although its strong emotional connection to audiences will likely drive it up into the higher end of the studio's grossing scale.
Although there are plenty of animated films still to come this year — Wes Anderson's Fantastic Mr Fox and Walt Disney title The Princess And The Frog among them — Up should be the strongest contender for the animated feature Oscar next March, and could even pitch for consideration in the best picture category as well.
Up has humour and action aplenty to enthrall children, but it should engage adults in equal quantities who will respond to its rich emotional content.
The prologue is a heartrending 10 minutes set in the 1930s, when we meet a young child named Carl Fredricksen who longs for the adventures played out by his hero, real-life explorer Charles Muntz, in exotic locations such as Paradise Falls in South America.
The young Carl makes friends with a feisty girl called Ellie who has a similar longing for adventure. The two form a bond which will see them getting married, trying (and failing) to have a baby and growing old together, until Ellie gets sick and dies. The film essentially begins with the 78-year-old Carl struggling with loneliness after her funeral.
Carl's grief is exacerbated by the fact that developers are trying to get their hands on his city-centre house and ship him off to a retirement home. When he loses his temper with one of the construction crew, he is served with a court order to pack up and leave.
But on the night before Carl is due to move out of his home, he hatches a plot to pursue the adventure he never had. By inflating thousands of balloons, he lifts the house off its foundations and flies away.
Unbeknown to Carl, also on board is a persistent eight-year-old Wilderness Explorer called Russell who is desperate to do a service for Carl and win his assisting-the-elderly badge. The two of them head off to South America, land in Paradise Falls and begin an adventure which changes their lives and their outlooks.
Superbly voiced by Edward Asner, Carl is a new kind of hero for any animated film: a grumpy old man with rigidly square features — even square ears and square liver spots — and a bad back. His relationship with the neglected but hardy Russell (endearingly voiced by newcomer Nagai) grows slowly and authentically as they encounter various rare birds, packs of talking dogs and an ageing Charles Muntz (voiced by Plummer).
The colours of the film are ravishing and some of the compositions are painterly, while the 3D enhances the images without playing any in-your-face tricks on the audience. Michael Giacchino's memorable music themes will be rattling around your head for hours after the film is over.
The Pixar canon is so impressive because of its insistence on story. Avoiding distracting star names in the voice cast or contemporary pop culture references, the films are timeless and eminently valuable assets in the Disney library, and they represent a golden era for animation which will go down in film history alongside the early Disney greats such as Snow White and Fantasia. With Toy Story 3 set for release next year and two Pixar films for 2011, one can only expect the consistency of quality to be sustained.
Production company
Pixar Animation Studios Worldwide
Worldwide Distribution
Walt Disney Studios Motion Pictures/WDSMPI
Producer
Jonas Rivera
Co-director
Bob Peterson
Screenplay
Bob Peterson & Pete Docter, from a story by Peterson, Docter and Tom McCarthy
Production designer
Ricky Nierva

Editor
Kevin Nolting
Music
Michael Giacchino
Main voice cast
Ed Asner
Jordan Nagai
Christopher Plummer
John Ratzenberger
Delroy Lindo
Bob Peterson
Jerome Ranft