Screen reveals the burning questions ahead of this year's festival…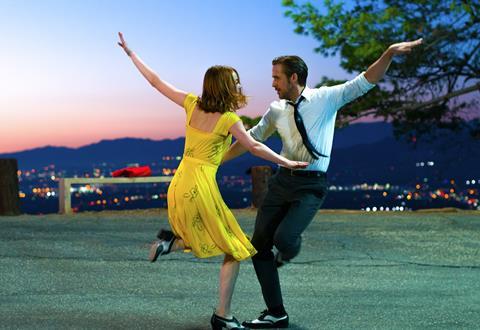 Anticipation for the 73rd Venice Film Festival (Aug 31 - Sept10) has been building for weeks.
Now, ahead of the world's oldest film showcase (and the autumn's first major awards barometer), Screen highlights ten burning questions…
1. Awards race under orders…
This year's awards race will get underway in earnest on the Lido. In the last three years the festival has kickstarted major Oscar runs for three movies: Gravity, Birdman and Spotlight, while last year's crop also included popular awards titles The Danish Girl and Anomalisa.
This year's line-up is starrier than ever with Venice's competition alone featuring Damien Chazelle's La La Land (more of which below), Tom Ford's blue ribbon drama Nocturnal Animals, Jacqueline Kennedy biopic Jackie, starring Natalie Portman, Denis Villeneuve's big-budget sci-fi Arrival and Michael Fassbender-Alicia Vikander romance The Light Between Oceans.
Which films, if any, will create separation from the pack?
2. Is La La Land this year's Birdman?
In an interview with Screen, festival director Alberto Barbera pinpointed Damien Chazelle's buzzed-about musical La La Land as "the movie with the biggest chance to become an Oscar contender".
Barbera enthused: "It is classic American cinema at its best: a musical with two great stars showcasing amazing moves like we aren't used to seeing anymore." TIFF's Cameron Bailey has subsequently seconded that thought.
Ryan Gosling and Emma Stone star in the story of a jazz pianist who falls for an aspiring actress in Los Angeles. Precocious writer-director Chazelle is as red-hot as his leads following Whiplash's triple Oscar haul two years ago and a more recent co-writing credit on box office breakout 10 Cloverfield Lane.
Will La La Land still be singing come February?
3. Comebacks and second comings.
Mel Gibson returns to the director's chair for the first time in a decade with war biopic Hacksaw Ridge, which plays out of competition. Andrew Garfield stars as a Conscientious Objector thrust into the heat of battle during World War Two. Controversial Oscar winner Gibson has proven media box office in recent years but will his latest effort skew towards Braveheart or Apocalypto?
Meanwhile, buzz is building for anticipated competition drama Nocturnal Animals, designer Tom Ford's follow up to well-received 2009 debut A Single Man. Among a strong lineup of sophomore works are also Rama Burshtein's Through The Wall and Katell Quillévéré's Heal The Living, both of which screen in Horizons.
4. Pope appeal?
How will Paolo Sorrentino's TV series The Young Pope fare in its out of competition slot? The first two episodes of the anticipated series about a fictional Pope played by Jude Law are set to play in the evening of the prestigious first Saturday slot.
Last year some local critics gave Luca Guadagnino's A Bigger Splash a rough ride at the film's press screening. Will the local boo boys also be out for Sorrentino, the Cannes habitué, and how much time will journalists devote to covering the HBO-Canal+-Sky series instead of feature films?
Few major film festival lineups are now without a TV element. Could potential success on the Lido spur Cannes to follow suit and how long will it be before a major festival introduces a competitive TV strand?
5. Will industry take to Venice's latest market revamp?
Venice has rebranded and relaunched its industry offering this year under the banner Venice Production Bridge (Sept 1- 5). The relaunched market will continue with strands including European Gap Financing, Final Cut and the Biennale College but will add TV, VR and web series elements.
During its market, Venice will screen a 40-minute preview of Jesus VR - The Story of Christ, a virtual reality film which is being dubbed by its producers as the first feature-length VR film ever made. The screening will be held in a new 'VR Theatre' at Venice's Casinò, which will be equipped with 50 VR headsets for individual viewing on seats that pivot 360°.
Venice has yet to establish its market as a must-attend on the industry calendar. Will the revamp help in that cause?
6. Cinema al fresco!
This year Venice is also launching a 450-seat outdoor screening venue in the garden of the Casino, which in recent years has been blighted by a hole in the ground.
The new Cinema del Giardino will screen free-of-charge non-competitive world premieres and will be open to public as well as accredited industry. Titles range from local and US crowd pleasers to international art house offerings.
How will the cinema al fresco go down? Will the free-of-charge concept take hold at other festivals and will security be beefed up at the outdoor screenings in light of the spate of terror attacks across Europe?
7. Latin America hits the Lido…
Venezuela's From Afar took home the festival's Golden Lion top prize last year. Latin America is well represented again. Pablo Larrain's English-language debut Jackie plays in competition alongside Amat Escalante's La Región Salvaje, Argentine co-production El Ciudadano Ilustre and Alberto Barbera's art-house hot tip The Blind Christ by Christopher Murray. Could it be back-to-back wins for the region?
8. …but China doesn't
Following a notably sparse Cannes, Chinese independent cinema is almost invisible in Venice (with Toronto not much better): China and Hong Kong will be without a narrative feature in competition or in Horizons. While the mainstream movie business booms in China, does this year's poor visibility for local independent films at major European festivals speak to a broader dilemma?
China will, however, feature prominently in the Venice market through the Bridging The Dragon co-production event.
9. Docking in Venice…
Two years ago Gianfranco Rosi's Sacro Gra became the first documentary to win the Golden Lion. Venice has assembled an impressive non-fiction roster again this year, including Sergei Loznitsa's Austerlitz, Ulrich Seidl's Safari, Andrew Dominik's One More Time With Feeling, Wang Bing's Bitter Money and a trio of docs on the Syrian conflict. Are we looking at another doc win on the Lido?
10. During Venice…Telluride and Toronto
As the autumn festival derby reaches its most congested turn, Telluride and Toronto will both offer first looks at their own posse of awards contenders as well as a host of potential gems.
The Founder, Silence, Sully, The Girl On The Train, Weightless, War Machine [though Netflix is unlikely to release the David Michod satire until later in 2017] and Allied are among anticipated titles yet to announce for a festival so one or more could in theory grace the Colorado festival.
TIFF's ever-daunting menu currently includes Garth Davis' potential awards heavyweight Lion, Holocaust drama Denial, Barry Jenkins' buzzed about Moonlight, Bertrand Bonello's sure-to-be controversial Nocturama, Andrzej Wajda's Afterimage, Oliver Stone's Snowden and a new Netflix-backed Werner Herzog documentary about volcanoes.
Which films will be on a high and which in the doldrums come the close of the three major festivals?