World premieres playing in the Cinema in the Garden strand at Venice, with details on each title including sales contacts.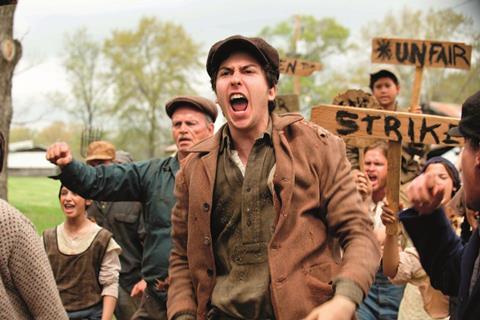 In Dubious Battle (US)
Dir James Franco
Based on John Steinbeck's novel of the same name and adapted by Matt Rager, who penned Franco's William Faulkner adaptations The Sound And The Fury (2014) and As I Lay Dying (2013), In Dubious Battle stars Nat Wolff as an activist who organises a strike for apple pickers in 1930s California. The ensemble cast includes Bryan Cranston, Zach Braff, Ed Harris, Robert Duvall and Franco. The film is produced by AMBI Pictures, which is currently mounting a remake of Christopher Nolan's Memento.
Contact: AMBI Distribution, office@ambidistribution.com
Inseparables (Arg)
Dir Marcos Carnevale
Hot on the heels of the French adaptation of Carnevale's height-challenged romcom Corazon De Leon comes this Argentina-set spin on the hit French comedy drama Intouchables. Oscar Martinez stars as a wealthy quadriplegic, Rodrigo de la Serna his initially reluctant caregiver. While seemingly broad for a film festival, it should play well in this audience-friendly strand.
Contact: Argentina Sono Film, argentina@sonofilmsa.com.ar
Franca: Chaos And Creation (It-US)
Dir Francesco Carrozzini
Carrozzini, who has directed music videos for Beyoncé and Marilyn Manson, trains his camera on his mother Franca Sozzani, the influential editor of Vogue Italia, for what is billed as an intimate portrait of her creative process and personal life. The film is Carrozzini's feature documentary debut.
Contact: Cinetic Media, john@slosslaw.com
My Art (US)
Dir Laurie Simmons
The feature debut of artist and actress Simmons, My Art tells the story of an ageing female artist who is pushing to have her work featured in a well-received show. Simmons also stars in the film, alongside her daughter Lena Dunham (Girls) and Parker Posey (Café Society).
Contact: United Talent Agency, ronsonr@unitedtalent.com
The Net (S Kor)
Dir Kim Ki-duk
Kim's The Net marks his seventh time at Venice. It stars Ryoo Seung-bum as a North Korean fisherman who finds himself drifting into South Korean territory. Kim's previous films have garnered multiple awards at Venice: 2012's Pieta won the Golden Lion, 2004's 3-Iron took three prizes, while 2001's Address Unknown and 2000's The Isle also played in Competition.
Contact: Finecut, cineinfo@finecut.co.kr
Robinu (It)
Dir Michele Santoro
This documentary explores the criminal underworld of Naples, and features interviews with teenage gang members who are drug runners and killers. Robinu is the directorial debut of Santoro, a prominent Italian journalist and news anchor who has also served in the European Parliament. Videa will release the film in Italy in the autumn.
Contact: Videa, antonio.adinolfi@videaspa.it
Summertime (It)
Dir Gabriele Muccino
Having established his credentials in the US with The Pursuit Of Happyness, Seven Pounds and Fathers And Daughters, Italy's Muccino returns with Summertime, a small-scale, coming-of-age road movie, featuring a quartet of up-and-coming actors. A young gay couple living in San Francisco take in two newly arrived Italians, and the four embark on a summer during which they "crack the shell of adolescence".
Contact: Rai Com, cristina.cavaliere@rai.it