The full line-up of world premieres in Venice's Critics' Week, with details on each title including sales contacts.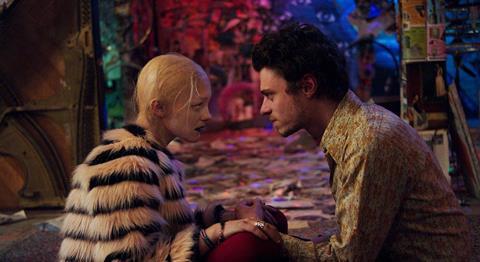 Are We Not Cats (US)
Dir Xander Robin
A man with a propensity for devouring hair meets a like-minded woman on the day he loses his job, apartment and girlfriend. Michael Patrick Nicholson, Chelsea Lopez and Michael Godere star in Critics' Week's closing night selection. Shorts film-maker Robin makes his feature debut, while the producers are Theo Brooks and Joshua Sobel of Scherzo Diabolico fame.
Contact: Tri Coast Worldwide, marty@TriCoast.com
Drum (Fr-Iran)
Dir Keywan Karimi
Iranian director Karimi attracted the ire of the authorities with his political graffiti documentary Writing On The City and was subsequently sentenced to jail and 223 lashes. He has continued to film and makes his feature debut with Drum, which is produced by Les Films De l'Apres-Midi and adapted from the book by Ali-Morad Fadaei-Nia. Shot in black and white, the film focuses on a Tehran lawyer who receives a life-changing package.
Contact: Les Films De l'Apres-Midi, f.artemare@films-am.com
Four Days In France (Fr)
Dir Jérome Reybaud
Aside from a passing reference in Trainwreck, gay-men-oriented dating app Grindr has had a low cinematic profile. French director Reybaud, making his feature debut after his documentary homage to cult film-maker Paul Vecchiali, Qui Etes-vous Paul Vecchiali (2012), embeds the app at the heart of this quest movie about a man using Grindr to search for his lover. The film is produced by Chaz Productions, which scored an indie hit with Catherine Corsini's Summertime in 2015.
Contact: M-Appeal, berlinoffice@m-appeal.com
The Last Of Us (Tun-Qat-UAE-Leb)
Dir Ala Eddine Slim
Tunisian documentary maker and video artist Slim makes his narrative feature debut with this tale of an immigrant's voyage towards Europe, using an experimental style to tell a philosophical fable on being lost. The central character decides to cross the sea from Tunisia to Europe but goes on a voyage of self-discovery when the ship's motor breaks down. Slim explored the refugee crisis in documentary feature Babylon, which he co-directed with Ismael and Youssef Chebbi in 2012.
Contact: Still Moving, info@stillmoving.fr
The Nobodies (Col)
Dir Juan Sebastian Mesa
Set among the punk and street-juggling subculture of Medellin, this young Colombian film-maker's debut screens here after opening the Cartagena film festival in March. Shot in black and white, it follows five adolescent friends who have chosen to live on the social margins of the city. Produced by Monociclo Cine, a company co-founded by Mesa, the film was given work-in-progress support by Santiago's SANFIC festival and the Rencontres Cinemas d'Amerique Latine in Toulouse.
Contact: Alpha Violet, keiko@alphaviolet.com
Prank (Can)
Dir Vincent Biron
Telefilm Canada funded this coming-of-age story about Sefie (Etienne Galloy), a teenage loner recruited by three boys to record their daily capers on his mobile phone. The film marks the directorial debut of cinematographer Biron, and is produced by Art & Essai and Le Girafon.
Contact: Art & Essai, hany@artetessai.ca
Prevenge (UK)
Dir Alice Lowe
UK actress-turned-film-maker Lowe (Sightseers) describes her directorial debut — Critics' Week's opening film — as a 'post-feminist revenge movie', and stars as a pregnant woman on a killing spree. Produced by Jennifer Handorf (Borderlands), Jamie Adams and Western Edge Pictures' Vaughan Sivell, the film was shot over six days in Wales in 2015.
Contact: Western Edge Pictures, info@westernedgepictures.co.uk
Singing In Graveyards (Malay-Phil)
Dir Bradley Liew
The debut feature from Malaysian film-maker Liew tells of an ageing musician who ekes out a living impersonating a Filipino rock legend, only to secure the chance to open for his idol. Winner of the 2016 Visions Sud Est production support and most promising project award at the 2014 Southeast Asian Film Lab in Singapore, the film is produced by Bianca Balbuena and Liew for Epicmedia Productions Inc International.
Contact: M-Appeal, berlinoffice@m-appeal.com
Le Ultime Cose (It-Swi-Fr)
Dir Irene Dionisio
The debut feature of Italian artist and documentarian Dionisio, this drama intertwines several plotlines: a transsexual sells her fur coat in a bid to escape her past, encountering a novice bank worker with whom she strikes up a relationship, while a retired porter receives a loan from a family member. Star Fabrizio Falco was the recipient of Venice's Marcello Mastroianni award for best young actor in 2012.
Contact: Alma Cinema, www.almacinema.com