Giuseppe Tornatore's Baaria is his 'most personal' film to date, a Sicilian epic spanning a century with a cast numbering 200. Sheri Jennings spoke to the Oscar-winning director as he prepares his film to open the Venice film festival (Sept 2-12)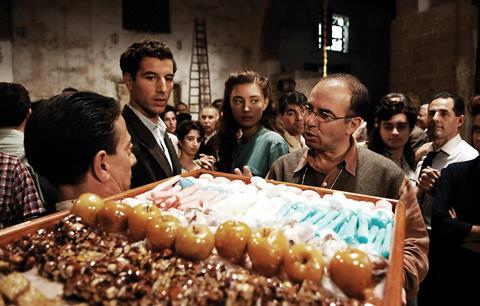 In the weeks leading up to the announcement that Baaria — the latest film from Oscar-winning director Giuseppe Tornatore — would open the 66th Venice film festival, the word in the Italian film industry was that the film-maker was working "day and night" to wrap the film. One source cited a gruelling 8am to midnight edit schedule, as Tornatore raced to complete post-production on versions in two languages — the original Sicilian dialect version for Sicilian and foreign audiences and the Italian version for local audiences.
Fully financed by Medusa Film to the tune of $28m (€20m), Baaria is one of the most expensive Italian productions of all time, and is the first Italian picture to open Venice — where it plays in competition — since Emidio Greco's A Simple Story (Una Storia Semplice) in 1991.
While Tornatore is keen to keep the plot under wraps, he describes Baaria as an "epic comedy" set over a century and spanning different generations of a Sicilian family. The complex narrative centres on characters played by Sicilian Margareth Made, in her acting debut, and Francesco Scianna. A further 200 actors come and go during the film including Monica Bellucci, Raoul Bova, Luigi Lo Cascio, Enrico Lo Verso, Lina Sastri and Italian comic Fiorello.
Tornatore has stopped short of describing the film as autobiographical, but he admits it is his "most personal" to date. 'Baaria' is the Sicilian dialect pronunciation of the town Bagheria, where Tornatore grew up, and the film features the equivalent of the town's main street as a recurring set.
"From the start, this was conceived as an international project with the potential for important sales."

Giampaolo Letta, Medusa
"I thought I'd get to [this film] when I was 70," says Tornatore. "I was aware of the difficulties of the project and considered it one of those ideas that directors carry around knowing they would never get to it."
This is the fourth Medusa-Tornatore project in 10 years following The Unknown (2006), Malena (2000) and The Legend Of The Pianist On The Ocean (1998). Medusa's vice-president and CEO Giampaolo Letta has been one of the crucial godfathers on the project: "From the start, this was conceived as an international project with the potential for important sales," Letta explains. "Projects like this can't be done every year but a big company like Medusa has to invest, believe in and risk high-level projects that have the potential to be sold abroad. And we think it can also do well at the Italian box office."
French-Tunisian financier Tarak Ben Ammar came on board early on as the French partner and "artistic and technical collaborator". Ben Ammar holds French distribution rights through Quinta Communications, while Medusa will distribute in Italy.
The shoot lasted 24 weeks, followed by five months of post-production at Cinecitta Digital studios, plus lengthy dubbing of the two versions at the Fono Roma Film Recording Studios.
Around 60% of the film was shot in Tunisia, at Ben Ammar's El Anabibe production centre which is located in the industrial district of Ben Arous just outside the Tunisian capital. The production recreated the town of Bagheria as it was from the 1930s to the 1970s.
Shooting in Italy was, according to Letta, never a viable alternative, and recreating the set in Tunis, a one-hour flight from Rome, resolved many issues even though it created others.
"Beyond the economic investment, building the set anywhere else would have been virtually impossible since Bagheria is a city that is completely different to how it was 60 or even 30 years ago," Letta explains, adding that the authenticity allowed them to avoid costly CGI work or facades.
The rest of the shoot, particularly interiors, countryside and seascapes, were shot on location around Palermo, Bagheria and the coastal town of Porticello in Sicily. The long shoot took place mostly during the winter months, prompting Tornatore to admit the greatest problem was the "cursed" weather. "In Sicily it rained every day. In Tunisia we thought we'd find the weather to be more agreeable but it was biting cold."
Letta says he or a key member of Medusa's production team was on location in Tunisia every 10-15 days.
"A project like this had a lot of difficulties to confront and resolve, so it was necessary that we were there," Letta says.
"I was aware of the difficulties of the project and considered it one of those ideas that directors carry around knowing they would never get to it."

Guiseppe Tornatore, director
It was not just the weather that created problems for the project. "There were so many characters, the art direction was really complicated, the story, the change of eras were all very complex," says Tornatore, who has described the film as "the most exhausting" he has ever shot.
Both Tornatore and Letta credit powerhouse executive producer Mario Cotone with keeping the film on track. Cotone has worked with Tornatore on four other titles including Malena, as well as having worked on other large-scale Italian productions such as Bernardo Bertolucci's The Last Emperor and Roberto Benigni's Life Is Beautiful. "In regards to Baaria, I think I wouldn't have been able to do it without Mario Cotone," says Tornatore. "A man with his experience brings added value to the set, it's like having an extra arm, and after so many years we understand each other well."
The film's original score was written by Oscar winner Ennio Morricone, who turned down Quentin Tarantino's Inglourious Basterds to concentrate on Baaria. Tornatore and Morricone have a famously interactive relationship, having worked together on many of Tornatore's features including Cinema Paradiso and The Legend Of The Pianist On The Ocean. "When I get a story together, he's one of the first people I speak to," says Tornatore. "I tell him about my first narrative impulses and he immediately reflects on what that story could need."
Summit Entertainment took on international sales rights to Baaria just ahead of Cannes 2008. "We have a long relationship with Summit. Patrick [Wachsberger, co-chairman and president] is a connoisseur of Italian cinema, in addition to being an excellent seller and distributor," says Letta who suggests Summit is "strategically holding back by choice" on English-speaking territories until the film is completed.
Summit has handled two previous Tornatore titles, Cinema Paradiso as a library title and The Star Maker in pre-sales. "We are admirers [of Tornatore] and it's lovely to be working on a film like this one… which is obviously a labour of love," says David Garrett, president of Summit International. "Sales have been amazingly good for a foreign-language film sold in pre-sales," he says, citing Benelux (Paradiso), Germany (Tobis), Spain (Tri Pictures), Latin America (Sun Distribution), South Korea (Mars Distribution), Greece (Odeon) and Portugal (Losomundo) as major territories sold so far, in addition to France and Italy, as well as more than a dozen other territories.
After Venice, Medusa will open Baaria in Italy on September 25.