A few years after splashy Hollywood deals put the region on the film map, the Gulf has been refocusing its efforts on building a sustainable industry - and now local talent is finding its voice.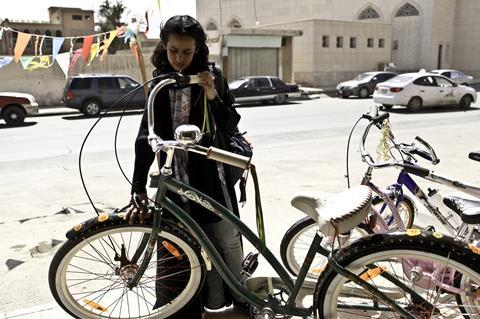 This year's Venice Film Festival offered a tantalising glimpse of the Arab world's potential as a global film player with its own cinematic voice. Almost every element of Wadjda, Haifaa Al Mansour's debut that played in Orizzonte, is revelatory. The first full-length feature shot in Saudi Arabia - and notably, directed by a woman - Wadjda also broke new ground in its financing. In a show of pan-Arab support that provides a promising blueprint for a collective future, the film was jointly backed by many of the region's industry lynchpins - the Jordanian Royal Film Commission, the Abu Dhabi Film Commission, the Dubai Film Market's post-production fund Enjaaz and the private resources of Rotana Studios, the media empire of Saudi prince Alwaleed bin Talal. Produced by Razor Film's Gerhard Meixner and Roman Paul, the Berlin duo involved in Paradise Now and Waltz With Bashir, it was also a model in modern co-production and development strategy. Two German broadcasters (NDR and BR) joined three German funds (MDM, Berlin-Brandenburg and FFA) in bankrolling a project that was nurtured through the Sundance Institute and received grant support from the Hubert Bals Fund.
Wadjda is also emblematic of a shift being felt across the six Arabian Gulf countries. A diverse generation of Gulf film-makers is starting to challenge their more established peers in Egypt, Lebanon and Palestine in terms of cultural impact and international exposure. They are the beneficiaries of a raft of local funding and training initiatives, many of them sponsored by the organisations behind the region's three main film festivals: Abu Dhabi in October, Doha in November and Dubai in December.
Working with international support bodies and co-production networks - Sundance, Tribeca, Berlin's World Cinema Fund, Torino Film Lab, Cannes' Atelier du Festival and Rome's New Cinema Network - these initiatives are encouraging film-makers from Qatar, Bahrain, Kuwait, UAE, Oman and now Saudi Arabia.
'Everything is being done on the basis of sustainability and the long-term future of the industry'

Wayne Borg, twofour54
This emerging self-confidence is expressing itself in other ways too. The money-burning deals that put the Gulf on the industry map as Hollywood's next cash cow have been reined in and the focus is rather more long-term and Arab-centric. The large-scale international productions that are now being financed through the region - including Black Gold and this year's Venice opener The Reluctant Fundamentalist, both backed by the Doha Film Institute - touch on subjects that are far closer to home than many of the first wave of Hollywood films that took advantage of Arab largesse. The big three local film festivals are now all in the hands of Arab executives or programmers, as is a growing portion of the local film business infrastructure that started out by importing the bulk of its expertise.
Local talent development and skills-sharpening is the new mantra. The two big Abu Dhabi announcements at Cannes this year were both geared to building regional expertise. A new 30% production rebate for films that come to Abu Dhabi will expose local crews and film services to international film-making methods while also assuring a reliable pipeline of work. A partnership between Digital Domain and Abu Dhabi's twofour54 is intended not just to create a purpose-built complex for turning out animated movies and visual effects, but also a media school.
"Everything is being done on the basis of sustainability and the long-term future of the industry," says Wayne Borg, deputy CEO and COO at twofour54, the government-backed creative industries hub under which many of Abu Dhabi's previously disparate film initiatives have been consolidated.
"You have to understand this is all still relatively new to the region. When we started out three-and-a-half years ago, there was no film industry to speak of here. So our focus is on building that infrastructure progressively and on developing the talent pool in its formative years, everything from screenwriters to editors and producers, to fuel that fledgling industry."
Borg oversees the Abu Dhabi Film Commission, the Abu Dhabi Film Festival, Tropfest Arabia and the Abu Dhabi Media Summit.
Twofour54 also maintains ties with the Emirate's other key player through Noura Al Kaabi, who became CEO of twofour54 earlier this year. Al Kaabi sits on the boards of both the Abu Dhabi Media Company and its film-making subsidiary Image Nation. Once associated with Hollywood extravagance - with hundreds of millions of dollars committed to National Geographic, Participant Media, Hyde Park Entertainment, Walter Parkes and Warner Bros - Image Nation is now focusing on regional talent. In November last year it announced a commitment to identify, train and foster budding Emirati film-makers in partnership with twofour54's Tadreeb training academy.
"For sure Abu Dhabi is not spending crazy money on unnecessary things any more," agrees leading Arab film analyst Alaa Karkouti, who runs Cairo-based film marketing company MAD Solutions. "Twofour54 has taken steps to create a real local and regional hub for Arab talents, and of course for the world. Even the funds are being restructured to make them more effective with clear targets and serve as a back-up for film-makers that go beyond just giving money."
One challenge is that distribution beyond the festival circuit remains a rarity. Deprived of that commercial audience outlet, producers face an uphill struggle to persuade the local reservoir of private wealth that film is a worthwhile investment.
"Definitely the prospects for film-makers in the Arab world and Gulf region are improving," suggests award-winning Emirati film-maker Khalid Al Mahmood, whose short Sabeel last year screened at the Berlinale and Locarno film festivals - in both cases, the first film from a Gulf country to make the selection. "While some initiatives have stopped, others have morphed and new ones put in place to ensure the continuance and improvement of short film-making in the region. But the difficulty right now may be in making the switch from shorts to full-length features."
'The prospects for film-makers in the Arab world and the Gulf region are improving'

Khalid Al Mahmood, director
Patience is the watchword. "There have to be realistic goals. We need to walk before we run," says Mekki Abdulla, CEO of the Fujairah Media Group. Abdulla heads the local media arm for the emirate of Fujairah, including the management and operation of the free zone there known as Creative City, which houses a legion of start-ups. "Technically we won't have a problem, but we need to make sure we have the quality in the writers and the scripts. After all, that's what will capture the audience paymasters," he says.
The Gulf is primed to join the rest of the Arab world as cinema's next creative hotbed. "I believe we are on the verge of an Arab new wave in film-making," says Hossam Elouan, a Cairo-based film scholar and independent film producer involved with Hawi, the 2010 winner of the Best Arab Film award at the Doha Tribeca Film Festival.
"We need to support as many film-makers as we can to make their first films and this won't happen if there's no stable and reliable financing support, both through grants and through equity funding that's eager to take risks for the sake of the future of a film and visual culture in this region."
Karkouti also points to a film renaissance in the making. "Creative-wise, we can't say we are there yet with Arab cinema," he says. "I believe we still need more time to have a real wave of different cinema. Most of the Arab films now are still inspired either by iconic Arab film-makers or by the international cinema in general. But clearly there's something boiling, particularly after the Arab Spring."