Dirs: Barry Cook, Neil Nightingale. US-UK-Australia. 2013. 87mins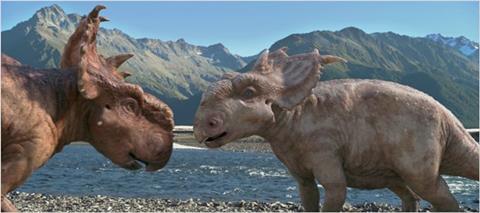 A spin-off – off sorts – from the acclaimed BBC series that utilised impressive special effects to take viewers on an inside journey into the life of dinosaurs, the resolutely young-person orientated Walking With Dinosaurs: The 3D Movie delivers a familiar story of family and heroism in the face of adversity. At times an odd blend – the script is very contemporary and designed to hit its young market, while the 3D special effects are immersive – it works as a kids' film for young dino fans, but its rather simplistic story may leave others frustrated.
The film's attempt to make its story broad and accessible at times sits uneasily alongside the spectacular computer animation.
With Fox releasing the film – which had its world premiere at the Dubai International Film Festival - in many international territories just before Christmas, it will offer a family friendly alternative to Disney's festive romp Frozen, though whether it will have the legs to stand alongside the easy entertainment of the Hans Christian Anderson adaptation remains to be seen.
The film is bookended with live action footage, opening in modern-day Alaska where adventurous Uncle Zack (Karl Urban) takes his vaguely surly teen nephew Ricky (Charlie Rowe) and keener younger niece Jade (Angourie Rice) to a remote site where he is excavating dinosaur remains. An engaging voiceover uses the discovery of a tooth from a Gorgosaurus as a way into telling the story of feisty Patchi, a Pachyrhinosaurus from the late Cretaceous period.
Patchi (voiced by Justin Long) is very much the runt of the litter, always getting into trouble and often tussling with is brutish older brother Scowler (Skyler Stone). Their father Bulldust is the leader of the herd, but after a nasty tussle with a Gorgosaurus while leading the herd on migration, Scowler takes on the mantle as head of the family, and grows to want to lead the herd.
Patchi takes a shine to pretty Pachyrhinosaurus Juniper (Tiya Sircar), but they have to keep their affection at a low-key while he is still a junior member of the herd. Scowler eventually grows to lead the herd, but when trouble brews and they find themselves under attack by several Gorgosaurus it is Patchi who eventually proves that he has the heart, strength and wiles to lead the herd.
Modest of the film's humourous asides come from Alex (John Leguizamo), a bright coloured Alexornis bird who becomes Patchi's friend and ally. The humour is forced at times, but Leguizamo is at least enthusiastic and helps give the film a certain drive.
The film's attempt to make its story broad and accessible at times sits uneasily alongside the spectacular computer animation. Patchi's comment that he sneaks around like a "ninja" makes this prehistoric tale uncomfortably contemporary, while use of Barry White singing I'm Gonna Love You A Little Bit More, Baby on the soundtrack during a 'romance' scene between Patchi and Juniper is heavy-handed rather than engaging.
But while the script may not always click – though Justin Long always plays it appropriately like a high school romp – the computer animation is always immersive and impressive, with the 3D adding much to the atmosphere. Animation director Marco Marenghu was an animator on the original BBC Walking With Dinosaurs some 14 years ago.
Production companies: Animal Logic, BBC Earth, BBC Worldwide, Evergreen Films, Reliance Big Entertainment
US/UK Distribution: 20th Century Fox
Producers: Mike Devlin, Luke Hetherington, Amanda Hill, Deepak Nayar
Executive producers: Marcus Arthur, Stuart Ford, Miles Ketley, Zareh Nalbandian, David Nicksay
Co-executive producers: Martyn Freeman, Fran LoCascio, Stephen McDonogh
Screenplay: John Collee
Cinematography: John Brooks
Editor: John Carnochan
Music: Paul Leonard-Morgan
Website: www.walkingwithdinosaurs.com
Main cast: Karl Urban, Angourie Rice, Charlie Rowe. (voices) Justin Long, John Leguizamo, Tiya Sircar, Skyler Stone