While Legendary will not update the fantasy adventure's running total until Saturday, the film's trajectory on the mainland in its first two days means it will have soared past the milestone on Friday.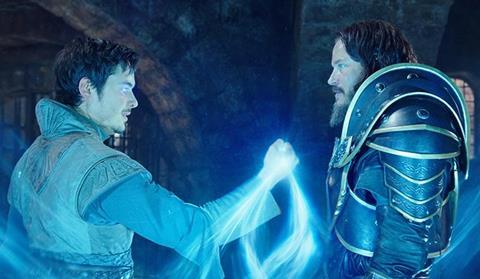 Warcraft is understood to have crossed $100m by some margin. Thursday's second-day performance of $44.5m-$46.5m (RMB 292m-305m) elevated the running total to $90.6m-$92.2m (RMB 595m-605m) and boosted the then $78m international running total from Universal Pictures International (UPI) to $168.6m-$170.6m.
By Friday the overall international figure was expected to be significantly higher than $180m, however updates were not expected from Legendary and Universal until Saturday.
Warcraft's second-day haul overtook the previous Thursday record of RMB 249m set by The Mermaid over Chinese New Year earlier in 2016 and fuelled the kind of good news executives at Universal Pictures and Legendary owners Dalian Wanda will lap up, given the lowly North American box office projections for the coming days.
If the upper range of the local currency Thursday estimate holds up, sources at Legendary said this would be the first time a film has crossed the RMB 600m threshold in two days.
The current confirmed record after two days of release is RMB 586m by Furious 7.
In what the company said could be another record, the film crossed the RMB 500m mark by 4.46pm on Thursday Beijing time.
What is certainly unprecedented is the forensic precision with which numbers are being reported at specific times. Legendary sources said only two other films have crossed RMB 500m on their second day – The Mermaid and Furious 7.
It is understood Warcraft accounted for 81% of the Chinese box office on Thursday, compared to 89% on opening day Wednesday when it grossed around $46m.
Warcraft arrives in a further 25 territories via UPI this weekend including Taiwan, South Korea and South Africa.
UPI will also open Melissa McCarthy comedy The Boss in the UK and Ex Machina in Japan.
X-Men: Apocalypse has raced to $317.6m through Fox International.
Paramount Pictures International's Teenage Mutant Ninja Turtles: Out Of The Shadows has grossed an early $41m.
The Jungle Book has amassed $549m and arrives in South Korea this weekend and is on track to cross $900m worldwide through Disney on June 10 to become the third Disney release to reach the milestone this year after Captain America: Civil War and Zootopia.
Alice Through the Looking Glass stands at $134.3m through Walt Disney Studios Motion Pictures International. Marvel Studios' Captain America: Civil War has reached $744.1m.Zootopia has grossed $665m and debuts in Turkey this weekend.
Sony Pictures Releasing International's The Angry Birds Movie stands at $176.8m. The distributor sprinkles a range of titles around the globe this weekend, led by Miracles From Heaven in the UK and Germany, Cannes out-of-competition selection Money Monster in Japan, I Saw The Light and Hello, My Name Is Doris in Australia, Pride And Prejudice And Zombies in Germany, and Rumbos in Spain.