Way To Blue's infographic unveils the most buzzed about trailers of the year.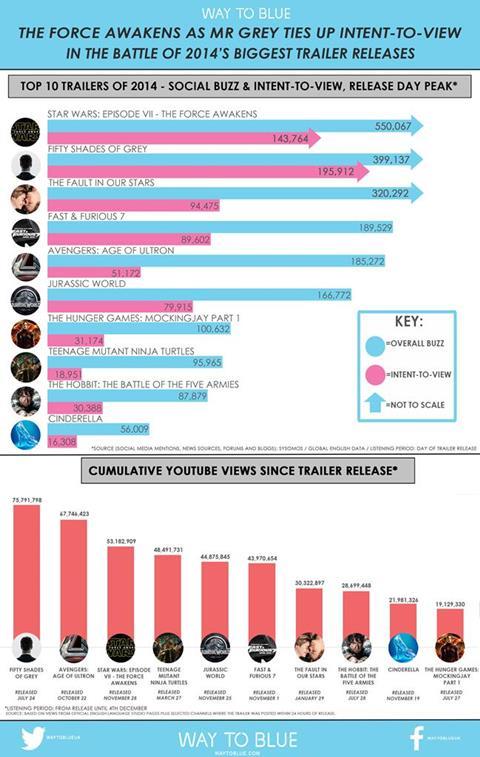 Star Wars: Episode VII-The Force Awakens is the most buzzed about film trailer of 2014, according to research done by global communications agency Way to Blue.
Compiled from the film's trailer release until Dec. 4, the information includes social buzz, intent-to-view, release day peak and cumulative YouTube views.
Coming in at a close second is Fifty Shades of Grey, followed by A Fault in our Stars in third.
Fast & Furious 7, Avengers: Age of Ultron, Jurassic World, The Hunger Games: Mockingjay Part 1, Teenage Mutant Ninja Turtles, The Hobbit: The Battle of the Five Armies and Cinderella round out the rest of the top 10.
As far as cumulative YouTube views are concerned, the numbers are slightly different. Fifty Shades of Grey leads the pack with 75.8m views since its release on July 24, almost four times the views of The Hunger Games: Mockingjay Part 1 (19.1m), released the same week. Avengers: Age of Ultron came in second with 67.7m views since its Oct 22 release.