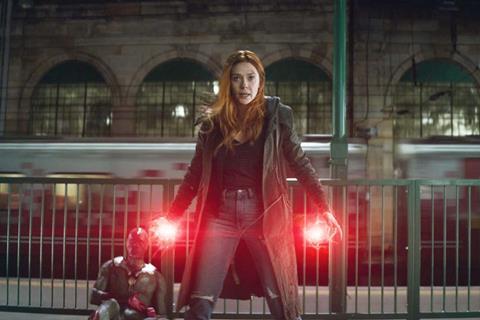 One of the highlights of Avengers: Infinity War was when Captain America rocked up on the streets of Edinburgh and battled several of Thanos's minions alongside Black Widow, Vision and Falcon, in an action sequence that took in both the old town and city centre. In total the Marvel production spent seven weeks shooting in Edinburgh, although the sequence was six months in the planning, with Screen Scotland's Screen Commission working in conjunction with Film Edinburgh and the city of Edinburgh Council to co-ordinate it all.
"One of director Joe Russo's children studies in Edinburgh so he's in Scotland quite regularly," explains Brodie Pringle, head of Screen Commission, the newly branded public sector and industry partnership established to drive cultural, social and economic development for Scotland's burgeoning screen sector. "Joe Russo drove the fact they wanted to look at Scotland as a potential location. We worked with the production over the course of a year and scouted the whole of the country before they settled on Edinburgh as their location.
"Once they chose Edinburgh, they really went for it and maximised their use of the city beyond all of our expectations. Film Edinburgh pulled rabbits out of hats on an almost daily basis."
Infinity War was not the first time Captain America had visited Scotland — parts of The Winter Soldier were filmed in Culross, Fife — but it was the first time the Scottish capital had played itself in a US studio tentpole (the city's 13th-century medieval quarter often doubles for period London in high-end TV dramas).
For Pringle and Screen Scotland, the international exposure associated with appearing in a Marvel blockbuster is most welcome. "That kind of gasp of appreciation when Captain America arrives in Edinburgh was heard very loudly here in Scotland," she notes with a laugh.
While Scotland has long had a strong filmmaking tradition, production has boomed over the last few years. In addition to Avengers: Infinity War, recent film and television productions to shoot in Scotland include Working Title Films' Mary Queen Of Scots, Sky's Patrick Melrose, the BBC's Ordeal By Innocence, local indie film We Don't Talk About Love, as well as Netflix's Robert The Bruce epic Outlaw King. Directed by Scottish filmmaker David Mackenzie, the latter title is the biggest budget film ever produced by a Scottish producer, namely Gillian Berrie of Glasgow-based Sigma Films.
"Outlaw King was in development for quite a few years," Pringle explains. "We worked with Sigma by supporting them through our recce fund. We've learned that recce funding isn't just about financial support. What it also does is allow us to attach Scottish scouts or line producers to productions at a very early stage, which in itself showcases the quality of people we have in Scotland, subsequently gaining the confidence of the studio later down the line."
Once Outlaw King was financed, the Screen Commission remained on board, providing a conduit between the production and national stakeholders such as Historic Environment Scotland. "Outlaw King is a historical drama, it's based on fact, so to be able to move into the actual locations that relate directly to the story was paramount to its realisation," says Pringle. "As you can imagine, there were a lot of negotiations around that, but it all happened very smoothly and hopefully will deliver some really dramatic scenes in some incredible places across Scotland."
Global showcase
This recent boom in production can be attributed in part to the 'Outlander effect'; the Sony/Starz TV show has been based in Scotland since 2012.
"That has been pivotal in Scotland being recognised as a real player, able to produce quality films, quality drama," says Pringle. "It was a show that showcased what our crews can produce."
Part of Outlander's legacy is Wardpark Studios, Cumbernauld, Scotland's first purpose-built studio complex, where the show has been based since 2012. It has also given impetus to training the next generation of behind-the-scenes Scottish talent.
"We're focusing on building our crew base through dedicated training programmes at all levels, and bringing in new entrants," says Pringle. "In partnership with Outlander, we're on to almost 100 crew members on the show over the past four years. That's the model we want to continue over the next few years. With additional investment from the Scottish Government, we can upskill the great people we already have in the industry in Scotland as well as attracting new entrants and retaining them here in a sustainable industry."
The fruits of this filmmaking boom are about to take centre stage even sooner, with three other independent productions that shot in Scotland all receiving their world premieres at this year's Toronto International Film Festival. Annabel Jankel's Tell It To The Bees, Tom Harper's Wild Rose and Naziha Arebi's Freedom Fields all benefited from development funding from Creative Scotland.
"What we look for in awarding the production growth fund is how much money will directly be spent in Scotland — in a direct ratio to what we invest," Pringle explains. The production growth fund provides funding as a non-recoupable grant based on spend in Scotland and opportunities that the production would provide to the Scottish sector. There is a minimum spend-to-funding ratio of 8:1 to be eligible for the fund.
Toronto titles
Based on a 2009 novel by Fiona Shaw, Tell It To The Bees, which stars Anna Paquin and Holliday Grainger, was initially set in a small mill town in 1950s Yorkshire. Having secured cornerstone financing from the BFI, the filmmakers were looking for additional regional funding and a place to shoot.
"We were looking at Ireland, we were looking at Belgium, we looked at Yorkshire, obviously," reveals producer Daisy Allsop. But when director Annabel Jankel spent a week scouting locations in Scotland, they decided to relocate both the film and production there. "We could have easily shot Scotland for Yorkshire but there was no reason to do that," says Allsop. "It made perfect sense to make it a Scottish story."
Eventually, the production based itself in Stirling and Jankel filmed entirely on location in the surrounding area, with a large country home in Balfron providing the focal point for half of the film's five-week shoot. The Screen Scotland Screen Commission helped crew the film with a majority Scottish contingent.
"The pool of talent in Scotland is fantastic," says Allsop. "We were aiming to make all our HoDs Scottish or female, and we almost did it. Actually, one or two were Scottish and female. There were six productions shooting [at the time] and we thought we'd never get the crew because we were coming in late. But we managed to get most of our people locally, and everybody was incredibly talented and very used to working quickly."
Wild Rose, by contrast, was always set in Glasgow. "This is a truly Scottish film and a celebration of working-class life in contemporary Scotland," says producer Faye Ward of London-based Fable Pictures. Written by Glasgow-born Nicole Taylor, it tells of Rose (played by Jessie Buckley), a single mother who dreams of making it as a country singer in Nashville. Director Tom Harper shot in Glasgow for 23 of the film's 31-day shoot.
"Screen Scotland funded our initial scouting when we first went up to Glasgow. They actually came with us on the recce to make sure everything ran smoothly," says Ward. "All of that really helped us set up in Glasgow. The film also received development and production funding from Screen Scotland."
As with Tell It To The Bees, Screen Scotland was instrumental in placing a majority Scottish crew. And when the production was denied permission to shoot at a few select sites, Pringle stepped in to successfully secure access to these key locations.
"We like to be as persuasive as possible," says Pringle. "I'm an ex-location manager, so I have a rule — I ask three times. But it's important the national Screen Commission can step in if things get sticky, and reassure location owners or stakeholders that the film is a professional film. It might be low budget, but they have our funding behind it, they have our support behind it, and they are going to be a valuable piece of content that will then go on to promote their location, their country."
The third of the Toronto-bound trio is Freedom Fields, a feature documentary from UK-Libyan director Naziha Arebi and Scotland-based producer Flore Cosquer, which follows three women and their football team in post-revolution Libya.
The film was shot in Libya over four years with Screen Scotland coming onboard in 2016 and supporting the project with both development and production funding. "Screen Scotland backing this unusual co-production is testament to their ongoing support to creative documentary and documentary talent in Scotland," says Cosquer, "as well as their interest in looking out to the world, supporting diverse voices and inspirational character-led stories."
For both visiting filmmakers and homegrown talent, the future of Scottish filmmaking looks bright. "As an expanding production hub, we're ready to support the significant upturn in film and TV content that is being made here, and through this, maximise the opportunities for the entire sector that this brings," says Pringle. With a doubling of staff, an increase in funds and a commitment to reach out internationally, Screen Scotland is well placed to lead the future success of the sector.
Find out more about Screen Network below: