Oscar-winning actor will also hold a keynote conversation at the Zurich Summit and present a screening of Inglourious Basterds.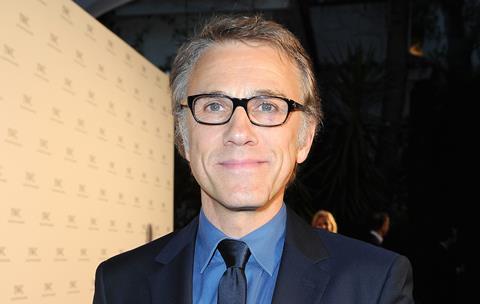 German-Austrian actor Christoph Waltz has been named as the president of the Swiss jury at the upcoming Zurich Film Festival (Sept 24 - Oct 4).
The two-time Academy Award winner will attend the festival on its opening day to and over the jury for the inaugural Filmmaker Award, which comes with a prize of more than $100,000 (100,000CHF) open to Swiss filmmakers whose projects are currently in the late production or post-production phase.
The star of Quentin Tarantino's Django Unchained and upcoming James Bond movie Spectre will also take part in a keynote conversation at the Zurich Summit - the industry sidebar of the festival which runs Sept 26-27.
In addition, Waltz will walk Zurich's green carpet before presenting a screening of Tarantino's Inglourious Basterds, which proved his breakthrough performance and earned him a Best Supporting Actor at the Oscars in 2010.
Filmmaker Award
Established in December 2014, the Association for the Promotion of Film in Switzerland will award its first 100,000 Swiss-franc endowed prize to one or more Swiss filmmakers whose projects are currently in the late production or post-production phase.
In addition to distributing the prize money, the Association's jury, whose members are director Marc Forster, IWC CEO Georges Kern, ZFF co-director Karl Spoerri and celebrity president Waltz, will also honour the winner with the Filmmaker Award.
Swiss filmmakers were able to enter their cinema projects - fiction or documentary - for the first time this spring in a bid to win the prize.
The entries have been narrowed down to four finalists by the Association's jury:
EUROPE, SHE LOVES
Producer: Lisa Blatter (2:1 Film GmbH), Andreas Hörl (lüthje schneider hörl | FILM) Director: Jan Gassmann
Director Jan Gassmann and his small team travelled 20,000 kilometres in a bus to film portraits of couples in Seville, Dublin, Tallinn, Zagreb and Thessaloniki. The result is a semi-fictional political documentary about Europe during the economic crisis, and portrays the daily struggle for survival of five couples who use their reserves of wit and love. The storyline of the film, which is now in post-production, moves between fiction and documentary.
GOLIATH
Producers: Dario Schoch, Rajko Jazbec (Cognito Films)
Director: Dominik Locher
Goliath tells the tale of the young David, who is mugged while on the way home with his pregnant girlfriend. This leaves him feeling like a weakling. Rendered insecure in his role as a man and father-to-be, he pumps himself full of anabolic steroids – only to turn into a threat to his family, who he had actually wanted to impress and protect. Goliath began shooting in July 2015, and is directed by Dominik Locher, who trained at Zurich University of the Arts and the American Film Institute and is considered to be one of Switzerland's most promising directors.
UND MORGEN SEID IHR TOT (TOMORROW YOU'LL BE DEAD)
Producer: Bernhard Burgener, Norbert Preuss (Kontraproduktion AG)
Director: Michael Steiner
This film tells the true story of Daniela Widmer and David Och, two Swiss citizens kidnapped by the Taliban in July 2011 while on a trip along Pakistan's historic Silk Road. After eight months in captivity they managed to make their escape. According to the script, the film will tackle the difficult time after their return to Switzerland and examine the events that took place in Pakistan. Shooting is planned to start in India in February 2016. The film will be directed by Swiss director Michael Steiner (Grounding, Mein Name ist Eugen).
WAFFENLÄUFER (THE GUN RUNNER)
Producers: Stefan Eichenberger, Ivan Madeo (CONTRAST FILM)
Director: Hannes Baumgartner
Zurich-based director and winner of the Zurich Film Award Hannes Baumgartner chose a controversial topic for his first movie: his story of Jonas Fischer is based on the real-life tragedy of a famous Swiss long-distance runner. At the peak of his sporting career, it is revealed that he has been living an ill-fated double life and is in fact wanted across Switzerland for over two-dozen attacks on women, who he robbed, injured or murdered. The Waffenläufer project is currently in the financing stage.