European premieres for Peter Berg's Deepwater Horizon and Garth Davis' Lion are among highlights.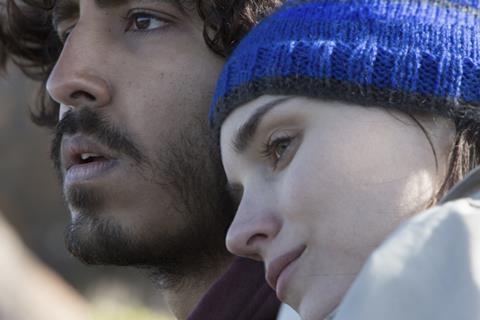 The Zurich Film Festival, which has revealed its full line-up today, will screen a total of 172 productions from 36 countries, including 43 debut works, 17 world premieres and a record number of Swiss films.
Among the highlights of this year's festival are the European premieres of Garth Davis' Lion starring Slumdog Millionaire's Dev Patel alongside Rooney Mara and Nicole Kidman, which will open festival on Sept. 22; Peter Berg's real-life oil catastrophe story Deepwater Horizon; and LBJ, Rob Reiner's political biopic starring Woody Harrelson as the former US president Lyndon Baines Johnson.
Among actors set to attend are Hugh Grant, Daniel Radcliffe, Woody Harrelson and Shailene Woodley while French director Olivier Assayas will be honored with a retrospective.
Deepwater Horizon producer Lorenzo di Bonaventura will also be honored with Zurich's Golden Eye award for his life's work. Regular guest Harvey Weinstein is also set to attend.
World premieres:
MISÉRICORDE, Fulvio Bernasconi, CH, CAN
THE OTHER HALF OF THE SKY, Patrik Soergel, CH
GOOD FORTUNE, Josh Tickell, Rebecca Harrell Tickell, USA
IM NIRGENDWO , Katalin Gödrös, CH
LE VOYAGEUR, Timo von Gunten, CH
SHORT TERM MEMORY LOSS, Andreas Arnstedt, DE
STAATENLOS – KLAUS RÓZSA, FOTOGRAF, Erich Schmid, CH
EGON SCHIELE – TOD UND MÄDCHEN, Dieter Berner, AT, LUX
SETTE GIORNI, Rolando Colla, CH, ITA
DIE LEHRER, Eric Andreae, Adrian Aeschbacher, CH
BORDERLAND BLUES, Gudrun Gruber, DE, USA
EINFACH LEBEN, Hans Haldimann, CH
L'ÂME DU TIGRE, François Yang, CH, BEL
NIRGENDWO, Matthias Starte, DE
PERIPHERIE, Brühlmann/Joerg/Mack/Ribler/Pillonel, CH
SKIZZEN VON LOU, Lisa Blatter, CH
STILLE RESERVEN, Valentin Hitz, AT, DE

European premieres:
JEAN OF THE JONESES, Stella Meghie, CAN, USA
TAMARA Y LA CATARINA, Lucía Carreras, MEX, SPA
FOREVER PURE, Maya Zinshtein, UK, ISR
SALT AND FIRE, Werner Herzog, DE, USA
DEEPWATER HORIZON, Peter Berg, USA
LBJ, Rob Reiner, USA
LION, Garth Davis, AUS, UK
SEARCH PARTY, Sarah-Violet Bliss (Creator) Charles Rogers (Creator), USA