Director Garth Davis and Harvey Weinstein to present the true life story in Zurich.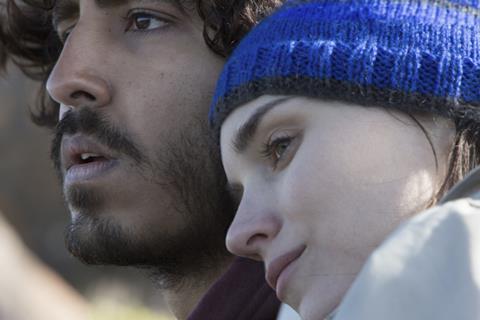 Garth Davis' Lion, starring Dev Patel, Rooney Mara, David Wenham and Nicole Kidman, is to open the 12th Zurich Film Festival (Sept 22-Oct 2).
The film will receive its European premiere on Sept 22 at the festival, with director Garth Davis and exec producer Harvey Weinstein expected to attend.
Adapted from Saroo Brierley's memoir A Long Way Home, the film tells the true story of how a wrong train took a five-year-old Indian boy hundreds of miles from home.
He was placed in an orphanage and eventually adopted by an Australian couple, Sue and John Brierley (played by Kidman and Wenham).
Patel plays the older Saroo, haunted by memories of his childhood, who set out to find his lost family using Google Earth technology.
Davis makes his feature directorial debut, having previously co-directed mini-series Top Of The Lake with Jane Campion.
ZFF director Karl Spoerri said: "The buzz around 'Lion' is amazing - which is just what you would expect from a Weinstein Company film expected to play strong through the awards season.
"The masterful storytelling exhibited in this film is a great tone setter for the festival and we're excited to be hosting the European Premiere."
Lion is a Weinstein Company presentation in association with Screen Australia, a See-Saw Films Production (The King's Speech) in association with Aquarius Films and Sunstar Entertainment. Produced by Emile Sherman, Iain Canning and Angie Fielder, executive producers are Bob Weinstein, Harvey Weinstein, David C Glasser, Andrew Fraser, Shahen Mekertichian and Daniel Levin.
The film will receive its world premiere at Toronto International Film Festival in September and Ascot Elite Entertainment Group will release Lion in Switzerland.
Zurich has previously revealed that Snowden will be presented at ZFF by director Oliver Stone and stars Joseph Gordon-Levitt and Shailene Woodley; Paramount's Florence Foster Jenkins will be presented by star Hugh Grant; and thriller Imperium will be presented by star Daniel Radcliffe and director Daniel Ragussis.