The Nun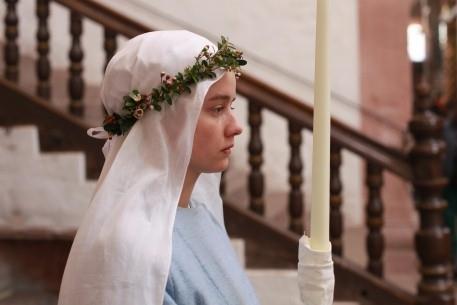 Dir: Guillaume Nicloux. France-Germany-Belgium. 2012. 114mins
A classic of French literature gets a scholarly and relatively respectful dusting-down in The Nun (La Religieuse), a labour of love from a French director hitherto associated with more worldly pursuits. Writer-director Guillaume Nicloux is best known for mainstream, thriller-skewed material, his 1998 policier hit La Poulpe. Turning to Diderot's eighteenth-century text, he finds himself working in a mode of severe classicism. The film's solemnity is offset by its narrative drive, visual elegance and a terrific central performance by young lead Pauline Etienne.
The film is superbly cast, with a host of French screen stalwarts lending vivid support.
For all its virtues, The Nun's slightly studious composure means that it never quite transcends its own admirable intentions, although it's considerably better than a museum piece. The familiarity of both theme and style will limit its prospects to festivals and to that end of the market committed to Gallic heritage material, although a typically watchable turn by Isabelle Huppert will bring its own benedictions. 
The Nun was famously adapted by Jacques Rivette in a film released in 1966 as Suzanne Simonin, La Religieuse de Diderot and the subject of intense controversy in France because of its subject matter, then considered a very hot potato. Nicloux's version won't be seen as comparably provocative, although he shares something of Rivette's austerity, tempering it with the traditional painterly pleasures of costume drama.
Etienne plays Suzanne Simonin, who - because of her family's financial straits - finds herself sent to a convent school and told she must become a nun. Rebelling, Suzanne experiences a brief reprieve at home with her parents (Martina Gedeck, Gilles Cohen) but later reluctantly submits to taking her vows. Initially thriving under the benevolent care of Mother Superior Madame de Moni (Farnçoise Lebrun), Suzanne falls foul of her successor Sister Christine (Bourgoin), a fanatical martinet who favours a mediaeval style of punishment. Suzanne later comes under the care of a more benign Mother Superior (Huppert) - only to find herself unwillingly on the receiving end of her amorous attentions.
The main innovation of Nicloux's Nun - in keeping with period narrative conventions - is to frame Suzanne's first-person narrative as a manuscript read by a young nobleman in the home of his tubercular elderly father (Lou Castel). Otherwise, Nicloux plays it pretty much straight as he recounts Suzanne's progress from ordeal to ordeal. Yves Cape's camera imparts severe beauty, while the naturalistic visual style contrasts effectively with the highly formal acting and dialogue.
The film is superbly cast, with a host of French screen stalwarts (including Marc Barbé and up-and-comer Agathe Bonitzer) lending vivid support. Huppert is dryly witty and poignant too as the older woman whose forbidden desires make her as much a victim of the convent system as Suzanne. And a surprise is that Louise Bourgoin, a fixture of mainstream entertainments such as Adèle Blanc-Sec, is so imposing as the quietly implacable tyrant. But Etienne is the film's revelation, fitting comfortably into the period frame but giving Suzanne a very modern muted tenacity.
Production company: Les Films du Worso, Belle Epoque Films, Versus Production
International sales: Le Pacte, www.le-pacte.com
Producers: Sylvie Pialat, Benoît Quainon
Co-Producers: Nicole Ringhut, Jacques-Henri Bronckart, Olivier Bronckart, Reza Bahar
Screenplay: Guillaume Nicloux, Jérôme Beaujour based on the novel by Denis Diderot
Cinematography: Yves Cape
Editor: Guy Lecorne
Production design: Olivier Radot
Music: Max Richter
Main cast: Pauline Etienne, Isabelle Huppert, Louise Bourgoin, Françoise Lebrun, Martina Gedeck