Dir: Tinge Krishnan. UK, 2011. 90mins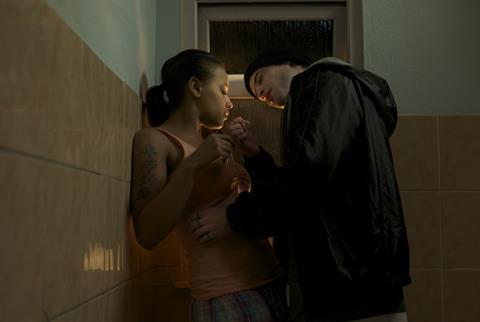 Junkhearts is a tough prospect for general audiences and is probably well matched in the UK with Soda Pictures' small-scale New British Cinema Quarterly initiative. Uncompromising and occasionally ill-disciplined, it's a strong-voiced, heartfelt debut from BAFTA short winner Tinge Krishnan. Although she has trouble reigning in some of the script's excesses, strong performances from Eddie Marsan and newcomer Candese Reid help keep Junkhearts on an even keel.
Junkhearts does boast a memorably vulnerable performance by Marsans who commits fully to Krishnan's direction.
Krishnan certainly shows a steady hand at the outset, introducing Frank (Marsans), an army veteran suffering alone from post traumatic stress disorder in a small apartment on an East London housing estate. Medicating himself with miniature bottles of whisky and endless cigarettes, his only human contact seems to be with the local grocer on Brick Lane.
Frank's world collides with Lynette, a homeless girl played with endearing freshness by Reid. At odds with his own daughter, Frank foolishly takes Lynette in, starts to give her money and develops an emotional connection with her. She seems to blossom under his tutelage and Frank, for a while at least, even stops stocking up his booze larder in favour of solid foods.
Meanwhile, in another part of London - and, possibly, another film - Romola Garai plays an upmarket single mother who is dabbling in drugs by night. This storyline weaves in and out of the film's early set-up, but abruptly disappears until the final sequences when it is abruptly required for plot purposes.
Krishnan handles Frank and Lynette's relationship well enough, though, and all seems on track until Lynette's boyfriend Danny (Sturridge) appears on the scene, with increasingly-depraved repercussions for everyone involved. Danny's arrival initially provokes a sense of dread and Junkhearts is stretched tautly with a strong sense of potential: Danny hails from Northern Ireland, while Frank served in the infantry there.
But Simon Frank's screenplay unleashes an unrelieved urban hell, given a somewhat unnecessary extra layer of excess by Frank's suppurating skin condition, Lynette's flirtation with crack and an interlude involving firearms being pointed at Frank's head. That's not even mentioning the one-eyed Basra bomb victim who fishes by the canal; some restraint might have served the film better here, but it's not to be found in Marsan's Frank, who implodes with a staggering amount of bile and snot. Those who find British indie cinema too grim for words will have a case in point with Junkhearts.
But even though this film does ultimately fall victim of its own excesses, Junkhearts does boast a memorably vulnerable performance by Marsans who commits fully to Krishnan's direction and could attract awards notice if this small film is seen. As a director, she has a strong visual sense and technique: a scene with Frank and Lynette in the park is memorably well shot, scored, and acted. But it's also the only scene in which Frank's character is allowed to smile. A good scene in the park, indeed, but Junkhearts is no walk in that zone for the unsuspecting general viewer.
The film premiered at the London Film Festival.
Production companies: Coded Pictures, Hustle Productions
International sales: Coded Pictures, info@codedpictures.com
Producer: Karen Katz
Screenplay: Simon Frank
Cinematography: Catherine Derry
Prod designer: Kristian Milstead
Editor: Alastair Reid
Main cast: Eddie Marsan, Candese Reid, Tom Sturridge, Romola Garai, Shaun Dooley, John Boyega