Theatre moguls launch UK group Trafalgar Entertainment; exclusive interview with distribution CEO.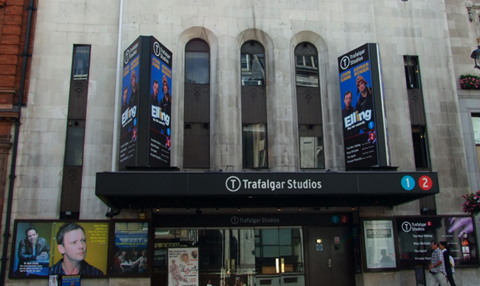 Fledgling UK distribution outfit Trafalgar Releasing is eyeing growth in the gaming and international distribution markets.
Little has been publicly known about the structure and growth plan of the new player until now but the company is officially launching today after theatre impresarios Sir Howard Panter and Rosemary Squire OBE acquired Lyn Goleby's Picturehouse distribution assets in a multi-million-pound deal earlier this year.
Former Picturehouse MD Goleby had previously bought out Picturehouse's distribution assets from Cineworld, taking a number of key staff in the process.
Panter and Squire, the former Ambassador Theatre Group CEOs have rebranded the distribution operation Trafalgar Releasing which will sit within a larger entertainment group called Trafalgar Entertainment, also comprising West End theatre acquisition The Trafalgar Studios.
Trafalgar Entertainment board members alongside Panter and Squire include chairman Greg Dyke, Richard Lenane, Clive Hollick, Jim Tanner, Bob Bartner, Laurence Isaacson, Peter Norris, Richard Steeves, and Goleby.
Distribution operation Trafalgar Releasing, which has been operating for some months, will prioritise alternative content and event cinema releasing (a market worth around £30m in the UK and hundreds of millions globally) but hasn't ruled out more traditional movie acquisitions.
Distribution partners include the Royal Shakespeare Company, the Bolshoi Ballet, Glyndebourne, the National Theatre, the Metropolitan Opera and the Royal Opera House, while upcoming music releases include David Gilmour Live at Pompeii.
Releases will also include some streamed theatre productions from The Trafalgar Studios, whose recent shows have included Richard III starring Martin Freeman and Macbeth starring James McAvoy.
Trafalgar also inherited Picturehouse Entertainment's library. The company teamed up with Lionsgate in March on the UK release of Oscar-nominated Elle and will release Sophie Fiennes' Grace Jones documentary later this year.
Additional library titles include The Imposter, 20,000 Days On Earth, The Lobster, Green Room and The Greasy Strangler.
Gaming and international growth
The standalone outfit currently comprises 18 staff based at an office in London's Old Street area but it will also open a New York office in coming weeks. Goleby serves as chair and co-director.
Trafalgar Releasing CEO Marc Allenby told Screen that growth areas for the company include concerts, gaming and international distribution.
"We see growth in the broad market of event cinema: there may be less in ballet, opera and theatre but more in music events, new strands of content and in gaming. There's growth in the diversification of content.
"There is also growth in global distribution. Rammstein: Paris [Jonas Akerlund's 2016 concert documentary] was only on in 50 screens in the UK but more than 1000 internationally and we see North America as a particular expansion area."
"We're having conversations about distributing gaming events, such as live tournaments, which we could launch as early as this autumn."
One new documentary acquisitition for the company, Screen can reveal, is SXSW and London Film Festival title The Man From Mo'Wax, the movie charting the life and career of underground DJ, music producer and trip-hop mogul, James Lavelle.
The company is aiming to stage an event with Lavelle and other guests from Mo'Wax label this year.
Allenby and key executive are likely to attend Toronto but are less likely to be buying at markets such as Cannes, Berlin and AFM.
Sir Howard Panter and Rosemary Squire OBE, joint CEOs of Trafalgar Entertainment Group, said: "We find the concept of a company operating across rights, theatre and screening very exciting indeed. Trafalgar Releasing has a strong track record in partnership working and our two organisations are an excellent fit.
"We're thrilled to be working with such an ambitious and talented young team from across theatre and film – all of us enjoy being in at the beginning of something new and have a shared passion for broadening access to the very best live arts and entertainment."