Screen correspondents profile some of the hottest and most intriguing projects from around the world available to buyers here at the American Film Market.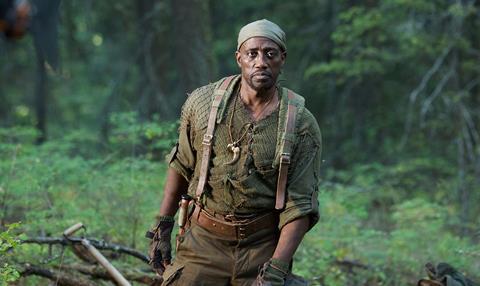 North America
By Jeremy Kay
Sierra/Affinity's Nick Meyer and his team will commence international sales on Craig Gillespie's drama-biopic I, Tonya, with Margot Robbie in negotiations to play controversial US figure skater Tonya Harding. Len Blavatnik's AI Film will fully finance and UTA Independent Film Group and CAA represent US rights.
FilmNation will be talking up Bona Fide Productions' The Only Living Boy In New York starring Jeff Bridges, Kate Beckinsale, Pierce Brosnan, Callum Turner, Cynthia Nixon and Kiersey Clemons. Marc Webb directs from a screenplay by Allan Loeb about a college graduate who embarks on a relationship with his father's mistress. Amazon Studios holds US rights.
IM Global is fully financing and launching international sales on Drake Doremus's Zoe, which will star Charlie Hunnam and Léa Seydoux. Scott Free Productions is producing the tale of two research lab colleagues who make profound discoveries in their work to perfect romance through technology. Production is set for April in Montreal. UTA Independent Film Group represents US rights.
Bloom will start sales on Fonzo, starring Tom Hardy as Al Capone. Addictive Pictures and Lawrence Bender produce the story, set in the Chicago gangster's final days as he is ravaged by dementia. Josh Trank directs and CAA and WME Global represents US rights.
Voltage Pictures launches sales on Morgan Creek Productions' Tupac Shakur biopic All Eyez On Me, about the life and legacy of the iconic hip-hop star and actor. Benny Boom directs newcomer Demetrius Shipp Jr in the lead role. The film wrapped production in Atlanta and Las Vegas last spring and the producers are in talks on a US deal.
Nu Image will be talking up Angel Has Fallen, the third entry in the action series starring Gerard Butler. This time, Secret Service agent Mike Banning finds himself the target of assassins.
Paul Hanson's Covert Media is on board worldwide rights to Resurface, which double Oscar-winning effects ace Paul Franklin (Interstellar, Inception) will direct. The action film centres on a scientist and an engineer trapped 35,000ft underwater after an earthquake separates them from their crew. The project — the first from Covert Media's two-year deal with Broken Road Productions — is in pre-production.
Red Sea Media arrives with Ecstasia starring Scott Eastwood. Wayne Kramer will direct the story, set in 2022, when a virus has eliminated the ability to fall in love.
Jeremy Irons and Jack Huston star in An Actor Prepares, which Content Media will be touting to international buyers. Steve Clark directs the father-son buddy comedy, which CAA represents for North America.
Radiant Films International has high hopes for Misfortune, a thriller to star John Cusack, Daniel Zovatto and Willa Fitzgerald. Lucky McKee directs the story of a desperate embezzler who goes up against three young friends who find his lost cash in the desert.
XYZ Films arrives with Anders Walter' I Kill Giants, starring Zoe Saldana and Imogen Poots. The film, based on Joe Kelly's graphic novel about a young misfit battling monsters real and imagined, is shooting now. Chris Columbus is on the producer roster and XYZ handles worldwide sales rights.
Fortitude International is talking up Android, starring Aaron Paul and Olga Kurylenko. Niall Johnson directs the film, which is about a man alone in space who finds himself trapped in a game of cat-and-mouse with his companion robots.
The Exchange brings Rebecca Ferguson-starrer The Lady And The Panda, which CAA represents in the US. Justin Chadwick directs and Laura Bickford and Michelle Qi produce the true story of a 1930s New York socialite who became the first person to bring a live giant panda from China to the world's attention.
International Film Trust will be talking up The Party Crasher, about an evil entity that takes over a frat-house party. Michael Benaroya is producing with Unique Features' Bob Shaye and Michael Lynne. The film stars Shanley Caswell, Molly Tarlov, Jayson Blair, Jacob Artist, Ashton Moio and Cameron Moulene.
FilmSharks arrives with Inseparables, Marcos Carnevale's Latin remake of French smash Intouchables. It stars Oscar Martinez, who won Venice's best actor prize for The Distinguished Citizen.
Myriad Pictures represents international rights to Mushroom Pictures' coming-of-age horror Boys In The Trees following its world premiere in Venice's Horizons section. Toby Wallace, Gulliver McGrath and Mitzi Ruhlmann star in Australian director Nicholas Verso's debut about teenage friends who embark on a precarious all-night trek on Halloween.
AMBI Distribution arrives with an as-yet-untitled Sarah Jessica Parker musical drama, in which a successful singer must deal with a life-changing diagnosis. AMBI Group is fully financing the film, which is scheduled to shoot this winter.
Toronto-based Double Dutch International commences talks on rom-com You, Me And Him starring Lucy Punch, Faye Marsay, David Tennant and Simon Bird of The Inbetweeners. Production was due to start in the US on October 31 on the story of a career woman and her hedonistic girlfriend who must re-examine their relationship after befriending a Casanova-type neighbour.
Mongrel International is in town with G.L.O (The Giant Little Ones) to star Maria Bello and Josh Wiggins. Keith Behrman directs the tale of high school best friends whose lifelong relationship takes an unexpected turn at a 16th birthday party.
Raven Banner Entertainment has horror film Dearest Sister directed by Mattie Do. The story centres on a Laotian village girl who travels to the capital, Vientiane, to care for a rich cousin who has lost her sight but gained the ability to communicate with the dead.
Bleiberg Entertainment will be talking up Coming Through The Rye, a coming-of-age tale about a youngster in 1969 who runs away to track down reclusive author JD Salinger. Alex Wolff and Chris Cooper star.
13 Films is starting talks on family adventure Four Kids And It, to star Michael Caine, Bill Nighy, Matthew Goode and Paula Patton. Shooting is scheduled to begin on November 14 on the adaptation of Jacqueline Wilson's story about young children who encounter a magical wish-granter.
Concourse Media handles worldwide sales to Grass Stains from Haven Entertainment and Bow & Arrow Entertainment. The drama about a teenager dealing with his conscience after a prank causes the death of his girlfriend's older brother stars Tye Sheridan and Kaitlyn Dever. Kyle Wilamowski wrote and directed.
Electric Entertainment will be talking up worldwide rights to company founder Dean Devlin's Bad Samaritan. David Tennant and Robert Sheehan star in the tale of car valets who burgle the wrong house.
The Little Film Company will kick off talks with worldwide buyers on Last Rampage: The Escape Of Gary Tison. The true crime thriller stars Robert Patrick and Heather Graham, and recounts an Arizona prison inmate's breakout and violent spree. Dwight Little directs the film, currently in post-production.
Visit Films will be making its first concerted push on Maze, about the IRA prison breakout of 1983. Tom Vaughan-Lawlor, Barry Ward and Martin McCann star in writer-director Stephen Burke's film, currently in post-production. Lionsgate for the UK and NonStop Entertainment for Scandinavia are among the buyers already confirmed.
Former Premiere Entertainment executive Jack Campbell's new Octane Entertainment hits the market with This Is Your Death starring Josh Duhamel, Giancarlo Esposito and Famke Janssen. Esposito directs the story of a disturbing gameshow in which contestants end their lives for public enjoyment. Producer Great Point Media represents US rights.
Epic Pictures brings supernatural thriller The Lodgers, Brian O'Malley's tale of a haunted family estate in Ireland where spirits are awakened by a young suitor's advances. David Bradley from Game Of Thrones stars.
Pure Flix is seeking followers for The Case For Christ, its adaptation of Lee Strobel's bestseller about an atheist reporter who sets out to prove Christianity is a cult and ends up feeling differently. The film will screen at the market and is set for a US launch in April in more than 1,200 theatres. Mike Vogel, Erika Christensen and Faye Dunaway star.
Montreal's Seville International is in town talking up The Ashram, a spiritual thriller shot in India and starring Sam Keeley, Melissa Leo and Kal Penn. Ben Rekhi's film is about a sceptical American who travels to the Himalayas to investigate his girlfriend's disappearance and encounters a mysterious community.
VMI Worldwide will start talks on The Recall, starring Wesley Snipes and RJ Mitte. The action sci-fi was shot in the Barco Escape format, virtual reality and 4K. It follows five friends who must survive an alien invasion, and will open theatrically in the US in Barco-equipped theatres.
Shoreline Entertainment arrives with satirical rom-com It Had To Be You, about a neurotic jingle writer who must decide whether to get married or pursue her dreams. Chris Columbus serves as executive producer and the cast includes Cristin Milioti and Dan Soder. Samuel Goldwyn Films distributes in North America.
Spotlight Pictures founder and CEO Matt McCombs will be talking up Lies We Tell starring Gabriel Byrne and Harvey Keitel. The story follows the driver of a recently deceased businessman who lands in hot water when he attempts to save the family legacy and cover up his late employer's affairs. Mitu Misra makes his directorial debut on the film, which is in post-production.
Film Mode Entertainment will commence talks on The Gracefield Incident, about a video-game developer who embeds a phone camera in his prosthetic eye and records an alien invasion while on a weekend getaway with friends. Mathieu Ratthe directs and stars with Kimberly Laferriere, Victor Andres Turgeon-Trelles, Juliette Gosselin and Alex C Nachi.
MPI Media Group arrives with The Stakelander, the sequel to cult post-apocalyptic film Stake Land. Connor Paolo, Nick Damici, Laura Abramsen, AC Peterson and Bonnie Dennison star in the story about a battle between vampire armies.
UK
By Andreas Wiseman
HanWay Films heads to AFM with a new-look sales team and a live-action version of classic fairytale Pinocchio, from Gomorrah and Tale Of Tales director Matteo Garrone. The Great Beauty star Toni Servillo is to play Geppetto in the Italian-language movie, produced by RPC, Le Pacte and Rai Cinema.
Cornerstone Films' busy slate includes Dan Krauss's feature adaptation of his documentary The Kill Team. Nat Wolff and Alexander Skarsgard are set to star in the story of a US soldier trapped between his conscience and survival when members of his platoon carry out a murderous scheme in southern Afghanistan.
Thorsten Schumacher will be at AFM with his new company Rocket Science, which will be talking to buyers about Saoirse Ronan drama On Chesil Beach, currently shooting in the UK. Number 9 Films produces the adaptation of Ian McEwan's 1960s-set novel about a young couple on their honeymoon.
Embankment Films hits Santa Monica with Glenn Close drama The Wife, currently in production. The long-gestating project charts the story of a writer who decides to leave her husband while travelling to receive a prestigious award. Producers include Anonymous Content and Meta Film.
Protagonist Pictures is here with Richard Loncraine's silver-dollar rom-com Finding Your Feet, starring Imelda Staunton, Timothy Spall, Celia Imrie and Joanna Lumley in the story of a woman who finds romance at a dance class.
Bankside Films will be talking to buyers about recently wrapped thriller Steel Country, headlined by Sherlock and Spectre star Andrew Scott, who plays a small-town truck driver who turns detective. The King's Speech's Gareth Ellis-Unwin produces, and editor is Slumdog Millionaire's Chris Dickens.
Altitude Film Sales is in town with Andy Nyman and Jeremy Dyson's supernatural thriller Ghost Stories, about a professor who encounters haunted people. Warp Films produces and Martin Freeman is attached to star.
Following their collaboration on Oscar-nominated Song Of The Sea, WestEnd Films is reteaming with Irish animation studio Cartoon Saloon on The Breadwinner, which is produced in association with Angelina Jolie's Jolie Pas Productions. The title centres on an Afghan girl who disguises herself as a boy in order to support her family.
David Garrett's Mister Smith Entertainment will be looking to seal deals on Broad Green Pictures' Wish Upon, starring Joey King and Stranger Things actress Shannon Purser. The film tells the story of a 16-year-old misfit who finds a magic box that promises the life she always wanted, but each wish demands a deadly payment.
Andrew Niccol's thriller Anon, starring Clive Owen and Amanda Seyfried, is in post-production for K5 Film. Owen will star as a detective operating in the near future, when crime has been eradicated.
Goldcrest Films will continue talking to buyers about Zack Whedon's completed US thriller Come And Find Me, which has a first market screening. Aaron Paul and Annabelle Wallis star in the feature, from producers Automatik Entertainment, Motion Picture Capital and Oddfellows Entertainment.
Metro International has boarded sales on completed UK-China-New Zealand family adventure movie Into The Rainbow (formerly The Wonder). Willow Shields, Leo Wu, Joe Chen, Maria Grazia Cucinotta and Archie Kao star in the story of two teenagers who travel inside a super-powered rainbow to China.
Great Point Media's bustling slate includes Lisa Langseth's drama Euphoria, starring Alicia Vikander and Eva Green. In post-production, the title charts the story of two sisters trying to reconnect before one of them succumbs to a terminal illness.
Independent comes to market with drama The Escape, starring Gemma Arterton and Dominic Cooper in the story of a dissatisfied woman who leaves her family. Lorton Entertainment is financing and has UK distribution rights.
Simon Crowe's SC Films will have a market screening of animation Charming, featuring original songs by Demi Lovato and Sia. Avril Lavigne, John Cleese, Ashley Tisdale and Wilmer Valderrama also lend their voices to the movie, in which three fairytale princesses find themselves engaged to Prince Charming.
Salt will hope to entice buyers with recently wrapped supernatural horror Malicious, about a college professor and his pregnant wife who find themselves haunted — and connected — to a malicious entity, following a traumatic event.
Kaleidoscope Film Distribution will be talking to buyers about Alice Lowe's Venice and Toronto comedy-horror Prevenge, about a pregnant woman who goes on a killing spree. Sightseers actress Lowe wrote, directed and stars in the movie, which is sold by XYZ Films and ICM in the US.
Celsius will stoke up interest in Isabel Coixet's drama The Bookshop, about a woman who decides, against polite but ruthless local opposition, to open a bookshop in rural 1950s England, a decision that becomes a political minefield. The film has already pre-sold to Spain and Australia among other markets.
Film Constellation hits the Loews with comedy-horror Double Date from producers Matt Wilkinson and Maggie Monteith. Benjamin Barfoot's feature debut stars Michael Socha and Georgia Groome, with cameos from Dexter Fletcher and Tom Sturridge.
Former Metrodome and The Little Film Company executives Caroline Couret-Delegue and Elie Mechoulam arrive at the market with newly minted sales outfit Truffle Pictures, which kicks off with John Jencks' completed comedy The Hippopotamus, based on Stephen Fry's novel about a poet summoned to his friend's country manor to investigate a series of unexplained miracles.
Timeless Films will be in Santa Monica with the live-action version of writer Michael Ende's Jim Button And Luke The Engine Driver. The Wave director Dennis Gansel takes the helm on the family fantasy, the producers of which include Warner Bros Germany, Christian Becker and Studio Babelsberg.
Guy Collins and GFM Films will be at AFM with development drama The Personal History Of Rachel DuPree. Viola Davis, Mahershala Ali and Quvenzhané Wallis are attached to star in the story of a heavily pregnant woman on a drought-stricken ranch who is forced to take survival into her own hands.
GSP Studios will be tempting buyers with Diamond Geezers, a story about the notorious Hatton Garden heist in London, in which a gang of pension-age crooks carried out a robbery worth an estimated $300m. Brian Cox and Tom Courtenay are due to star.
Umedia will be seeking further deals on its slate, which includes completed Italian drama Correspondence, starring Jeremy Irons and Olga Kurylenko.
The Works Film Group will premiere Loft director Erik Van Looy's thriller The Prime Minister, in which the car of the Belgian prime minister is hijacked, his driver killed and the premier kidnapped by terrorists.
Carnaby Sales And Distribution will show an extended promo of Mozart drama Interlude In Prague, about the turbulent months that influenced the creation of opera Don Giovanni. James Purefoy, Aneurin Barnard, Samantha Barks and Morfydd Clark star.
Evolutionary Films' slate includes Juliet Stevenson starrer Let Me Go. In post-production, the drama is based on the memoirs of Helga Schneider, who was abandoned by her mother in 1941 when she was only four years old as her mother joined the Nazi SS.
Recently launched C International Sales, the sales arm of Cinestaan Film Company, will present a slate including Hindi romance-drama Mirzya, about star-crossed lovers in parallel worlds. Former 6 Sales executive Marina Fuentes leads the charge.
4squarefilms will be touting completed Alice Eve and Jack Davenport title The Stolen, in which a woman's dreams of a new life are violently shattered when her baby son is kidnapped.
Genre specialist Jinga Films has boarded Serbian sci-fi thriller Incarnation for world sales and remake rights. The film, which had its US premiere at Screamfest LA, follows a man caught in a recurring nightmare.
Moviehouse Entertainment will be at the market with Brad Watson's UK horror feature Hallows Eve, which played at London's FrightFest. The film is about a gang that ignores bad omens in a bid to reclaim the streets on Halloween.
Dogwoof's sales team will be talking to buyers about documentary Citizen Jane: Battle For The City, covering author, sociologist and activist Jane Jacobs, well known in the field of urban planning for her book The Death And Life Of Great American Cities.
Parkland Pictures will bring UK home invasion thriller Us And Them to market. Jack Roth stars in Joe Martin's debut about a disillusioned young man who holds a banker and his family hostage.
Devilworks will be seeking deals for Australian thriller The Suicide Theory, which the company is repping for international sales following its release on Netflix in the US.
7 & 7 Producers Sales Service comes to market with UK title Away, director David Blair's completed drama starring Timothy Spall and Juno Temple.
Saradan Media's slate includes drama Camera Store, currently in post-production. Set on Christmas Eve 1994, the US movie charts the story of two salesmen who must confront their fears when a young employee is forced on them by their vindictive boss.
France
By Melanie Goodfellow
Studiocanal will launch Shaun The Sheep Movie 2, the sequel to its joint production with the UK's Aardman that earned $106m at the global box office. Other new titles on the AFM slate include Paris-set comedy Madame, starring Harvey Keitel and Toni Collette as a wealthy ex-pat couple whose housemaid (Rossy de Palma) embarks on an affair with one of their rich acquaintances. The slate also includes French-language comedy The Climb, starring Ahmed Sylla as a man who sets off to conquer Everest to impress a woman. It is the debut feature of Ludovic Bernard, who was an assistant director on a number of EuropaCorp productions including Lucy, Taken 3 and Nine Lives.
The rebranded TF1 Studio (formerly TF1 International) will kick off sales on Rudolf Nureyev, Rodolphe Marconi's biopic of the legendary ballet dancer; romantic comedy Bonne Pomme, which reunites Gérard Depardieu and Catherine Deneuve; and Honey Bunny, about protective parents who try to help their lovesick teenage son get over being dumped. It will also show a promo reel of Philippe Lacheau's comedy Alibi.Com, about the creator of a start-up that specialises in concocting alibis, and Knock, starring Omar Sy as a hustler-turned-doctor who convinces the healthy inhabitants of a village that they are ill to boost his earnings.
Gaumont will launch comedy Baby Bump(s), which stars Juliette Binoche and Camille Cottin as a mother and daughter who both fall pregnant at the same time. The company will also world premiere Brice From Nice, in which hapless surfer Brice (Oscar winner Jean Dujardin) quits the south of France for Hawaii, and Second World War drama A Bag Of Marbles, as well as a teaser for Albert Dupontel's buzzed-about historical drama See You Up There.
Wild Bunch will show a promo reel for Luc Jacquet's March Of The Penguins 2 — The Call and continue sales on Claire Denis' High Life, starring Robert Pattinson, Patricia Arquette and Mia Goth, as well as a slew of Cannes 2017 hopefuls including Michel Hazanavicius's Jean-Luc Godard tribute Redoubtable, which shot over the summer, and Arnaud Desplechin's Ismael's Ghosts.
Kinology will kick off sales on Leos Carax's long-gestated musical Annette, which is in pre-production, as well as Pascal Laugier's horror-house thriller Incident In A Ghost Land, starring Mylene Farmer, Crystal Reed and Anastasia Phillips as a mother and two daughters. It started shooting in Canada for seven weeks on October 28.
Le Pacte will show promos for Lucas Belvaux's drama This Is Our Land and actor Nicolas Bedos's directorial debut Mr & Mrs Adelman, in which he plays a famous writer opposite Doria Tillier as his wife in a comedy romance flashing back to the couple's life together from the 1970s onwards following the former's death.
MK2 will kick off sales on Pierre Salvadori's ensemble rom-com The Trouble With You, starring Adele Haenel opposite Audrey Tautou, Vincent Elbaz and Damien Bonnard. Other upcoming films include Naomi Kawase's drama Radiance, in pre-production, starring Masatoshi Nagase as a photographer whose images stir powerful memories in a young woman who befriends him. MK2's slate also includes Serge Bozon's black comedy Mrs Hyde, with Isabelle Huppert as an eccentric teacher with a split personality, which is currently shooting in France. The company will also show first footage of Joan Chemla's If You Saw His Heart, starring Marine Vacth and Gael Garcia Bernal.
Memento Films International will market premiere Daniel Castro Zimbron's fantasy thriller The Darkness, which revolves around three siblings who live in a forest with their mysterious father, who confines them to a cellar when he leaves the house.
Alongside consolidating sales on big budget sci-fi venture Valerian And The City Of A Thousand Planets, new titles for EuropaCorp include Taxi 5, which is set to star popular French comic actors Franck Gastambide and Malik Bentalha, best known internationally for Gaumont's Pattaya. Other upcoming titles include Samuel Jouy's Sparring, starring Mathieu Kassovitz as an ageing boxer who refuses to hang up his gloves. The company also recently announced it had boarded the English-language remake of Takashi Miike's Shield Of Straw.
Films Distribution is handling sales on Renaud Fely and Arnaud Louvet's Brotherhood, A Life With Saint Francis, starring Elio Germano as the famous saint opposite Jérémie Renier as devoted follower Elia da Cortona.
The Bureau Sales will premiere promos for Matt Porterfield's Sollers Point, starring McCaul Lombardi as a drug dealer trying to break out of the constraints of his impoverished home town following his release from jail, as well as Olivier Peyon's child abduction drama Life Beyond Me, starring Isabelle Carré as a mother who goes in search of her son in Uruguay. Other buzzy titles on its slate include Andrew Haigh's Lean On Pete and Peter Mackie Burns' Daphne.
SND will kick off sales on children's feature-length animation The Jungle Bunch, a spin-off from the TV series about a gang of misfit animals. It will also introduce Maurice Barthélémy's The Exes, about five very different ex-couples whose lives intertwine with unexpected results.
Pathé International will officially launch sales on Andrew Haigh's untitled Alexander McQueen project, starring Jack O'Connell as the UK fashion designer.
Films on the slate of genre specialist WTFilms include a first promo reel for Patrick Mille's Going To Brazil, about a group of girlfriends who accidentally kill a man while visiting Rio for a wedding. Other new additions include Don't Hang Up, about a prank phone call that has sinister repercussions.
Other Angle Pictures brings comedy Full Speed by Nicolas Benamou, as well as Solange Cicurel's dramedy Don't Tell Her. New additions to the slate include Olivier Casas' social comedy Baby Phone, about a dinner party at which the guests unwittingly reveal their secrets via a baby monitor in another room; In&Out, that sees a couple switch bodies to understand each other better; and Maxime Govare's Just Divorced, about an estranged couple forced to live under the same roof for financial reasons.
Bac Films International continue sales on Helen Mirren and Donald Sutherland-starrer The Leisure Seeker, cult directors Hélene Cattet and Bruno Forzani's western noir Let The Corpses Tan and David Freyne's post-zombie-era psychological horror film The Third Wave, starring Ellen Page.
Celluloid Dreams will launch sales on Fred Schepisi's TIFF-announced thriller Andorra, which stars Clive Owen in the lead role alongside an ensemble cast including Toni Collette, Gillian Anderson, Joanna Lumley, Riccardo Scamarcio and new addition Vanessa Redgrave. The company is also bringing to the market 4K remastered versions of Jacques Audiard's 1994 debut thriller See How They Fall and Jonathan Demme's 1984 Talking Heads concert film Stop Making Sense.
Elle Driver will kick off sales on Jean-Pierre Devillers' working-titled documentary Cannes, Cinema Of Liberty, which captures the history of Cannes Film Festival. Devillers' previous works include the Emmy Award-winning The Man Who Saved The Louvre.
Rest of Europe
By Geoffrey Macnab, Wendy Mitchell, Elisabet Cabeza and Gabriele Niola
German sellers will be out in force in Santa Monica. Beta Cinema is showcasing its Norwegian box-office hit — and Oscar submission — The King's Choice. Directed by Erik Poppe, the film is about real events in April 1940, when the king of Norway was presented with a monstrous ultimatum by the Nazis: surrender or die. Another prestige title on Beta's slate is Cold Hell, a hard-boiled thriller by Stefan Ruzowitzky (The Counterfeiters). Beta is also representing Vincent And The End Of The World from award-winning Belgian director Christophe van Rompaey, and Australian culture-clash comedy Ali's Wedding from director Jeffrey Walker. Based on a true story, Walker's film is about the son of a Muslim cleric, caught between family duty and following his heart after a reckless lie sets off a catastrophic chain of events before a wedding.
Films Boutique is continuing sales on Andrzej Wajda's final film, Afterimage — Poland's Oscar submission — about an elderly artist who falls from grace during the Stalin era.
ARRI Media will hold its first market screenings of Russian Oscar submission Paradise, the highly praised Holocaust drama by Andrei Konchalovsky. The film won Venice's Silver Lion for best director. ARRI is also presenting its hybrid live-action/CGI family title Robby & Toby's Fantastic Voyager by Wolfgang Groos, which Studiocanal will release in Germany in time for Christmas. The film stars Alexandra Maria Lara and Sam Riley. ARRI's third market premiere is Vampire Sisters 3, Journey To Transylvania, the latest feature in its successful family franchise. The company will also show new material from animated Iceland-Belgium co-production Ploey — You Never Fly Alone.
The Match Factory is introducing bruising drama The 4th Company, set in the most violent jail in Mexico and following a renegade who joins a jailhouse American football team. The company is also handling Israeli director Rama Burshtein's drama Through The Wall and Corinna Belz's documentary Peter Handke — In The Woods, Might Be Late, about the superstar German author.
Fellow German outfit Global Screen will be introducing buyers to its Spanish-language romantic drama Amar, due for delivery next year, and its latest animated feature Bayala, featuring dragons and elves, which will be completed in 2018. Other new projects include My Brother Simple, Markus Goller's drama about a 22-year-old man with a mental age of three, and Zagros, a Belgian drama about a Kurdish woman accused of infidelity who has to flee to Europe with her young daughter. The company is also holding a market premiere of 3D animated feature Richard The Stork and a private screening of high-concept sci-fi thriller SUM1, starring Game Of Thrones' Iwan Rheon.
Children's specialist Sola Media is premiering German animation The Rabbit School, a Karate Kid-meets-the Easter Bunny story. The film, which will have its local release on March 16, 2017 with Universum, has presold to France (Gebeka), Poland (Kino Swiat), the Middle East (Italia), former Yugoslavia (Dexin), South Korea (Yeilim), the UK (Altitude), Estonia (Estin) and Turkey (Bir Film), all for a theatrical release around Easter.
Italian juggernaut Rai Com is premiering Francesco Amato's comedy Let Yourself Go!, starring Toni Servillo as a Freudian psychoanalyst who lives next door to his ex-wife. Forced to go on a health kick by his doctor, he meets Claudia, a personal trainer who is totally absorbed in matters of the body. Rai Com is also selling Gabriele Muccino's young-adult comedy Summertime, which debuted at Venice, and a pair of documentaries: Ossessione Vezzoli, a backstage look at acclaimed contemporary artist Francesca Vezzoli, and S Is For Stanley, about the long-time Italian driver of Stanley Kubrick.
FilmExport will arrive at the market with One Island Two Worlds — Cristo Rey, a two-brothers-one-woman story set in a shantytown in Santo Domingo. Also on its slate are In The Box, a thriller about a woman trapped in a garage with a car pumping out fumes; Vertical Conquests, a documentary about the rise of contemporary street artists; and comedy Let's Talk from actor/director Sergio Rubini, about two bourgeois Roman couples struggling with revelations of infidelity and hypocrisy over a single night.
Topping the line-up for Latido Films is Argentina's Oscar submission The Distinguished Citizen. Already a box-office success in Argentina, the black comedy directed by Gaston Duprat and Mariano Cohn follows a Nobel prize winner who decides to visit his home town. The film's star, Oscar Martinez (Wild Tales), won Venice's best actor prize for his performance. Latido's slate also includes Rara from Chilean director Pepa San Martin, a coming-of-age story that was named best film in the Generation Kplus section at the Berlinale; Rodrigo Sorogoyen's Spanish thriller May God Save Us, a San Sebastian winner for best screenplay; Carlos Saura's dance documentary J: Beyond Flamenco; and controversial Polish drama Playground.
Film Factory Entertainment comes to AFM with a strong line-up of thrillers, including Alberto Rodriguez's Marshland follow-up Smoke & Mirrors, a political corruption and espionage story set in 1990s Spain that won Eduard Fernandez the best actor prize at San Sebastian, and The Invisible Guest, directed by Oriol Paulo and featuring a strong Spanish cast topped by Mario Casas, Barbara Lennie and Jose Coronado. Also on Film Factory's slate are actor Raul Arevalo's directorial debut The Fury Of A Patient Man, which won a Venice award for actress Ruth Diaz; Alex de la Iglesia's black comedy The Bar; and Paco Plaza's Eclipse. The latter two are in post-production.
Filmax International is bringing Marcel Barrena's completed 100 Meters, a drama starring Dani Rovira, and The Motive from director Manuel Martin Cuenca, which is in production. The company will also introduce psychological thriller Muse, which will be directed by in-house regular Jaume Balaguero, and thriller Cross The Line from David Victori, winner of YouTube's Your Film Festival in 2010 for his short The Guilt. Filmax is looking to set up the picture as a US co-production.
Nordic powerhouse TrustNordisk is working with hot Danish production company Profile Pictures for Fenar Ahmad's second feature, action thriller Darkland. The cast includes Dar Salim, Stine Fischer Christensen and Roland Moller. The story is about a successful surgeon who delves into Copenhagen's underworld in an attempt to avenge his brother's murder. Other new titles include Norwegian debut feature DRIB by Kristoffer Borgli, now in post-production. The project — a satire of the advertising, branding and celebrity worlds — is inspired by the true story of the director's friend, who almost became the international face of a famous energy drink after making viral videos. The company is also selling Icelandic horror I Remember You, Oskar Thor Axelsson's second feature after his 2013 festival hit Black's Game. A promo is available here. The company is also representing Swiss dramedy The Divine Order, which will be ready in winter 2017. Petra Volpe's film is about the fight for equal rights for women in Switzerland in 1971, centring on a young housewife (Marie Leuenberger) who starts to publicly fight for women's suffrage. TrustNordisk will offer a market screening of Nicolo Donato's Across The Waters, a Second World War story about a Danish-Jewish jazz musician fleeing the Nazis with his family. The slate also includes Swedish Oscar submission A Man Called Ove, Erik Skjoldbjaerg's Toronto selection Pyromaniac and Ole Bornedal's Danish black comedy Small Town Killers, currently in post-production.
LevelK will have a glimpse of first footage from Rabbit to show buyers. Luke Shanahan's feature debut is about a medical student haunted by visions of her identical twin's violent abduction. The film has already sold to SquareOne for Germany, Austria and German-speaking Switzerland. Adelaide Clemens, whose credits include Parade's End and The Great Gatsby, leads the cast. Still in production, Rabbit is set for delivery in 2017.
The Yellow Affair is selling completed film 5 Women, directed by Olaf Kraemer. The Germany-France psychological thriller is about a group of women on a holiday break who encounter a mysterious and attractive man. Other titles include Wiktor Ericsson's Swedish drama Strawberry Days, about a Polish worker and a Swedish farmer's daughter who fall in love.
Vienna-based Terra Mater Factual Studios (part of Red Bull Media House) is the outfit behind ivory trade documentary The Ivory Game, launching globally on Netflix this month. Terra Mater also has a new feature documentary, Super Sapiens, which it will launch to buyers. The provocative film will explore what is likely to be the next evolution of the human mind in an era of artificial intelligence and consciousness-hacking.
From the Netherlands, increasingly active Dutch Features Global Entertainment — which straddles mainstream and arthouse, film and TV — will hold a first market screening of the territory's Oscar candidate Tonio. Other slate highlights include horror film Kristen, Mark De Cloe's psychological thriller Silk Road and teen movie Hart Beat, a co-production with Nickelodeon.
Russian sales outfit Central Partnership is hawking its $40m historical epic Viking, due for delivery by the end of the year, and continuing pre-sales on Furious, set in the 13th century at the time of the Mongol invasions. The company also has first footage to show from blood-sucking fantasy Vamps.
Moscow-based Art Pictures Studio is giving a market debut to Pavel Lungin's new thriller Queen Of Spades, loosely based on the Alexander Pushkin short story and co-scripted by The King's Speech scribe David Seidler.
Among other titles, Australian outfit Odin's Eye Entertainment is pre-selling animated feature Arkie, due for delivery in 2018, and will be screening Cage Dive, about three US college students who go diving in Australia and become stranded with great white sharks for company.