SCREEN SUBSCRIBERS: The major digital players like Netflix and Amazon will be much discussed at this year's American Film Market, as will shifts in the independent financing model and the decreasing number of hot titles.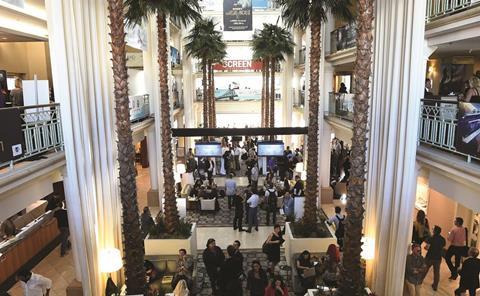 The abiding memory of AFM 2014 is the big tease that amounted to nothing.
Netflix and The Weinstein Company had flirted aggressively over The Hateful Eight but in the end decided not to consummate the union.
Regardless of the outcome, buyers were scandalised and the dalliance over SVoD rights - far briefer than many were led to believe at the time - served to focus minds on who else might make suitable bedfellows for the streaming giant.
After months of unexpected moves, a headline-grabbing appearance by chief content officer Ted Sarandos in Cannes and splashy announcements outside the markets, the answer might well be: anybody and everybody.
Financiers, producers and sales agents talk all the time with Netflix - as they do with Amazon Studios, Hulu and other digital players - viewing the newish kids on the block as value-adds in the distribution chain, especially when content skews adult. Buyers are another story. They remain unhappy, threatened by the prospect of rivals with impossibly deep pockets that can, if they wish, swipe desirable properties off the table in a flash.
One year on from the Quentin Tarantino saga, Netflix is sure to remain a talking point in the corridors of the Loews and market hangouts such as Le Merigot, Shutters on the Beach and Casa Del Mar.
The theatrical misfortunes of Beasts Of No Nation will be on the agenda. Cary Fukunaga's acclaimed African child soldier drama earned a paltry $51,000 when it opened on October 16 in 31 Landmark Theatres sites via distributor-for-hire Bleecker Street.
The same day, Netflix began streaming the film to its global subscribers and subsequently declared itself happy with the results - a meaningless gesture since it will not share viewership data.
Yet Netflix needs strong original content to grow its subscriber base and is also pushing hard on awards recognition for Beasts Of No Nation.
To this end, some people, such as Route One Entertainment CEO Russell Levine (whose Ellen Page comedic drama Tallulah is being sold in the market by Good Universe), believe the theatrical play may have been tactical. Levine declines to expand but seems to be in sync with several others who were canvassed on the subject.
Tiny as the theatrical numbers may have been, they will have served to raise the profile of a challenging film and remind people to tune in on their TV screens, laptops or tablets.
Awareness is likely to translate into awards recognition and in two months, when Beasts Of No Nation's miniscule theatrical box office is a murky blip, people's primary association with the film may well be Idris Elba's best supporting actor nominations.
Yet how far Netflix, Amazon Studios et al are prepared to go to assemble must-see original content is a concern for international distributors.
"It will be interesting to see how aggressive [Netflix] are in making all-rights offers," says one prominent sales agent with Beasts Of No Nation in mind. "It's only one film, but it might become a less desirable destination for your movie."
These companies are, however, standard-bearers for a far more complex digital force that could modify or completely transform the distribution landscape.
"Their [Netflix] impact by and large up to this point has been to fragment the marketplace," says Jean Prewitt, CEO and president of the Independent Film & Television Alliance (IFTA).
"We don't see Netflix stepping up as an all-rights buyer in the way they're announcing they might do. There are a few examples of them coming in and taking out worldwide, but in most cases they're angling for [specific rights]."
What the presence of Netflix also does is to highlight core differences between financiers and producers on one hand and international distributors on the other. Levine says while his goal is always to make films that have a chance of wide theatrical release, the streaming giant adds a strategic dimension.
"[To] protect the investors, if there's an opportunity the film deserves, we have the flexibility to do that. So it's a great time to be a producer-financier if you can choose your films carefully."
In other words, a company with the wherewithal to do so can fully finance a project and take it to Netflix, bypassing the pre-sales mechanism that is bread and butter to international buyers and indeed the independent space as a whole. Sales agents talk of financiers doing precisely this.
But the digital titan will also buy select rights. "We know these guys very well and absolutely they're part of the discussion," says Michael Rothstein, president of international sales and distribution at IM Global, whose sales titles include Andrew Garfield starrer Hacksaw Ridge.
"We see them as a regular buyer. We're sending them everything and keeping them in the loop."
A changing landscape
Netflix's experiment on Beasts Of No Nation is representative of broader efforts by US distributors to tinker with distribution patterns and see what works.
Increasingly, the move away from a theatrical release seems like an attractive option for US buyers who have been burned on ambitious releases.
This explains partly why there were fewer marquee US acquisitions in Toronto than there had been in the previous year: a high price and high p&a commitment in the frantic festival environment can cause problems down the line when a film is clearly not geared towards a wide theatrical audience.
"We're not seeing a disappearance of traditional release patterns and there's going to be a mix," says Levine.
"Word is still out on day-and-date and we don't know what kind of films work just yet. It's a judgment call for the producer and distributor as to which platform is going to be most suitable and, by definition, one will become a means of promoting the other," says Prewitt, who predicts distributors will be experimenting on the margins for some time to come.
While the US tinkers and the industry watches, the digital infrastructure in Europe and further afield is playing catch-up.
"What we're noticing on the macro level is for our international guys the parameter is still US box office," says Radiant Films International president and CEO Mimi Steinbauer.
"For the US guys, the theatrical release is getting so expensive this kind of day-and-date makes great sense on the distribution side. But international guys have not caught up because their output deals and TV stations are looking at US box office in a model that worked until about three years ago."
Steinbauer continues: "It's getting better internationally in every market but [we are] at that weird phase where something that works in the US doesn't trigger revenue streams yet internationally."
Besides that there is the looming storm of the digital single market (DSM). Steinbauer says while the activities of Netflix and Amazon Studios will shift the independent financing model but in a way that still leaves it workable, the implications of European Commission proposals to end geo-blocking could result in an "implosion".
Or as another industry insider puts it: "I don't think the person who has put this [DSM proposal] together has an effing clue how films are financed."
"We don't know if government is going to let us figure this out or at the commission level they're going to jump in with both feet and make rules," says Prewitt.
"Localised platforms have been doing a fabulous job to bring local content to their consumer base. We continue to create the air space for the industry to do what it needs to do to see what works."
At ground level, of more immediate concern is the increasingly familiar cry from buyers of lack of available product heading into the AFM.
Once again, packages are coming together late in the day and buyers expect to be reading scripts on the flight to Los Angeles.
"Hollywood doesn't work in the same way the international sales business does," says Fortitude International partner and co-founder Nadine de Barros. "Actors will read scripts when they're ready and it's not necessarily in time for a market deadline."
De Barros continues: "There are more competitors and people are doing TV. Jason Statham is doing a TV series. There's a lot of competition. The buyers reps are freaking out because there's not a lot of content out there."
Rothstein notes the cyclical nature of the business. Whereas it can be easier for a sales agent with a big title to make an impact in Berlin or Toronto, with its is-it-or-isn't-it market ambitions, Santa Monica is key.
"AFM makes sense and it's a very important market for us," he says. "If you're in the business of trying to have a bunch of titles every market, it's tough. The way the sales cycle is these days, we hustle all year round."