Dir: Clint Eastwood. US. 2014. 132mins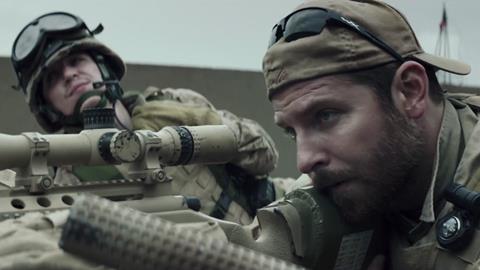 Personalising "support the troops" platitudes, director Clint Eastwood's war drama American Sniperlacks much of the moral complexity that enriched his twin 2006 films, Flags Of Our Fathers and Letters From Iwo Jima. But led by an assured, subtle performance from Bradley Cooper, this look at the life of decorated Navy SEAL Chris Kyle is suitably affecting and riveting, letting one soldier's struggles on and off the battlefield represent the emotional torment of so many military men and women. American Sniper doesn't break much new ground when depicting the chaos of combat, but it's more astute in examining the mind-set of those who willingly put their lives on the line for others.
Cooper's bighearted performance anchors the film, though. As the years go by and Kyle feels further and further disengaged from civilian life, the actor hints at the man's inner terror and impotence.
Releasing through Eastwood's long-time home, Warner Bros., American Sniper debuted at AFI Fest, aptly on Veterans Day. The film will open in the US on December 25, when it will compete with another war-themed drama, Universal's Unbroken. Balancing action sequences with intimate family drama, American Sniper will need Cooper's box office clout to help convince the wary to see a film that explores America's on-going excursions in Iraq. But the movie's biggest champions will be active and former military members and their families, who will no doubt appreciate Eastwood's sympathetic treatment of their sacrifices and hardships.
Drawing from Kyle's autobiography of the same name, American Sniper stars Cooper as the gregarious, charming Texan who dreamed of life as a cowboy before being enraged at seeing American lives threatened overseas by terrorists. Immediately, he turned his attention to enlisting, joining the Navy SEALS, an elite fighting force in the US armed forces. Marrying the sassy Taya (Sienna Miller) right before he ships out to Fallujah near the start of the Iraq War, Kyle wants to kill bad guys and protect Americans.
Over the course of several years and four tours of Iraq, Kyle becomes notable for his record number of confirmed kills — more than 160 — which earns him the nickname Legend. But the adoration of his fellow soldiers doesn't translate to his difficult breaks Stateside, where he and his wife slowly start to drift apart. Kyle can't really leave the battlefield: The shock, anxiety and adrenaline rush of combat have no equivalence in civilian life, and whenever he's home he can't shake the feeling that he's letting down his fellow soldiers back in Iraq.
Films such as The Hurt Locker have looked closely at the paradoxical logic of soldiers who find themselves oddly more comfortable on the battlefield than in the quiet of domestic life. (Once soldiers come so close to death, the safety and tranquillity of ordinary life loses its flavour.) Eastwood and screenwriter Jason Hall don't unearth fresh insights into that phenomenon, but that doesn't keep American Sniper from being moving nonetheless.
The director's strategy is to first give us a glimpse into Kyle before he became a SEAL, showing him as a boy raised by a father who instilled in his children the importance of defending one's family from evil. Once Kyle becomes an adult, Cooper plays the young man as a sweet, bright good ol' boy with a very pragmatic point of view. The bombing of US embassies offends his pro-American sensibility, and so (to his mind) the most logical response is to join the military and get revenge on the bastards.
American Sniper doesn't critique Kyle's simplistic attitude toward his military service, honouring his conviction without necessarily celebrating it. In Cooper, Eastwood has cast an actor whose intensity and likability are both crucial: Bearded and burly, Cooper plays a guy who may be a bit of a redneck but who is also deeply committed to doing the right thing and helping others. Without condescending to the man he's portraying, Cooper suggests Kyle's unpretentious, guy's-guy demeanour. In recent films such as American Hustle and Silver Linings Playbook, Cooper has shown a talent for playing unsophisticated men who act off instinct: They may be headstrong, even foolish, but he humanises them. With Kyle, which demands a far more physical performance considering the amount of action sequences involved, Cooper makes the character's unquestioned duty to country noble.
Because Eastwood harshly examined the scourge of war and the cynical need to create heroes in Flags Of Our Fathers and Letters From Iwo Jima, there's an expectation that he'll do something similar with American Sniper. These themes pop up some as Kyle learns what a double-edged sword it can be to have a nickname like Legend, but for the most part Eastwood mirrors Kyle's uncomplicated attitude. The action scenes in Iraq, where Kyle shows off his marksmanship and leadership, are tensely rendered, particularly a battle during Kyle's last tour involving an unexpected sandstorm. But where in the past Eastwood went out of his way to understand both sides of an armed conflict, American Sniper disappointingly reduces the Iraqi characters to bland avatars of evil, mere baddies to be shot down by Kyle. For as much as American Sniper wants to shine a spotlight on the emotional trauma inflicting American soldiers, it shows little curiosity or sympathy for their Iraqi counterparts, greatly simplifying a massively complex war.
Cooper's bighearted performance anchors the film, though. As the years go by and Kyle feels further and further disengaged from civilian life, the actor hints at the man's inner terror and impotence. Kyle isn't someone who's comfortable asking for help, and so his emotional paralysis is poignant, Cooper emphasising the character's caged-rat helplessness in understated ways.
But as Cooper provides American Sniper's heart, Miller becomes less and less important, a fun spitfire of a character stuck lamenting her husband's withdrawal from her world. The narrative choice makes some sense — after seeing them as a happy couple, the film wants to illustrate the slow wedge that's forming between them — but American Sniper risks becoming an uninspired domestic drama. Even then, though, one respects Eastwood's intention, which is to show how soldiers face constant obstacles even when they put down their weapons. That message is a touch too earnest and familiar, but it's a sad commentary that, for many servicemen and women, it remains relevant.
Production companies: Village Roadshow Pictures, RatPac-Dune Entertainment, Mad Chance, 22nd & Indiana, Malpaso
Distribution: Warner Bros. Pictures, www.warnerbros.com
Producers: Robert Lorenz, Andrew Lazar, Bradley Cooper, Peter Morgan, Clint Eastwood
Executive producers: Tim Moore, Jason Hall, Sheroum Kim, Steven Mnuchin, Bruce Berman
Screenplay: Jason Hall, based on the book by Chris Kyle with Scott McEwen and Jim DeFelice
Editors: Joel Cox, Gary D. Roach
Cinematography: Tom Stern
Production designer: James J. Murakami, Charisse Cardenas
Website: www.americansnipermovie.com
Main cast: Bradley Cooper, Sienna Miller, Jake McDorman, Luke Grimes, Navid Negahban, Keir O'Donnell