Drama starring David Oyelowo and Rosamund Pike to receive European premiere at LFF.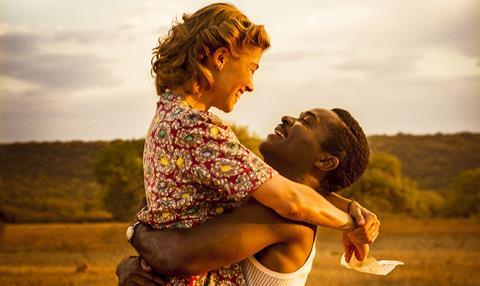 The 60th BFI London Film Festival (Oct 5-16) will open with director Amma Asante's (Belle) drama A United Kingdom, starring David Oyelowo (Selma) and Rosamund Pike (Gone Girl).
The film will receive its European premiere at the festival on Wednesday Oct 5, marking the second consecutive year that London has opened with a film from a female director following last year's opener Suffragette.
Cast and filmmakers are expected to attend the screening, which will be cinecast across the UK.
Set in the late 1940s, the true story centres on Prince Seretse Khama of Botswana (Oyelowo), who caused an international stir when he married white British office worker Ruth Williams (Pike).
Screenplay comes from Guy Hibbert (Eye In The Sky), based on the book Colour Bar by Susan Williams. Other cast includes Jack Davenport (Pirates of the Caribbean), Terry Pheto (Mandela), Tom Felton (Harry Potter), Arnold Oceng (Adulthood), Jack Lowden ('71) and Laura Carmichael (Downton Abbey).
The film is produced by Rick McCallum (Star Wars), David Oyelowo, Justin Moore-Lewy, Brunson Green (The Help) and Charlie Mason. Executive producers are Pathé's Cameron McCracken, BBC Films' Christine Langan, the BFI's Ben Roberts, Ingenious Media's Eleanor Clark Windo and Guy Hibbert.
Clare Stewart, BFI London Film Festival director, said: "Amma Asante's A United Kingdom is testament to a defiant and enduring love story that also reveals a complex, painful chapter in British history.
"We are proud to be opening the 60th BFI London Film Festival with a film of such contemporary relevance, one that celebrates the triumph of love and intelligence over intolerance and oppression, and that confirms Asante as a distinctive and important British filmmaker."
Director Asante commented: "It's a great privilege that A United Kingdom has been selected as the opening night film of the BFI London Film Festival. The festival means a lot to me personally, having showcased my very first film, A Way of Life, here and been honoured with the UK Film Talent Award.
"I'm a proud Londoner and in A United Kingdom we've been able to film in some of the most beautiful parts of the city as well as in the wonderful landscapes of Botswana."
Asante is the first black director to open or close the London Film Festival and the fifth woman director to open the 60 year-old event.
The film's European premiere in London makes a Toronto, Telluride or New York world premiere highly likely.
The film is a Pathé, BBC Films, BFI, Ingenious presentation with the participation of Canal+ and Cine+ of a Yoruba Saxon/Harbinger Pictures/Perfect Weekend/ Film United Production of a film by Amma Asante.
Pathé will distribute the film in the UK and France and handles sales throughout the rest of the world.
The full LFF programme will be announced on Sept 1.