Black Coal Thin Ice, Haider and Blind Massage also score multiple nominations.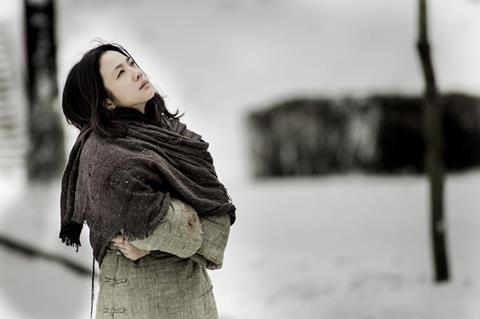 Ann Hui's The Golden Era leads the pack at the 9th Asian Film Awards with five nominations - but not one for best picture.
The life story of Xiao Hong, one of China's most famous essayists and novelists, has secured nominations for best director, best actress (Tang Wei), best supporting actor (Wang Zhiwen), best screenwriter (Li Qiang) and best editor (Kwong Chi-leung, Manda Wai).
Best film nominations included Berlinale 2014 Golden Bear winner Black Coal Thin Ice and Blind Massage, which both secured four nominations each, as well as HaiderHill Of Freedom, The Light Shines Only There and Korean box office hit Ode To My Father.
Jiang Wen's Gone With The Bullets secured four nominations in the technical cateogies.
The winners will be announced at an awards ceremony in Macau's Venetian Theatre on March 25, decided by a 14-person jury headed by Hong Kong film director Mabel Cheung. International names on the jury include Cannes Film Festival selector Christian Jeune and Venice festival chief Alberto Barbera.
Chinese productions and Hong Kong-Chinese co-productions lead the 2015 awards with 26 nominations, followed by Japan with 17 and South Korea with 16.
Asian Film Awards
Nominations 2015
Best film
Black Coal, Thin Ice (China)
Blind Massage (China)
Haider (India)
Hill Of Freedom (S Korea)
Ode To My Father (S Korea)
The Light Shines Only There (Japan)
Best director
Lou Ye, Blind Massage (China)
Tsukamoto Shinya, Fires On The Plain (Japan)
Lav Diaz, From What Is Before (Philippines)
Vishal Bhardwaj, Haider (India)
Hong Sang-soo, Hill Of Freedom (S Korea)
Ann Hui, The Golden Era (Hong Kong, China)
Best actor
Liao Fan, Black Coal, Thin Ice (China)
Kase Ryo, Hill Of Freedom (S Korea)
Sean Lau Ching-wan, Overheard 3 (Hong Kong, China)
Ethan Ruan, Paradise In Service (Taiwan)
Choi Min-sik, Roaring Currents (S Korea)
Satoh Takeru, Rurouni Kenshin: The Legend Ends (Japan)
Best actress
Bae Doo-na, A Girl At My Door (S Korea)
Gong Li, Coming Home (China)
Zhao Wei, Dearest (Hong Kong, China)
Kaiki Koechlin, Margarita, With A Straw (India)
Miyazawa Rie, Pale Moon (Japan)
Tang Wei, The Golden Era (Hong Kong, China)