Eighty-five countries have submitted a film for consideration in the 60th anniversary year of the foreign language film category.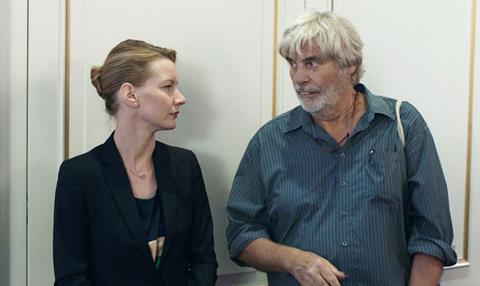 The Academy of Motion Pictures Arts & Science said on Tuesday that this season also marks the first time Yemen has submitted a film, Khadija Al-Salami's I Am Nojoom, Age 10 And Divorced.
The 89th Oscars will take place on February 26, 2017, at the Dolby Theatre at Hollywood & Highland Center in Hollywood. László Nemes' Hungarian entry Son Of Saul won the award last February.
FOREIGN-LANGUAGE ACADEMY AWARD SUBMISSIONS
(Country, Title, director)

Albania, Chromium, dir Bujar Alimani;
Algeria, The Well, Lotfi Bouchouchi;
Argentina, The Distinguished Citizen, Mariano Cohn, Gastón Duprat;
Australia, Tanna, Bentley Dean, Martin Butler;
Austria, Stefan Zweig: Farewell To Europe, Maria Schrader;
Bangladesh, The Unnamed, Tauquir Ahmed;
Belgium, The Ardennes, Robin Pront;
Bolivia, Sealed Cargo, Julia Vargas Weise;
Bosnia and Herzegovina, Death In Sarajevo, Danis Tanovic;
Brazil, Little Secret, David Schurmann.
Bulgaria, Losers, Ivaylo Hristov;
Cambodia, Before The Fall, dir: Ian White;
Canada, It's Only The End Of The World, Xavier Dolan;
Chile, Neruda, Pablo Larraín;
China, Xuan Zang, Huo Jianqi;
Colombia, Alias Maria, José Luis Rugeles;
Costa Rica, About Us, Hernán Jiménez;
Croatia, On the Other Side, Zrinko Ogresta;
Cuba, The Companion, Pavel Giroud;
Czech Republic, Lost In Munich, Petr Zelenka.

Denmark, Land Of Mine, Martin Zandvliet
Dominican Republic, Sugar Fields, Fernando Báez;
Ecuador, Such Is Life In The Tropics, Sebastián Cordero;
Egypt, Clash, Mohamed Diab;
Estonia, Mother, Kadri Kõusaar;
Finland, The Happiest Day In The Life Of Olli Mäki, Juho Kuosmanen;
France, Elle, Paul Verhoeven;
Georgia, House Of Others, Rusudan Glurjidze;
Germany, Toni Erdmann (pictured), Maren Ade;
Greece, Chevalier, Athina Rachel Tsangari.

Hong Kong, Port Of Call, Philip Yung;
Hungary, Kills On Wheels, Attila Till;
Iceland, Sparrows, Rúnar Rúnarsson;
India, Interrogation, Vetri Maaran;
Indonesia, Letters From Prague, Angga Dwimas Sasongko;
Iran, The Salesman, Asghar Farhadi;
Iraq, El Clásico, Halkawt Mustafa;
Israel, Sand Storm, Elite Zexer;
Italy, Fire At Sea, Gianfranco Rosi;
Japan, Nagasaki: Memories Of My Son, Yoji Yamada.

Jordan, 3000 Nights, Mai Masri;
Kazakhstan, Amanat, Satybaldy Narymbetov;
Kosovo, Home Sweet Home, Faton Bajraktari;
Kyrgyzstan, A Father's Will, Bakyt Mukul, Dastan Zhapar Uulu;
Latvia, Dawn, Laila Pakalnina;
Lebanon, Very Big Shot, Mir-Jean Bou Chaaya;
Lithuania, Seneca's Day, Kristijonas Vildziunas;
Luxembourg, Voices From Chernobyl, Pol Cruchten;
Macedonia, The Liberation Of Skopje, Rade Šerbedžija, Danilo Šerbedžija;
Malaysia, Beautiful Pain, Tunku Mona Riza.

Mexico, Desierto, Jonás Cuarón;
Montenegro, The Black Pin, Ivan Marinović;
Morocco, A Mile in My Shoes, Said Khallaf;
Nepal, The Black Hen, Min Bahadur Bham;
Netherlands, Tonio, Paula van der Oest;
New Zealand, A Flickering Truth, Pietra Brettkelly, director;
Norway, The King's Choice, Erik Poppe, director;
Pakistan, Mah-e-Mir, Anjum Shahzad, director;
Palestine, The Idol, Hany Abu-Assad, director;
Panama, Salsipuedes, Ricardo Aguilar Navarro, Manolito Rodríguez, directors.

Peru, Videophilia (And Other Viral Syndromes), Juan Daniel F. Molero;
Philippines, Ma' Rosa, Brillante Ma Mendoza;
Poland, Afterimage, Andrzej Wajda;
Portugal, Letters from War, Ivo M. Ferreira;
Romania, Sieranevada, Cristi Puiu;
Russia, Paradise, Andrei Konchalovsky;
Saudi Arabia, Barakah Meets Barakah, Mahmoud Sabbagh;
Serbia, Train Driver's Diary, Milos Radovic;
Singapore, Apprentice, Boo Junfeng;
Slovakia, Eva Nová, Marko Skop.

Slovenia, Houston, We Have a Problem!, Žiga Virc;
South Africa, Call Me Thief, Daryne Joshua;
South Korea, The Age Of Shadows, Kim Jee-woon;
Spain, Julieta, Pedro Almodóvar;
Sweden, A Man Called Ove, Hannes Holm;
Switzerland, My Life As A Zucchini, Claude Barras;
Taiwan, Hang In There, Kids!, Laha Mebow;
Thailand, Karma, Kanittha Kwunyoo;
Turkey, Cold Of Kalandar, Mustafa Kara;
Ukraine, Ukrainian Sheriffs, Roman Bondarchuk.

United Kingdom, Under The Shadow, Babak Anvari;
Uruguay, Breadcrumbs, Manane Rodríguez;
Venezuela, From Afar, Lorenzo Vigas;
Vietnam, Yellow Flowers On The Green Grass, Victor Vu; and
Yemen, I Am Nojoom, Age 10 And Divorced, Khadija Al-Salami.