On a day when the Academy unveiled new governors to reflect a more diverse representation, the body was forced to apologise on Tuesday for racially insensitive elements in its recent Oscar broadcast.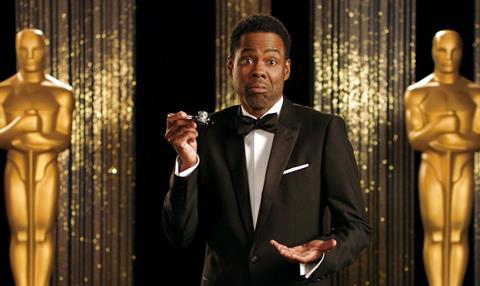 Two episodes during the 88th Academy Awards on February 28 prompted 24 Academy members of Asian lineage including George Takei and Ang Lee to complain on Tuesday.
In one, host Chris Rock introduced three Asian children on stage wearing suits and carrying briefcases and described them as auditors from PriceWaterhouseCoopers, the accountancy firm that validates the Academy's voting ballots.
In another, Sacha Baron Cohen mocked the size of Asian people's genetalia during a stint as a presenter.
"The Academy appreciates the concerns stated, and regrets that any aspect of the Oscar telecast was offensive," an Academy spokesperson said on Tuesday after Academy CEO Dawn Hudson sent a letter of apology to each of the 24 members.

"We are committed to doing our best to ensure that material in future shows be more culturally sensitive."
In a separate development, Academy president Cheryl Boone Isaacs announced three new governors will join the 51-seat board.
Reginald Hudlin joins from the directors branch, Gregory Nava from the writers branch, and Jennifer Yuh Nelson from the short films and feature animation branch commence three-year terms, effective immediately.
"I'm proud of the steps we have taken to increase diversity," said Boone Isaacs. "However, we know there is more to do as we move forward to make this a more inclusive organisation."
The board also appointed additional Academy members to each of the six board committees that provide oversight to specific Academy areas.
Actor Gael García Bernal joins the awards and events committee, cinematographer Amy Vincent joins the preservation and history committee, producer Effie Brown joins the museum committee, executive Marcus Hu and animator Floyd Norman join the education and outreach committee, executive Vanessa Morrison joins the finance committee, and producer Stephanie Allain joins the membership and administration committee.
The board also reaffirmed its January 21 resolution to ensure Academy voters are active in the film industry, and decided that each branch executive committee will determine specific criteria for active voters based on the guidelines established in January.
Active voters are defined as: those who have worked in the film industry in the last 10 years; worked anytime during three 10-year periods whether consecutive or not; and have won or been nominated for an Oscar.
Starting this spring the branch executive committees will meet every two years to review their members and determine any potential reclassifications. The committees also will adopt an appeals process for members who may lose their voting privileges.