How do you turn a great evening ceremony into a meaningful year-round brand? That's the challenge the new co-directors of the British Independent Film Awards have set for themselves.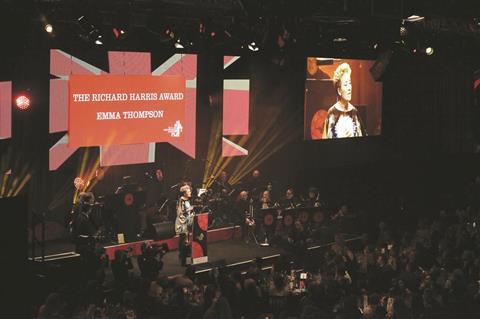 Yorgos Lanthimos' The Lobster leads the field of nominees ahead of this year's Moët British Independent Film Awards (BIFAs), with Andrew Haigh's 45 Years, Justin Kurzel's Macbeth, Asif Kapadia's Amy, Alex Garland's Ex Machina and John Crowley's Brooklyn all receiving multiple nominations.
For Clare Binns, director of programming and acquisitions at Picturehouse Cinemas and Picturehouse Entertainment, the very fact The Lobster is in the running is giving it an extra push during its box-office run.
"A few years ago, the BIFAs were more of an insiders' pleasure but now they're becoming more significant for the outside world. There's a way to go but with every year, it just seems to get broader and people know about it outside of the industry. That can only be good as it will help encourage people to go and see the films," she suggests.
"To be able to go to festivals and say we've been nominated is going to help us bring films into the UK that may be challenging but will help us have a good film culture."
One of the films nominated in both debut categories — debut director and the discovery award — is the Blaine brothers' Nina Forever, directed by Ben and Chris Blaine, who were Screen UK Stars of Tomorrow of 2006. Producer Cassandra Sigsgaard says BIFA recognition has already had a positive impact on the blackly comic horror film, which garnered good reviews when it premiered at Film4 Frightfest in September.
"BIFA has raised the awareness of the film, and interest in us as film-makers, more firmly with potential partners and financiers, who have already been coming to us asking: 'What's next?'" says Sigsgaard. "BIFA is a way for the new blood to be pumped into the veins of our industry, and therefore has an invaluable role in our film landscape."
This year sees Amy Gustin, former producer of the Raindance Film Festival, and Deena Wallace, previously head of film at Bafta, take over from Tessa Collinson and Johanna von Fischer as co-directors of the BIFA awards. One of their first moves has been to establish a board to give the UK industry more involvement in the direction of BIFA.
"The new board has been a real support, particularly in this first year where we've been looking to change things," says Gustin. "They do challenge us. If there's something we're doing that isn't right, they question it."
"Thanks to Tessa and Johanna's years of hard work and careful stewardship, the BIFA we inherited was in great shape and everybody loved it, but the mechanism for people being involved in it wasn't as open as it could be," explains Wallace. "We need to open the doors a little bit and the board was a good way of doing that."
Laurence Green, founding partner of London-based advertising agency 101, is chairman of the board, which consists of Wallace and Gustin, producer Claire Jones, Raindance and BIFA founder Elliot Grove, writer-director Amma Asante and CEO of Lionsgate UK Zygi Kamasa.
Green believes their role is to ensure BIFA does not "get lost in its own bubble". "The board are quick to speak as individuals, rather than for their company, which I think is very important," he says.
Alongside the board Gustin and Wallace have also adjusted the voting process to make it more rigorous. They have introduced a new website that tracks how many voters have seen a film as a proportion of overall voters and prevents anyone voting for films on which they may have worked.
"The changes protect the nomination process a bit more and means it's beyond reproach," says Wallace.
Strong selection
While no awards ceremony can ever please everyone, it's indicative of the strength of the British independent scene that the BIFA nominations have been widely praised this year. Some films might have expected more love (London Road, for example), but in a move to prevent criticism and make BIFA's voting process more open, the co-directors are looking at publicly releasing more longlists in the future as they did with the debut director category this year.
It is all part of BIFA's aim to retain and improve its position as a cheerleader for independent films. Gustin and Wallace are committed to establishing more public-facing activities to make BIFA, as Green puts it, "a 52-weeks-a-year brand, not one night a year brand".
"We need to make the BIFAs mean something to the public," says Gustin. "We want more of the public to start to know who we are so when a film does have the BIFA emblem on the poster, it means something."
Two new initiatives have been introduced with support from the BFI and Creative Skillset. The first of these is BIFA Insider, which sees former BIFA winners from creative categories live tweet during an online screening of their films followed by a live web Q&A. Two have already taken place: '71 with editor Chris Wyatt and Frank with composer Stephen Rennicks. On the day of the live tweet Q&A, people can watch the films in question for free on BFI Player.
The second initiative is a nationwide UK theatrical screening programme to bring as many of the nominated films back to the public if they have already left cinemas. With the backing of Vue, Showcase and Curzon, the likes of 45 Years, Amy and Macbeth are screening from November 23 to December 3. A winners' screening programme starts from December 13.
Focused on films not widely available to the public (either in cinemas or via home entertainment), the aim is for the programme to reflect BIFA's diverse nominations. "We also needed to consider the local audiences for each cinema," adds Gustin. "We want to stretch the audiences' tastes, but we needed to be realistic too. Something that works brilliantly at Curzon Soho might not work at Vue Northampton."
The programme is supported by the BFI (funding, marketing and promotions), Pearl & Dean (cinema advertising), Motion Picture Solutions (DCP creation and delivery), Organic (marketing, advertising and promotions), Powster (booking platform), the cinemas and chosen films' distributors.
This year's BIFAs will be hosted by actor-writer-director Richard Ayoade, and Chiwetel Ejiofor will receive the Richard Harris award for an outstanding contribution to British film by an actor.
The ceremony will again be live streamed on BIFA's website, with a live TV broadcast the ultimate aim. According to Green the ceremony itself will have a "whiff of change but also a whiff of continuity".
"People really like the ceremony," says Wallace. "BIFA isn't, and doesn't have to be, as serious and reverent as other awards. In some ways, it was more to see if there was anything we could do differently, rather than a need to change something that was wrong."
"BIFA is well loved, respected and quite precious to a lot of people," says Gustin. "We didn't want to come in and change everything but, at the same time, it's important to signal change, freshen things up and pull it back to the heart of BIFA."