Johann Johannsson's score for Sicario rumbles and intimidates "like a beast lurching in slow motion", he tells Tiffany Pritchard, who meets five of the composers in contention this awards season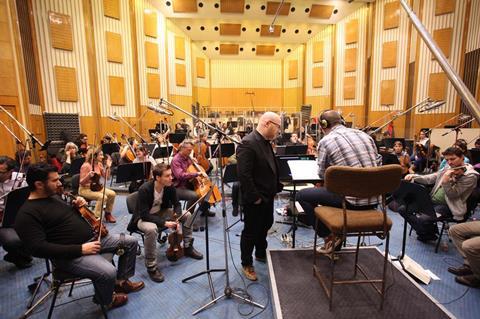 The tension between US government task forces and the Mexican drug cartels in Denis Villeneuve's Sicario is brought to an intimidating fever pitch of drones and pulsating beats thanks to the work of Icelandic composer Johann Johannsson.
Winner of the Golden Globe for best original score for his orchestral composition work on The Theory Of Everything last year, Johannsson's score for Sicaro is a digitally processed mix of sounds. He describes it "as if a beast were lurching at you in slow motion".
The brief from Villeneuve was to create "subtle war music with a sense of dread, music you can feel as much as you can hear", says Johannsson. "How does one write that?"
Utilising his background in electronic music, the composer came up with the idea of using drums and percussion to permeate the narrative with a relentless, almost tribal vibration. Recording five percussionists in Berlin, Los Angeles and Budapest, Johannsson then digitally processed the recordings to create an "ever-changing texture".
"I have never recorded this many drummers in one project," says Johannsson, who prefers creating acoustic, rather than synthesised, material. He also recorded the score's range of low strings, which included eight basses and a 10-piece cello section, as well as low woodwind instruments such as the contrabassoon, contrabass clarinets, tubas and trombones, at the Hungarian National Radio studios in Budapest. "They have fantastic players with a different sound to the typical Hollywood orchestra. It's raw-er," he says.
The final element of his "digital overlay" was a large church organ housed in an old stone church in Copenhagen, in which Johannsson recorded the lowest pipes, 32 foot and 16 foot, to create a huge rumble. Using a combination of digital programmes, he treated and processed each of the recordings, giving the final score a deep, foreboding undertone.
Johannsson had already worked with Villeneuve on Prisoners and is collaborating again with him on the upcoming Story Of Your Life. He credits the Canadian film-maker with giving him space to get on with the job.
"Denis edits free of temp music. It's a totally fresh approach so I have this clean slate to work with. We tried this when working on Prisoners, and it works."
Villeneuve and editor Joe Walker sent Johannsson an early cut of Sicario, for which the composer sent back a few demos with the sound of helicopter blades slowly crescendo-ing. That early composition was pivotal in setting the tone.
"Denis is not afraid of letting the film breathe," says Johannsson. "He doesn't like to carpet the whole film with music and I love this minimal approach. When the music is there, it serves a purpose."