Idris Elba's mesmerising performance as the predatory soldier Commandant in Cary Fukunaga's Beasts Of No Nation is based on the actor's empathy with his character, as he tells Jeremy Kay.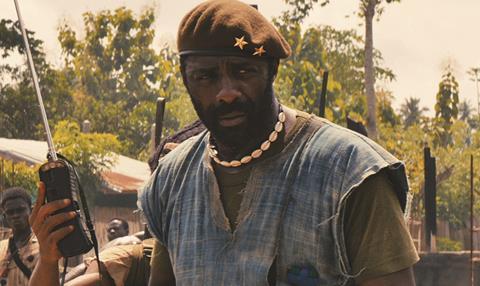 There is something almost comical about the way Idris Elba arrives for his interview at the Fairmont Royal York hotel in Toronto during the film festival and tries to reach the hospitality tray unnoticed. Director Cary Fukunaga is talking about his nine-year journey to bring Beasts Of No Nation to the screen but all eyes in the room have switched to the British actor, whose gaze from over the breakfast platter remains fixed politely on his director.
The star of TV series The Wire and Luther and now a growing number of Hollywood tentpoles deploys that same quiet tyranny in his role as African warlord Commandant in Fukunaga's Netflix-backed child-soldier drama. The character's entrance on the half-hour mark is like a muffled detonation. He trots out of the bush with a soft-spoken primacy that becalms his young charges and subordinates the jungle clamour.
The narrative is told from the perspective of the young unwilling conscript Agu, played by newcomer Abraham Attah. Yet it is Commandant who abducts both the story and his battalion into the heart of darkness in an unspecified African setting. The film is based on the acclaimed novel of the same name by Nigerian author Uzodinma Iweala.
The basis of power
Of course Elba himself is more down-to-earth. He's dressed in blue T-shirt and jeans and sits on the sofa beside Fukunaga an hour before they are due to introduce the film to a packed festival crowd.
"Hello dude," says the Londoner. His voice sounds like it comes from the back of a cathedral and rumbles easily into a meditation on Commandant's power.
"Commandant's biggest weapon is his mind and mouth," says Elba of the character. "I remember watching this [former Liberian president] Charles Taylor interview where he goes at the journalist and he's not making any sense, but his power is that he has four, five people around him with guns.
"Charles was so theatrical in the way he delivered whatever he was saying — big pauses, look you in the eye. The pauses give you enough fear to think, 'Fuck, what is he going to do next?' That was his weapon. Cary allowed me to do that."
Although Elba insists the US-educated former Liberian warlord, now imprisoned in the UK for war crimes, was not his direct inspiration for Commandant, the idea of Taylor seems influential. The actor, who signed on to Beasts in late 2013, also references a military adviser on the 2014 summer shoot in Ghana called Sparrow, who fought for the Civil Defence Force militia during the war in Sierra Leone that ended in 2002. "You meet Sparrow and he's not what you'd think," says Elba. "I used to imagine how he would go in and wipe out a village. There would be no emotion to that whatsoever."
"Commandant's biggest weapon is his mind and mouth."
Elba sees Commandant's most disturbing characteristics — his recruitment of children and his predatory sexual behaviour — as the result of his environment. "He is a product of a situation that's happened to him," Elba suggests. "He finds himself at the centre of this army, fighting for something he's probably not sure about. I don't think we're looking at a monster. I think we're looking at someone who has decided to dedicate himself to a place, and has literally bathed himself in a faith the Western world would not understand when it comes to the faith of black magic or voodoo or whatever it is."
In a departure from Iweala's book, Commandant survives in Fukunaga's film and remains at large when his disillusioned young charges abandon him. "It's such a bold move to say, 'We're not going to shoot this guy,'" says Elba of Fukunaga's decision to keep Commandant alive.
"The power though — this is reality — is that he will start again. The Commandant is still going to be there tomorrow. Charles Taylor is still going to be there tomorrow. It's a very subtle but clear message that there's no dramatic Hollywood ending here. There isn't in real life, either."
Elba nearly had an unscheduled finale himself during the shoot, when he lost his footing at the top of a waterfall. "It was a 200ft drop on to rocks and I caught myself thankfully, but it was fucking lucky," he recalls. "It would have been a dramatic and very big way to die."
Nation state: Beasts on demand
Netflix has been backing documentaries for some time, but Beasts Of No Nation is the first narrative release where Reed Hastings' streaming giant exercised complete control. Netflix acquired worldwide rights for $12m in May after Red Crown and Participant Media had wrapped production on the $6m drama.
On October 16 Beasts opened on $51,003 in 31 mostly Landmark Theatres sites, day-and-date with its global VoD release. It generated $90,777 in a two-week run but the film's US box office should be viewed as a tactical play rather than a flop.
Netflix partnered with Bleecker Street on the US theatrical release and paid for p&a costs to qualify Beasts for an Oscar run. The physical advertising campaign will also have served the higher purpose of luring new subscribers with the promise of strong original content such as Cary Fukunaga's drama.
On October 26, Netflix's chief content officer Ted Sarandos revealed Beasts had been viewed by more than 3 million viewers in its first 10 days in North America. Based on an average ticket price of $8.38, that is roughly the equivalent of a $25.1m three-day box-office gross, assuming the stay-at-home audience would have paid to see the film in a theatre.