Belgian auteurs Jean-Pierre and Luc Dardenne talk to John Hazelton about casting their biggest star yet, Marion Cotillard, in the workplace drama, Two Days, One Night — Belgium's foreign language Oscar entry.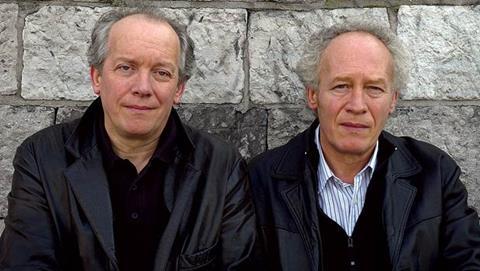 "We are a bit optimistic," says Luc Dardenne with a wry smile, switching briefly from Belgian French to English to stress a point about the starkly naturalistic but deeply humanistic dramas he writes, directs and produces with his brother, Jean-Pierre.
Since making their mid-1990s breakthrough with The Promise (La Promesse), the Dardennes have been feted worldwide for a run of films — most of them set and shot in the Belgian town of Seraing, where the brothers were born and raised — that follow the lives of working-class characters with roving handheld cameras and an unflinching moral eye. Both 1999's Rosetta and 2005's The Child won the Palme d'Or at Cannes, while 2011's The Kid With A Bike scooped the festival's Grand Prix.
Two Days, One Night (Deux Jours, Une Nuit), which premiered in this year's Cannes Competition, continues the run but exhibits a touch more of that Dardenne optimism than was apparent in the earlier films.
Inspired by a real-life incident in the late 1990s and given an extra edge in the wake of the global economic crisis, Two Days follows troubled young mother Sandra — played by French Oscar winner Marion Cotillard — as she spends a weekend trying to win the support of fellow factory workers who have been forced by their boss to choose between their much-needed bonuses and the preservation of Sandra's equally needed job.
"We wanted to have a response to this incident and to what we saw happening in terms of a dissolution of solidarity in the workforce," explains Luc Dardenne, who at 60 is three years younger than his brother.
The measured optimism, adds Jean-Pierre, comes from Sandra's "struggle against the odds, and her getting to the point at the end of the film where she's able to get beyond the situation".
Casting a major international star in the lead role was a departure for the Dardennes, who usually use young or lesser-known actors. But Cotillard's involvement did not change the Dardennes' process, which involves extensive on-location planning and weeks of filmed rehearsals.
"There was a challenge in terms of bringing her into the process so that she wouldn't show up disparately against the other actors," Luc concedes. He adds, though, that, "Marion had said to us, 'You can do whatever you want with me.' Lot's of actors say that. With her, it was really true."
In the end, says Luc, the character was shaped by both the Dardennes and Cotillard. "We didn't end up doing exactly what we wanted and she didn't end up doing exactly what she wanted."
But Cotillard's involvement did help the Dardennes and their "third brother", French producing partner Denis Freyd, secure the film's funding — the budget of around $7.6m (€6m) was a step up for the team — mostly through French and Belgian distributors and TV networks, and tax incentives.
"The film was pre-bought by the US distributor [Sundance Selects, which has set a December 24 domestic release] and Canal Plus, and Marion's presence played an important role in that," confirms Jean-Pierre.
The film is Belgium's entry for the foreign language film Oscar. The country has submitted three films by the Dardenne brothers previously, but none were nominated.
Production prowess
In addition to writing and directing their own projects, the Dardennes have, over the past two decades, helped get more than 20 projects from other European film-makers off the ground.
The brothers' Liege-based company, Les Films du Fleuve, always works with a French partner — Freyd's Archipel 35 or one of a handful of other companies — but has co-produced films from France, Germany, Italy and the UK. Its portfolio takes in shorts, documentaries and features, including four films from like-minded UK director Ken Loach. The company's latest project is Italian actor-director Ascanio Celestini's Viva La Sposa.
Where their own films are concerned, the amiable brothers, who started their careers working on documentaries, have so far stayed focused on the small town Belgian world that they know best. And though they will not talk about possible future projects, they do not seem to feel the need to broaden their canvas to reflect the state of the new borderless Europe.
"We've been in the same area since The Promise," says Jean-Pierre about the brothers' feel for Seraing and its inhabitants. "We see that as a microcosm of how Europe is changing."