Michael Keaton tells Jeremy Kay he's not that similar to Birdman's washed-up Riggan Thomson.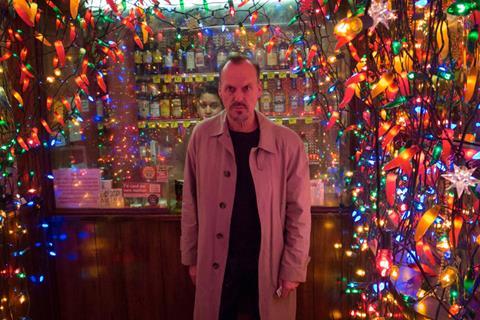 Freshly minted Gotham Award best actor and Spirit Award nominee Michael Keaton does not subscribe to the media narrative that suggests Birdman mirrors his own recent life and career.
His on-screen persona Riggan Thomson brawls, frets, twitches and sweats his way through Alejandro Gonzalez Inarritu's trenchant character study about an angst-ridden former star - but that, Keaton maintains, is not really him.
Ever since Keaton broke out in Ron Howard's Night Shift more than three decades ago and earned worldwide renown with Beetlejuice and two Batman films, his inimitable brand of hyperactivity has marked him out as a rare talent.
Yet the physical foibles and spaghetti junction of facial tics and grimaces do not translate into what one might expect.
In person Keaton is easy to talk to, secure in his path and generous with his time, even during a break from post on Thomas McCarthy's Catholic Church sex abuse drama, Spotlight.
He dismisses the notion his life bears clear similarities with that of Riggan - Birdman's erstwhile super-hero actor on a desperate quest for respect - unwavering in his belief that his partial withdrawal from the limelight was a product of wanting to spend more time with his family.
Keaton readily admits this led to several lacklustre roles. "Mostly I would take a role to keep my stay in the gym, as I like to say. They were very low-key things. Most of it wasn't interesting. I had the most fun directing [The Merry Gentleman], when there's no time for boredom."

Taking flight
Now, Keaton says he loves acting as much as ever. At the same time he holds his past in healthy regard, citing the Batman role as a "ground-breaking" source of pride that gained him wider international exposure.
He loved working with Tim Burton - adding that he would do a Beetlejuice sequel if his old collaborator was involved - and seeks out directors with distinctive voices.
"You want to work with talented people and talented directors," says Keaton. "I had seen [Inarritu's] films. He's one of the handful of guys that if you get the opportunity to work with, you really want to be in business with."
He adds: "This is as much about him as it is about anyone," on the topic of Inarritu's work on Birdman, yet the actor still had to find a way to get inside Riggan.
"The truth is you always just tell the truth in the scene. Since it was raw, human emotion it wasn't all that complicated, frankly.
"You had to be off-script very early on and word perfect. We rehearsed for four or five weeks and the process was intense, and not only for the actors but for the camera operators and crew and everybody. It was a tremendous disciplinary exercise."
The film's magic realism appealed from the start. "I was excited by it. The whole idea of him levitating at the beginning - there might have been a little bit of me wondering if it was being too cute and wanting to do things just for fun, but it became clear that wasn't it at all."
Keaton's ability to find the right shade of emotion, deliver a line and inhabit the cramped confines of St James Theatre in New York while avoiding the unseen prowling cameras is a wonder to behold. But he is not one to embellish. He would sooner praise his fellow cast members, an intimidating ensemble that includes Edward Norton, Emma Stone, Zach Galifianakis, Naomi Watts, Amy Ryan and Andrea Riseborough.
"Everywhere I turned there was a good actor. Edward is a dedicated actor and he is one of the most intelligent actors I have ever met.
"Then you do scenes with Amy Ryan. I have been an Amy Ryan fan for a long time and these are some of my favourite scenes."
Inarritu has no time for cliché and as Birdman develops, Riggan's craft as an actor becomes abundantly clear.
"Riggan could never have gotten to where he was by being a bad actor - that's a different movie," says Keaton. "Robert Downey Jr [plays Iron Man and] is a wonderful actor. Mark Ruffalo, who is in Spotlight with me, is a great actor and he's the Hulk.
"That was one of the interesting things. For me to play a bad actor would have been difficult to do because it would have looked clownish and it cannot be true."