Only the seventh time Palestine has submitted film to the Academy Awards.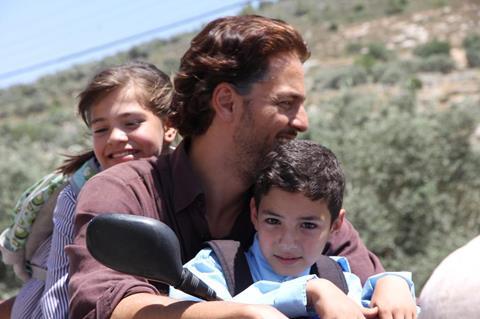 The Palestinian Ministry of Culture has submitted Najwa Najjar's Eyes of a Thief for consideration in the Best Foreign Language Film category of the Academy Awards.
The timely drama explores the impact of the Middle East conflict on Palestinian life through the tale of a West Bank man searching for his lost daughter following his release from an Israeli jail.
Egyptian actor Khaled Abol Naga, whose credits include Villa 69 and Microphone, plays the protagonist Tareq – an enigmatic figure with a violent past – opposite Algerian actress and singer Souad Massi, as a woman who knows the whereabouts of his child.
The film has drawn strong audiences in the West Bank and Jerusalem since its release there at the beginning of September.
"We had quite an overwhelming opening on September 9 at the Ramallah Cultural Palace. 850 people came to a space meant for 700," Najjar told ScreenDaily from Brazil, where the film will get a gala screening at the Rio International Film Festival on Saturday (Oct 27).
"It also sold-out during a week-long release at the Yabous cinema in East Jerusalem and will run there again due to demand and we're planning releases in Gaza and the West Bank city of Nablus as well as a number of other Palestinian towns in November," she added.
Najjar's previous works include Pomegranates and Myrhh about a dancer who falls for another man while her husband is in an Israeli jail.
Eyes of a Thief is the seventh Palestinian submission to the Foreign Language category of the Academy Awards since the event began in the 1920s.
Last year's Palestinian entry - Hany Abu Assad's psychological drama Omar about the cat-and-mouse relationship between a young Palestinian man and his Israeli, secret service handler - made it through to the final nomination stage but lost out on the top prize to Italian Paolo Sorrentino's The Great Beauty.
"For me the nomination of Eyes of a Thief to the Oscars is really about getting a Palestinian narrative reflecting the human story of a sensitive subject at the core of the Palestinian/Israeli conflict out there despite the desperate conditions in the country and all the incredible difficulties in making a film shot completely in the Palestinian Territory," said Najjar.
The deadline for nomination is October 1. The awards ceremony will be held on Feb 22, 2015.