For a film with no dialogue, Shaun The Sheep Movie still took two years to write. The runaway hit's creative team at Aardman talk to Ian Sandwell about the rigours and rewards of remaining mute.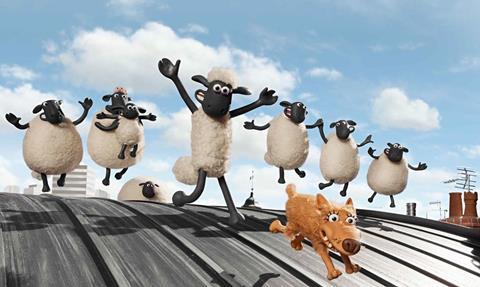 "One of the things that's happened with cinema is that it's got very talky. But the great films do it [just] with expressions, which is what we pride ourselves on," says Aardman Animations co-founder David Sproxton of Shaun The Sheep Movie, Aardman's first dialogue-free feature.
The big-screen outing for the company's much-loved character has grossed over $100m around the world and been longlisted for best animated feature Oscar. But the decision to tell the story without words, as in the TV series, and remain true to the rules of the Shaun world proved a challenge.
"Even silent films have intertitles," explains Aardman co-founder Peter Lord. "If you haven't got those, there were some plot points where you think: 'How the hell are we going to explain this?' You put energy into every frame but there are moments where you put in a disproportionate amount of energy."
The writing process took nearly two years. Mark Burton, who co-wrote and co-directed the film with Richard Starzak, says the most important element was to find a story that had enough of a plot to keep an audience engaged: "There was a discipline required to tell a story without dialogue and, in some way, that was quite liberating. We had to sit down and think about how we tell that story in a visual way."
Starzak adds the "emotional things" were the most difficult to convey without dialogue. He cites the moment the Farmer rejects Shaun, who later discovers this was a result of memory loss.
Starzak worked on the Shaun TV series and explains the lack of dialogue was originally due to budgetary reasons: dialogue in stop-motion is very expensive. It turned out to be a happy accident.
"There's something about Shaun that makes people concentrate," he says. "We see kids sit very still when they're watching the TV show, concentrating on what's happening, and it happened with the film as well."
The shoot for Shaun The Sheep Movie took just 10 months, a speed practically unheard of when it comes to animation. As a result, the two divided up the film and each took different sequences with their own teams.
"Richard and Mark were in the trenches day by day," says Sproxton. "Myself and others came in every few weeks to look at how they were getting on. It was a well-oiled machine."
For both Starzak and Burton, it was their first time directing a feature film - although Starzak previously had a project shelved after 18 months. "Directing a film at Aardman is like slipping into the seat of a Rolls Royce," says Burton. "They've got this fantastic crew and they know stop-motion animation backwards. If you let them, they'll take you where you want to go."
Global appeal
To date, Shaun The Sheep Movie has taken $102m at the global box office, an impressive performance given its relatively limited budget (reportedly under $25m). The UK market has been the strongest, grossing more than $20m for Studiocanal. In the US it has garnered $19.4m for Lionsgate.
"Not having any dialogue weirdly makes it for everybody," says Sproxton. "I found that different countries seemed to accept it as their own very naturally. We sold the series to 170 territories and despite the fact it's set in rural England, the fact it's about a family has universal appeal. It being silent helps everybody understand it."
Studiocanal handled international sales and released it in the UK, France, Germany, Australia and New Zealand. For Sean Clarke, head of Aardman rights and brand development, it was important to convince buyers it was cinematic.
"We were very keen to give a sense of the size and scale of the film," he says. "It was important from the outset that we were able to convey that it was a movie. We emphasised the city aspect, which was a clear distinguishing element from the series, which is predominantly based on the farm."
The marketing campaign included some country-specific elements. Aiming to take full advantage of the fact it was the Chinese Year of the Sheep, Aardman did a lot of activity in Asia, especially China where Shaun is popular, and where it has grossed just over $7m to date. The company staged a charity arts project that saw 50 Shaun statues in London and 70 in Bristol, where Aardman is based. In the US there was a focus on film homage posters with Shaun cropping up in faux posters for the likes of The Hunger Games.
"We worked closely with Studiocanal to create a whole array of assets for both Studiocanal territories and the distributors they sold to," says Clarke. "We were trying to second guess all of the assets these people would need to make the most of the film in those territories."
Aardman also built a global hub for the film's website and Facebook, as well as bespoke idents and a range of digital games.
It was an approach that Clarke says was welcomed by distributors. "Going to Cannes and other markets, distributors were happy to pick up an independent family film from us, and that we were providing a lot of support in how to market it," he adds.
He hopes any awards recognition will potentially lengthen the run of Shaun The Sheep Movie, especially "unlocking an interest to see it in certain markets to discover the film on DVD".
Work is already underway on a sequel. Although Burton will only consult, Starzak can't wait to get stuck in. "Finishing Shaun was a weird process," he reveals.
"I felt slightly bereaved afterwards because I enjoyed it so much. We're pushing an idea around for the sequel to see if it will stretch to 70-80 minutes, that's the key thing. I think we've found it, we've just got to work out a way of telling the story now."
"Getting the story right is just everything," Lord confirms. "It's a truism we believe in completely at Aardman that nothing matters if you haven't got that right. Everyone's good work will count for nothing otherwise."