Joshua Oppenheimer's companion piece to The Act Of Killing earned the best feature award at the International Documentary Association's 2015 IDA Documentary Awards on Saturday night.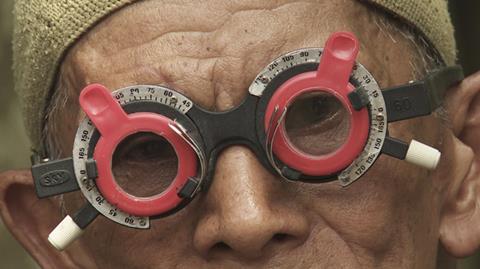 The IDA's Career Achievement Award was presented to Gordon Quinn, the Kartemquin Films founder and artistic director, while Netflix's chief content officer Ted Sarandos collected the Pioneer Award.
The prize was presented "in recognition of the company's game-changing and unwavering support of creating and showcasing nonfiction programming."
Kathryn Bigelow awarded Matthew Heineman the IDA's Courage Under Fire Award for Cartel Land.
Full list of winners:
Career Achievement Award
Gordon Quinn
Pioneer Award
Ted Sarandos
Amicus Award
Tony Tabatznik and the Bertha Foundation
Emerging Documentary Filmmaker Award sponsored by the Archibald Family Foundation
Lyric R Cabral and David Felix Sutcliffe
Courage Under Fire Award
Matthew Heineman
Best Feature Award
The Look Of Silence
Director: Joshua Oppenheimer
Producer: Signe Byrge Sørensen
Best Short Award
Last Day Of Freedom
Directors: Dee Hibbert-Jones and Nomi Talisman
Pare Lorentz Award
How To Change The World
Director: Jerry Rothwell
Creative Recognition Award Winners
Best Cinematography
The Russian Woodpecker
Cinematography: Artem Ryzhykov
Best Editing
Kurt Cobain: Montage Of Heck
Editors: Joe Beshenkovsky and Brett Morgen
Best Writing
Listen To Me Marlon
Writer: Stevan Riley
Co-Writer: Peter Ettedgui
Best Music
Best Of Enemies
Original Score by: Jonathan Kirkscey
ABC News VideoSource Award
Best Of Enemies
Directors: Robert Gordon and Morgan Neville
Best Curated Series Award
Independent Lens
Executive Producers: Sally Jo Fifer and Lois Vossen

POV
Executive Producers: Simon Kilmurry and Chris White

Best Limited Series Award
The Jinx: The Life And Deaths Of Robert Durst
Executive producer: Jason Blum
Co-executive producer: Zac Stuart-Pontier
Producers: Andrew Jarecki and Marc Smerling
Best Episodic Series Award
Chef's Table
Executive producers: David Gelb and Andrew Fried
Best Short Form Series Award
Do Not Track
Executive producer: Hugues Sweeney
David L Wolper Student Documentary Award
The Archipelago
Director: Benjamin Huguet
The National Film And Television School