Amy Schumer's comedy and Denis Villeneuve's cartel thriller are among the screenplay nominees announced on Wednesday by The Writers Guild Of America, West (WGAW) and the Writers Guild Of America, East (WGAE) ahead of the 2016 Writers Guild Awards.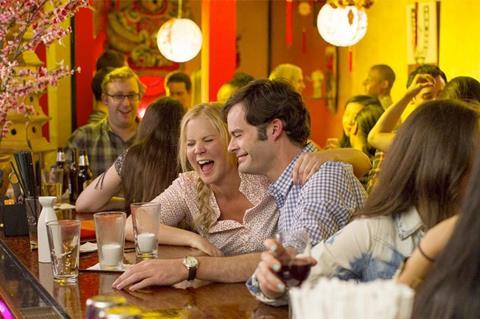 The Hateful Eight, Room, Brooklyn, Ex Machina, Inside Out and Youth were among titles that were ineligible.
The awards show will take place simultaneously at both chapters of the WGA in Los Angeles and New York City on February 13.
The nominees appear below:
ORIGINAL SCREENPLAY
Bridge Of Spies
Written by Matt Charman and Ethan Coen and Joel Coen;
Sicario
Written by Taylor Sheridan;
Spotlight
Written by Josh Singer and Tom McCarthy;
Straight Outta Compton
Screenplay by Jonathan Herman and Andrea Berloff; story by S Leigh Savidge and Alan Wenkus and Andrea Berloff; and
Trainwreck
Written by Amy Schumer.
ADAPTED SCREENPLAY
The Big Short
Screenplay by Charles Randolph and Adam McKay; based on the book by Michael Lewis;
Carol
Screenplay by Phyllis Nagy; based on the novel The Price Of Salt by Patricia Highsmith;
The Martian
Screenplay by Drew Goddard; based on the novel by Andy Weir;
Steve Jobs
Screenplay by Aaron Sorkin; based on the book by Walter Isaacson; and
Trumbo
Written by John McNamara; based on the biography by Bruce Cook.
DOCUMENTARY SCREENPLAY
Being Canadian
Written by Robert Cohen;
Going Clear: Scientology And The Prison Of Belief
Written by Alex Gibney;
Kurt Cobain: Montage Of Heck
Written by Brett Morgen;
Prophet's Prey
Written by Amy J Berg.
Feature films eligible for a Writers Guild Award were exhibited theatrically for at least one week in Los Angeles during 2015 and were written under the WGA's Minimum Basic Agreement or under a bona fide collective bargaining agreement of the Writers Guild of Canada, Writers Guild of Great Britain, Irish Playwrights & Screenwriters Guild, or the New Zealand Writers Guild.
Theatrical screenplays produced under the jurisdiction of the WGA or an affiliate Guild must have been submitted for Writers Guild Awards consideration.
Documentaries eligible for a Writers Guild Award featured an onscreen writing credit and were exhibited theatrically in Los Angeles or New York for one week during 2015.
Theatrical documentaries must have been produced under the jurisdiction of the WGA or an affiliate Guild to be eligible for awards consideration.