Whiplash represented a tough story on and off screen. Michael Rosser talks to the creative team about bringing Damien Chazelle's personal experiences to life.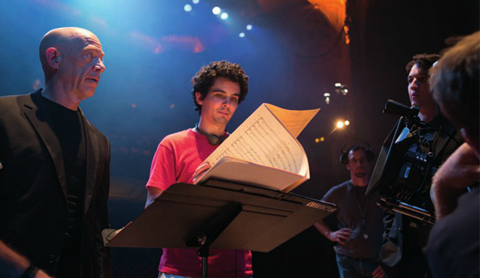 Blood, sweat and tears. Ingredients that soak the on and off-screen story of Whiplash. The film is a psychological battle of wills between a wildly ambitious young jazz drummer, played by Miles Teller, and his abusive drill-sergeant teacher, performed with an untethered ferocity by JK Simmons.
How 29-year-old film-maker Damien Chazelle brought the semi-autobiographical story to the screen is even more of a white-knuckle ride, from an exhausting 19-day shoot and success at Sundance Film Festival (twice) to becoming a staple of the current awards season.
Back in 2011, Chazelle was looking to make his mark. After his debut feature, Guy And Madeline On A Park Bench, received a limited release in 2009, he found himself in Hollywood as a writer for hire on titles such as The Last Exorcism Part II.
The idea hit him like a cymbal crash. "I was a jazz drummer in a competitive, cutthroat climate in high school," says the former musical prodigy of his time in the Princeton High School band in New Jersey. "I had this gut feeling that I could turn my personal experiences as a drummer into a script."

Nailing it
The first draft was written "really quickly" over just a few weeks, borrowing from the real-life shouts from his instructor of "You're rushing… you're dragging… not my tempo…", as well as the moment when he punched his fist through a drum.
After nearly a year of getting the script "as lean as possible, zeroing on the student-teacher relationship", Chazelle sent it to his agent at Gersh. "It was six months of nothing but passes," he recalls.
It then fell into the hands of Couper Samuelson, EVP at Blumhouse Productions, who explains why there may have been so many passes: "It was the most 'unmakeable' screenplay of all time for a first or second-time director. We needed to find a way to convince people it would be intense and not just a music drama."
Blumhouse founder Jason Blum, perhaps best known for low-budget, high-return chillers such as Paranormal Activity, Insidious and The Purge, adds: "It's very hard to get a movie like Whiplash made unless you're a branded name - especially without a cast."
A guardian angel came in the form of Jason Reitman, director of Juno and Up In The Air, who boarded the project as executive producer after being sent the script by his producing partner at Right of Way Films, Helen Estabrook.
"We talked to Jason about him coming on as the creative godfather," says Samuelson. "He came up with the idea to make a short, having directed a few that had made it into Sundance."
Estabrook, who loved the themes of work and ambition in the script, recalls: "We knew it would be hard to find financing because it's not an obvious studio movie. I called my friend, Nicholas Britell, to help us produce a short-film version.
'We were lucky Bold took a swing on it… financially it was a big risk'

Jason Blum, Blumhouse Productions
"We extracted a scene from the feature script and shot it in three days to prove that Damien had a clear vision. The words on the page are fantastic but we wanted people to be able to see how exciting it could look."
The 18-minute short starred Johnny Simmons as the young drummer and JK Simmons (no relation) as band teacher Fletcher.
JK Simmons says his relationship with Reitman, having taken roles in six of the director's previous films, led to his casting in the short. "Jason e-mailed me the script and I immediately fell in love," Simmons recalls.
"It's such a thorough, mature, intelligent and passionate piece of writing. But the thing I wasn't certain of was Damien's ability as a director, so it was gratifying to see that the film was as brilliantly realised as the potential of the script."
The short won the short film jury prize at Sundance 2013 and independent finance company Bold Films, which also backed Nightcrawler, came on board to provide the full $3.2m budget for a Whiplash feature.
"We were lucky Bold took a swing on it," says Blum. "After winning at Sundance, we bullishly thought we would have a few choices but really no-one wanted to finance the movie. It was Bold and one other company. The actors weren't famous enough and it's not a genre movie, so financially it was a big risk."
With the money in place, Chazelle then started trying to secure the lead, Miles Teller, he had wanted from the beginning. He had seen the young actor in his 2010 feature debut, Rabbit Hole.
Teller had not been available to star in the short as he was shooting Divergent at the time. But with the feature greenlit, the 27-year-old actor came on board - with a catch: the earliest he was available was September 2013. Chazelle was determined to submit Whiplash to Sundance before its submission deadline in November, so this would mean just 19 days of shooting due to budget constraints, and then a month to edit.

The next level
Teller knew how to drum but not to the level of a prodigy. Chazelle stepped in, loaning his own Yamaha drum set to the actor. "My real rehearsal period with Miles wound up being the drum lessons he was doing," says the director.
"I got him started and then we brought in people to help including Nate Lang, who plays an older drummer in the movie. We didn't talk about the script much. It was more about how to hold the sticks and what music to listen to."
Principal photography took place in September, in Santa Clarita, California, with an extra day in New York to film inserts.
Chazelle went into 18-hour days with a precise schedule and 150 hand-drawn storyboards. "You can only move as fast as your cast and crew, and I was blessed in both of those departments," he says, paying credit to first AD Nicolas Duchemin Harvard and cinematographer Sharone Meir.
"Knowing how short our schedule would be, I wanted to be as prepared as possible. But as much as I could foster a climate of speed and efficiency, they were the ones pushing the train down the track. Without them, we'd be screwed."
The scene that provided the toughest challenge for Chazelle was re-filming the scene he had shot for the short. "It is the first big rehearsal scene where Andrew is put on the drums and gets put through the ringer by Fletcher in front of the band," he recalls of the scene, in which the abusive teacher repeatedly slaps his new student to elicit an answer.
"We were prepared, but the scene was destined to be different. There was a little adjustment but it felt difficult to capture. Figuring out the right way to do the slap; the right way for Andrew to break down; the size of the band. It was surprisingly tricky even though we'd done it before."
After filming wrapped, the race was on to edit the film. Although Chazelle edited his first feature himself, he turned those duties over to Tom Cross for Whiplash. "I hope to do everything with him; he was such a joy to work with," says Chazelle.
Flash-forward just a couple of months to January and Chazelle was back at Sundance and winning more prizes, including the audience award and grand jury prize.
Sony Pictures Classics snapped up distribution rights for nearly $3m and Simmons has been nominated for a SAG award as well as a Golden Globe.
"The one thing I allowed myself to hope early on, when I worked with JK on the short, was that he would get some kind of recognition from this performance," adds Chazelle.
As for the director, he is set to shoot another feature with Teller in the spring titled La La Land, "a love letter to old MGM musicals".
"Hopefully, I'll get to make lots of movies with Miles," he adds. "I'm a fan."